You have guys who are the son of a coach and guys who are a coach on the field and guys who are a coach in waiting.
But in rookie running back Chris Evans, the Bengals already have a guy who actually has been a coach for almost as long as he's played the game.
"After he has a long NFL career, he's going to be a great coach," says Antaiwn Mack, the Huron High School head man who hired Evans to coach his special teams just down the road from the University of Michigan's Big House. "Just the kind of young man you want around your program."
The length of his pro career has yet to be determined. He had a star-crossed, truncated run at Michigan interrupted by an academic suspension and plagued by the pandemic while he worked three different jobs to get it all back. But if his NFL career is anything like Evans believes his life has been, it's already written down somewhere in a resilient, hopeful paragraph resembling the mission statement of C.E. Stars. And it's going to be quite a ride for him and the kids he's trying to reach.
"Everything happens for a reason," says Evans, who has some ideas why he lost a year. "I think everybody's story is already written. I think the man upstairs is going to see how I respond to it."
A sixth-round pick hailed as a Saturday steal in last month's final day of the draft, the 5-11, 211-pound Evans hasn't disappointed since he showed up at Paul Brown Stadium. He heisted those sure hands and smooth routes straight from the Senior Bowl and his pro day in the shadow of The Big House and he hasn't dropped a ball yet to guarantee a long, glacial look out of the Bengals backfield and catching kicks this preseason.
"He's got a special skill set," says Jordan Kovacs, the Bengals defensive assistant whose G.A. stint at Michigan overlapped with Evans. "He's got a great frame, he's very athletic and he can catch the ball and that's a premium in this league. The coaches, we loved him. He's not a self-promoter, which I like, and the more you learn about him off the field, it tells you he's not only a cool person, but he loves the game of football."
It's a love that goes deep, step-for-step with his Indianapolis family because it all begins with his 14-year-old brother Andrew, a freshman at Ben Davis High School. When Chris visited this past weekend, he gave Andrew a pair of gloves he's worn during the Bengals workouts because, "I haven't dropped anything since I've been in Cincinnati with these, so you can't drop anything when you wear them."
About the time Evans led Ben Davis to the Indiana state title with 140 yards rushing in the championship game as a junior, he was forming an offseason flag football team for seven-year-old Andrew that morphed into a league.
"I wanted to make sure I coached him," says Chris, whose father saw it early and encouraged his oldest to do it because he could sense this coaching thing was more than a childhood pang but a lifelong passion.
When the Ohio State diehard committed to Ann Arbor in one of Michigan head coach Jim Harbaugh's greatest sell jobs, Evans expanded the seven-on-seven concept he had been doing in Indy to Ann Arbor. He now oversees an operation with 18-20 teams in five different age groups from six to 18 in Indy, Lafayette, Ind., Michigan and Louisville to keep everybody sharp and busy during the offseason.
And the kid who two years ago couldn't even get a tip from some old teammates when he was delivering for Ahmo's Gyros & Deli, a downtown Ann Arbor eatery, has about a dozen people working for him.
"I don't do the day-to-day work, I've got great people working for me," Evans says. "Two or three people I scouted out. There's a dad who is the director of football operations. Two moms. They're all passionate and believe in what we're doing. I'm the visionary. Whatever the things are I'd like to see get done, we sit down and come up with a plan."
That could be finding ways to generate scholarships so disadvantaged players can attend. It could be planning ways to improve even after staging a successful tournament. Or re-structuring the business two weeks ago after signing his rookie contract.
"I wanted to pay my team," Evans says. "They've been volunteer for four and five years and I wanted to help them out financially."
But it all has to be shoehorned into his mission statement he developed along the way:
"Helping young athletes discover the CHAMPION WITHIN through skills development, mentorship & exposure platforms, while promoting a clear understanding of what it takes to be a CHAMPION in sports and in life."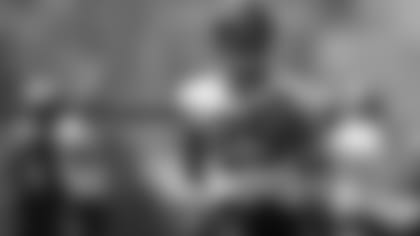 He calls the organization Collectively Evolving. Or, C.E. Stars. The C.E. stands for Chris Evans, but the NCAA objected to Chris Evans Stars, he says, because of the name, image, likeness and such. So he came up with Collectively Evolving "off the top of my head."
But Michigan allowed no such breathing room when it came to academic problems and suspended him for the 2019 season. When his appeal failed, the school suspended him for the entire year and by the time he got back for his senior season in 2020, one of the country's top all-purpose backs returned to a team that played less than half a season and a new offensive coordinator that gave him just 25 touches.
One transgression, Evans says, is he failed to properly cite a source and didn't put the author's last name at the end of an answer that was pretty much verbatim from the author's study. He says that was the second strike. The first one, he says, stemmed from a group homework assignment his sophomore year that the group was later told was a no-no.
Mike Kirschner, his coach at Ben Davis, the man that Evans says basically taught him everything he knows about football, has now moved to rival Warren Central. But he has never left Evans' side.
"Did it get him in trouble? Yes. But he didn't run from his mistake," Kirschner says. "He called me. He talked to his parents looking for advice. He talked to other people. In the world we live in, you transfer and go play for someone else and forget about it.
"But you know what? He said, 'That's not how I was raised.' I told him, 'Chris, if you stand your ground and do it right and make it right, you'll be better for it in the long run because you showed everybody your character is more important than what you did.' And he didn't run from his mistake."
It's hard for Kirschner not to see Evans overcoming anything. Not when he remembers the Thanksgiving after Evans' senior season. Ben Davis' bid to repeat had been quashed the weekend before when Kirschner thought he was the only guy in the school that holiday morning he snuck into his office.
Until he heard crashing in the weight room and went to investigate.
"Coach, I can't afford to take a day off if I'm going to realize my goals," Evans told him.
"He's in there power cleaning like a machine," Kirschner says. "He's one of the funnest, easiest kids I've ever coached and he loves football and he loves people and he loves competing … He was a leader in multiple ways … always organizing guys for workouts … Not a rah-rah guy, but he talked to kids. Really unique."
Before the suspension, Antaiwn Mack, Huron's head coach, met Evans much the same way. Evans, who won regional track titles for Ben Davis' powerhouses in the 110 hurdles, the long jump and the 400 relay, was working overtime with the Huron track coach. When Evans mentioned to Mack he'd love to work with the football team any time if there was ever an opportunity, they exchanged numbers.
When he couldn't play in 2019, helping Mack break Huron's 39-game losing streak was the next best thing. Evans reached out to Mack and Mack reached back. After all, he already knew all about Chris Evans. Some of his players were in C.E. Stars.
"We brought him on and he was great. Always a positive mindset for the kids," Mack says. "He was always prepared with his special teams schemes. He brought some things in they used at Michigan. The kids loved him.
"He poured that passion and energy into the kids. Practice habits. He wanted them to always be running, on and off the field, coming to work every day, making sure they were full speed. One thing he said was pick each other up if somebody made a mistake. Mistakes happen."
Evans picked himself up from his mistake. He had always talked to kids about adversity, but now he was able to give it to the Huron players first-hand. Pick up your teammates.
"When you have adversity, you get introduced to yourself," Evans says. "The main goal is to make kids know and understand when you hit adversity, it's how you respond. A lot of people can't respond or get back up, so you have to be a difference-maker.
"You can't go hide or run away or go under your chair. You have to continue to be yourself. I just had to keep myself busy."
Besides coaching the Huron special teams in 2019, that also meant working drywall as well as working at the restaurant. When he wasn't out on delivery, he worked the cash register. On football Saturdays, the mistake glared back at him from the TV. When football players cashed out, some either didn't recognize him or know him. Some players didn't even tip when he delivered their orders.
"That kind of hurt me inside, but it's all for the better. I took it on the chin," Evans says. "I always tip (well)."
He didn't transfer and a big reason was probably his connection with his head coach.
"The fact Jim Harbaugh gave him that opportunity tells you what Coach Harbaugh really feels about him," says Kovacs, an old Harbaugh captain. "He just doesn't give second chances to anybody."
Evans realizes that in 2019, C.E. Stars, already bursting at the seams, exploded. And he wonders if that's the reason for this everything. He wonders if he hadn't been so busy with football and school and traveling to tournaments for C.E. Stars if he would have spent more time and cited his answer more properly.
But he thinks he knows this answer.
"I took it as the man upstairs telling me, 'You've got a lot going on. This is about to blow up, so I'm going to give you a year to figure it out, make it better and get the right people on board so you don't have to do all the ins and out work,'" Evans says. "That's what I did."
Mike Kirschner, who believes his old state champion running back can be a 'special teams guru," on an NFL field, stopped by his house during the draft. When Evans' father sent him the video of the call from the Bengals that Saturday, he could see the relief breaking out on his face.
"He said, 'I got a chance now. This my dream," Kirschner says. "That's all he said. 'I just want a chance.'"
Now there really is a coach on the field.