The call came the other day because it always does. Every day. Keith Gaither never wanted his son to play where he coached. But he has never stopped coaching him. Over the phone or in a text or on the film.
And Zoom. Can't forget Zoom. They were taking turns coaching each other up on a Zoom call during the last Friday night in April when the name of Akeem Davis-Gaither, Appalachian State's Skype quick linebacker, still hung on the NFL draft board when the third round and the night ended.
"That was a rough night for our family," Keith Gaither says. "We went to bed tired, mad. He was just telling me to relax. We were coaching each other up, trying to be supportive. But the next day, you couldn't have written a better script."
It was shorter than a PSA because the Bengals started Saturday's fourth-round by taking the guy they had appointed the South's defensive captain at the Senior Bowl, where defensive coordinator Lou Anarumo, linebackers coach Al Golden and senior defensive assistant Mark Duffner loved coaching the coach's son. It was also the third game this year Keith Gaither got to see his son play live when he and the family spent that week in Mobile, Ala. But best believe he had seen every snap of the season on the college game's Thunder Cloud system.
"Once we found out it was the Bengals, it couldn't have been any better," said Gaither, who once stalked Cincinnati high schools for wide receivers to play at Ball State. "Akeem is going to play with (a team) that really wants him. Somebody that has built a relationship with him.
"They're first class. I know Coach Golden from Temple and there are good people there. Cincinnati is a great place for him."
At the very least, the fit seems to be almost ordained beyond Akeem already named a Bengals game captain. One of Keith's position coaches at Elon College near his hometown of Thomasville, N.C. was Bengals Super Bowl Bengals linebacker Leo Barker. Allen Brown, the Thomasville High School legend that coached both Keith and Akeem, played at the school in the late 1960s with future Bengals defensive lineman Ron Carpenter. Gerald Chatman, the Bengals defensive assistant, coached with Keith at Ball State.
"I wouldn't turn my hand for the difference," purrs Allen Brown with the accent of central North Carolina's Piedmont region when asked if the father or the son was better.
"I think they were both very similar. Both of them were good. Keith was a good college player. The difference is the son grew up to be a bigger, stronger man than his daddy did … That's where I have credit to Appalachian State for their nutrition program, their strength program. Those guys for the last 25 years, they do a wonderful job. They took what was a good college football player and developed him further."
The 6-2, 224-pound Akeem is still filling out, but like his dad he didn't branch out very far from Thomasville, a Mayberry-like small town that is actually just about an hour from Andy Griffith's hometown of Mount Airy, N.C. on Route 57 North. Keith went to Elon College, about 40 minutes away. Akeem stayed even closer and went to App State in Boone, about 35 minutes away. But quite a long way from Keith and Elon.
"I think they knew I wasn't going to go because they knew I had offers from App State and Georgia Southern," says Akeem, who doubts his father wanted him to go to his old school. "Probably not. He wanted me to take my own route."
They were both looking to make a move for the 2015 season. The Ball State staff had been let go and App State and Keith had conversations, but he had an idea which way Akeem was going and he went north to coach the Army wide receivers.
"He didn't want that kind of stuff, 'He's just here because his dad is coaching here,'" Akeem says. "He didn't want that kind of stuff."
Keith imagined himself sitting in a staff room. He takes enormous pride in the fact he has never talked to Akeem's position coach or head coach when he played for them because, "I trust them to coach and do their job." He'll also say that's rare because he's seen many examples of the other way.
 "No way was I going to listen to how bad my son is because that's going to happen," Keith said. "Everybody misses a tackle, has a bad practice. I wanted him to take his own journey. I didn't think it was fair to him. I wanted him to enjoy his college experience. It would be tough if I was there."
Besides, Akeem already knew how tough it was to be in the old man's shadow, even though Keith is only 45. His folks moved in the early '70s from South Carolina to Thomasville and while his father poured concrete and his mother worked in one of the factories that kept the little busy city of about 25,000 humming, Keith dreamed of playing football for Allen Brown.
It was the first of Brown's two stints at the school that encompassed three decades, four state titles and 330 victories. And in the early '90s the furniture business made Thomasville chairmen of the region.
"Times were good, but on Friday night the town would close up and go to the football game," Keith says. "Most of the boys grew up wanting to wear the helmet with the T on the side. I grew up wanting to be a Bulldog. I think most of the guys in town did."
Keith did more than that as "a little linebacker," Brown unleashed behind a four-man line. He played in two state title games, won the 2A crown in 1991 and in 1992 was on an unbeaten team that got knocked off in the state semis before he went on to start at safety at Elon for four years and made two all-region teams.
Now enter freshman Akeem Davis-Gather two decades later.
"My dad was a pretty good football player in high school with the same coach. That made it kind of worse," Akeem says. "I had to live up to the coaches and the fans. Everybody knew my dad in the town. They had big expectations for me. Those first two years, after every game people were blowing up my dad's phone telling him how bad I was. He would coach me through the phone. Then it settled down. I couldn't keep getting phone calls like that."
Akeem says his parents "split," about the time of that freshman season. But he calls them his two best friends. He talks to both every day. He stayed with his mother but spends summers with his dad. He calls his dad "my role model, a person I can go to if I need advice becoming a man or sports." He stayed in Thomasville, home of the entire family, including both sets of grandparents.
Those coaching phone calls paid off and Akeem went on to wake up the echoes at outside linebacker.
"There's an expression down here the kids themselves will say," Allen Brown says. "'This guy is a baller. A guy that's got an instinct for football, a love for football. Both are ballers. They love to play ball. They were old throw-back-type players in both cases."
The coaching phone calls are not all that different from when Keith coached Akeem in AAU basketball when he was little and from when he was named the Sun Belt Conference Defensive Player of the Year a few months ago.
"He was the youngest on the team. He was very competitive. He played hard. He had no other choice," Keith says. "My goal from then to when he was at App State was the same thing. Relentless effort. Have fun. That's the expectation I have and for the most part he's tried to live up to it. I don't put any pressure on him. Just play hard, relentless effort and have fun."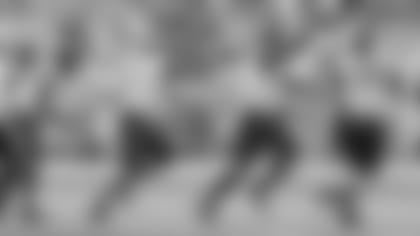 Keith's scouting report on Akeem from his own staff room: "The plusses. High motor. Plays extremely hard. It's hard to find a loaf, which is always great. If you play hard, you can fix all the other stuff. He plays with pretty good instincts. Football comes natural to him. I don't see him making the same mistakes twice. That goes a long way.
"The negatives, because we all have them. He has to learn how to play in that box and that's just reading the blocking schemes, understanding them, getting off the block and adjusting to the speed of the NFL game. He'll be coachable. Being coachable is not, 'I won't do that again.' No sir. Being coachable is not making the same mistake again."
Akeem has already sold the Bengals on that. They believe he can play both inside and outside, so the first time he played in the middle came at the Senior Bowl. Early in the game, he mis-fit a run and Golden grabbed him after the series to point it out. Then in the fourth quarter the North ran the same play and he played it right.
"I like it. It's different than what I did at App State," said Akeem, who is also going to get plenty of work outside.
The daily calls now touch on learning the playbook, which he did with his fellow rookies at last weekend's virtual minicamp. The fatherly advice is simple.
"Competition is king," says Keith of a linebacker room now stocked with three draft picks. "You've got 10 ,11 on the roster fighting for job. Every day, you have to find a way to get better. That's what we've always talked about. Even at the Senior Bowl. Look at four or five plays you can do better. Do your job, get better, get up and do it again. Nobody is going to hold your hand. Akeem understands the draft is over and you have to prove yourself again. He's got that chip, that mentality anyway."
The family had hoped they'd all be together for the draft. It would have been a nice trifecta for Keith after visiting him in Mobile and then a month later at the NFL scouting combine. But they talked him out of coming down from the Hudson for fear he'd catch the virus.
Still, it turned out just fine for the father-son ballers used to Xing and Oing and musing together over the phone.
"We were together," Keith says. "We were together in spirit. And we Zoomed."