Abu Daramy-Swaray, the newest Bengal who got here the hardest way you can in a rookie minicamp tryout, has cried twice in the last three months.
The first came the day the Bengals played the Rams in the Super Bowl and the orders for the Donato's pizzas were piled so high he couldn't watch the game. He only had time to wipe away the tears before he kept driving the deliveries into the downtown of Columbus, Ohio.
"I'm most positive I cried on Super Bowl Sunday," Daramy-Swaray says.  "Not being able to watch the Super Bowl, number one, and just not playing football at the time."
The next time he definitely cried was last week, after that 60-minute-all-or-nothing Paul Brown Stadium rookie minicamp when he ran and jumped out of the slot corner like he did at Colgate and caught punts like he did in Germany and the call came that he was now on the roster of one of those teams he couldn't watch Super Sunday.
"I hit my knees, called my mom and started crying," he says, sitting in front of his locker with a Bengals helmet across from the No. 43 practice jersey. "Even now I just feel emotional. Am I really in the NFL? It's been my childhood dream."
He still has no idea what the dollar amount was on the contract Bengals director of pro scouting Steven Radicevic put in front of him last Friday. "I don't know," he says. "Rookie minimum, I guess. Honestly, I'd play for $100."
The money is even less than that any way you slice it two weeks after he delivered the last pizza. It's $0.0 unless he makes it. But in the five voluntary workouts per week before training camp, he does get $148 per day, plus two meals a day at the stadium, plus a room.
"I feel like I'm fan-girling over myself sometimes," he says. "I look at my helmet and it's actually true."
Eli Apple, the Bengals cornerback he and his mother rooted for at Ohio State and who took him under his wing this week, confirms.
"He's legit," Apple says. "He's athletic as hell. Jumps out of the gym. He's a quick learner … He's somebody really good who just needed an opportunity."
He is 5-9, 172 pounds and Abu Daramy-Swaray's dream is like yours and mine. Epic and elusive and yet as real as the rain and the sun in the clouds. It came true with the help of a tireless mother who survived a civil war to bring the dream to America, a devoted brother he didn't see for nine years, a league in Germany that allows two Americans on the field at once, two old friends from a cobwebbed coaching staff nearly 50 years old and a long-ago Ohio football legend named Woody Hayes.
"I'm not overly emotional, but I just want to cry," says Jeff Kaplan, a member of the Ohio State Board of Trustees whose stiff upper lip has held top positions with several universities and a couple of health-care networks in the four decades since he coached with the Buckeyes.
"This happens once in a thousand times. I thought it was zero percent. But when I looked at it, looked at his statistics and his story, this is a young man who deserved an opportunity. And there was only one guy I knew in the league who would work to see the kid got a fair chance."
The best chance had been lost in the two-year black hole of COVID. After ending a career at FSC Colgate in 2019 with these words from his coach, "He's as good of a corner as we've ever had and as good of a person as we've ever had," Daramy-Swaray most likely would have been in an NFL training camp as an undrafted prospect.
But not in 2020. Not for even an accomplished small-school player. The curtain had come down. His pro day was scrubbed. There were no NFL tryouts. The Canadian Football League had closed, too. There was nowhere to go but home. The kid who made three All-American lists and graduated with a degree in Africana and Latin American Studies and whose resume had the job objective of diversity specialist was suddenly a host at a BJ's Brewhouse in Columbus.
"I was the first person you saw when you came in and the last when you left and I'd make sure my servers were all ready to go," Daramy-Swaray says. "I had to make ends meet. I quit that job and went to Best Buy."
Instead of a diversity specialist, he was a specialist for video games, home entertainment and home security. But when everyone in his family but him caught COVID, he lost the job.
"I had to move out of my house and stay in a hotel for two weeks," he says. "I tested negative, but it didn't matter. If you had close contacts, you couldn't go into work. They were already laying off people and since I was seasonal … I was jobless from December to April."
But he kept working out and he Door Dashed when he could to keep something coming in. And there was this strange, scary offer from Germany to play in a professional league.
"I was terrified. Going overseas and leaving everything I knew and love and go 4,000 miles away? It was terrifying," Daramy-Swaray says. "I had no idea about Germany. I had no idea they had football and when I found out they did have it, did they like it? Did anybody care about it?"
And yet there could be no other answer but yes because of Dusu, his mother who now answers his phone calls with two words.
Dusu lost his father in the Sierra Leone civil war three months before Abu was born in 1996, a casualty of an 11-year nightmare. Five years later she was able to get to America with her youngest. But her oldest, eight-year-old Lance, couldn't get here until nine years later.
"I still remember the day I saw him again at the airport," Abu says. "He's always been a role model for me."
Abu watched Dusu do it all. Not only did she do the seemingly impossible and get him through a war and and got him to his best place to survive, but now she's been doing the incomparable. While he went to Westerville South High School on the Columbus outskirts, she worked multiple jobs, mainly in home health care and nursing homes. She's working at two nursing homes now.
"I see what my mom went through and survived and not give up on me and not give up on the American dream no matter how many hours she worked, no matter how many jobs she worked," Abu says. "I never saw her give up. I would have been very embarrassed at myself if my mother went through so much and I gave up."
"Honestly," he says. "The love of the game. I wanted to create an opportunity for myself. I figured people were going to see me play and I'd get some film."
So Germany it was. He went to Potsdam last spring staring into that maw of doubt and came out of it saying it may have been the best thing that ever happened to him.
Although only two Americans could be on the field for each team, Daramy-Swaray noticed he was often competing against them because they were usually the quarterbacks and wide receivers.
The league's top passer, Dresden's K.J. Carta-Samuels, had set Colorado State records. The runnerup, Cologne's Christian Strong, is Seton Hall's all-time passer. The leading receiver, Weston Carr of Kiel Baltic, played at Penn State. Another top receiver, Darrell Stewart, Jr., of Dresden, had a training camp shot with the Packers two years ago after playing at Michigan State.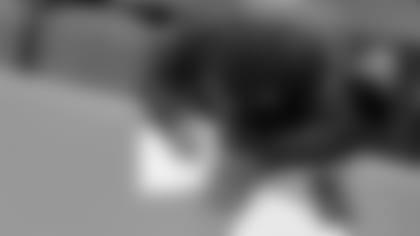 "It was probably comparable to what I played against in college," Daramy-Swaray says. "I think I got some pretty good looks against guys running routes.
"It was a great experience. The fans showed me a lot of love and my teammates and coaches poured a lot into me and they got a lot out of me. I really enjoyed not only playing but experiencing a new culture and when we started doing well, they really got behind us. It was so much fun."
The contract was month-to-month, about 850 Euros per month. He was there five months by the time he got back to Columbus last October. He figures that was about $1,000 a month "and they paid for all my expenses, which was really good for me."
So were the real numbers. In all 12 games he had 34 solo tackles, two interceptions and nine total passes defensed while picking up 450 return yards and one touchdown. When he occasionally worked as a slot receiver, he had three carries for 69 yards and two touchdowns.
Not only that, when Radicevic and Bengals director of player personnel Duke Tobin saw his tape, they admired how he also did some long snapping and holding.
But that was the problem. Getting somebody to look at tape while he trained and worked at Plus Two University, a fitness center in Columbus where he was under the tutelage of Eric Lichter, a former Ohio State director of football performance.
The break came a few months ago when Abu's cousin, who works at Ohio State, approached Kaplan with the story. The cousin is friends with Kaplan's daughter and Kaplan trusted him enough that he forwarded the video and resume to the only guy he figured would give him a hearing.
Mark Duffner, the universally admired Bengals senior defensive assistant coach. Even though Daramy-Swaray had played against Holy Cross and Duffner's alma mater of William and Mary decades later, it helped break the ice.
"Duff is the guy that reached out from the Bengals," Daramy-Swaray says. "We got along well. We developed a relationship."
Before it all began, before Duffner became a New England coaching legend as the head man at Holy Cross and before he coached NFL linebackers for a quarter century and before he had two stints with the Bengals, he was a graduate assistant coach at Ohio State in the middle of the 1970s and near the end of Hayes' reign.
The academic advisor on that staff was Jeff Kaplan, like Duffner, a fast young-and-up-and-comer who had been a G.A. for Hayes the year before. Soon Duffner would be the youngest defensive coordinator in the country at the University of Cincinnati and Kaplan would begin a versatile executive career blending talents in higher education and health.
But back then they were two kids who grew a bond on the grind under Wayne Woodrow Hayes.
"I've got a picture I've put in my office at every university I've ever been," Kaplan says. "It's picture of eight young (coaches) at a bar. Duff and I are the only guys drinking cokes.
"The thing about Duff, he's a wonderful coach. But he's an even better person."
That's how Kaplan saw Abu, too. As he looked at the story, he could hear Woody.
"Woody Hayes always taught us, 'Look at family. Look at perseverance.' This guy has been through a lot," Kaplan says. "He has the will, the commitment.
"A lot of great athletes coming into college out of high school have the talent and Woody always said you have to have that. But he'd say to look beyond that to the family and what the character is and this guy just seemed to have the character. Heart is what it really is. He's got the heart."
Kaplan jokes he was worried that Duffner, just off his first Super Bowl trip, would shake his head and say under his breath, "What's that crazy Kaplan doing now?" But he knew he wouldn't.
"Jeff's a very, very dear friend and I told him to send me what he had," Duffner says. "I talked to Abu and he's got a great story, but you could also see the talent. He had some (game) video and I asked him to send me some of him working out."
Duffner took what he had on his phone from Daramy-Swaray and sent it to Travis Brammer, the Bengals Vicar of Video. Duffner pegs him at a 4.4-second 40-yard dash and at least a 40-inch vertical jump. The package was sent on to Tobin and Radicevic in personnel and the thumbs-up was given for a tryout at rookie minicamp.
Naturally, "When Duff called to tell me I had the tryout I was delivering pizzas," Daramy-Swaray says. "I couldn't believe it. Here it was, two years after I got our of college and it was here."
Duffner made it official with a classic needle: "If I was at Holy Cross, we would have gone right after you."
The rest of the coaches saw in the tryout what Duffner had seen and heard from Kaplan.
"Starting from the top with Mr. (Mike) Brown," Duffner says, "everyone felt he deserved a chance and I think you'd have to say it's good for both sides," and Daramy-Swaray has been overwhelmed with the welcome from guys he couldn't watch back in February.
Guys like Apple, whose mother's family is in Ghana. He noticed the name and asked about his African roots and they've clicked.
"All these guys have welcomed me with open arms. Vets and rookies. It hasn't mattered," he says. "Eli's been great. My mother's a big Ohio State fan so we followed him there. You think of that and now he's helping me after practice with my technique."
Three months later, he's sitting in a Super Bowl locker room and Bengals equipment man Ryan Eckerle is putting a folded towel in the top shelf of his locker for tomorrow.
"Thank you so much," he says.
The veterans are off Friday. The rookies, even the one that turns 26 in a couple of weeks, have to be in.
"God has a plan for everybody," he says, "and this is my plan."