If you want to know why the Bengals are grinding into the sixth game, you only had to eavesdrop on offensive coordinator Brian Callahan's conversation with the media after Wednesday's practice. It involved another change at left guard and the grooming of yet another left tackle. When arguably the most important position on the team is dealing with those factors heading in the sixth week, it's a tough deal whether you're playing in Baltimore on Sunday (1 p.m.-Cincinnati's Channel 12) or anywhere else.
It's been a few days since his dad Bill replaced Jay Gruden in Washington, so one scribe wondered aloud which Callahan has it tougher this week. The guy that just became an interim head coach or the guy preparing his team's fifth left tackle of the season.
"Both are probably equally as challenging in their own way," Brian Callahan allowed. "It's what we have. And I've kind of preached that all along. All these guys have got to learn how to play a bunch of different positions because you get into situations like this during the season and hope that you don't have situations where it lasts very long. You hope it's a week, maybe two. Sometimes you hope it's just a game. A guy can get you out of a game. But it's just a reality of the landscape."
The reality of this season is the Bengals have never been able to get any continuity on the blind side of quarterback Andy Dalton and the hits just keep on coming. They walked out of the draft room back in April with a first-round pick at left tackle in Alabama's Jonah Williams and a massive eight-year NFL vet at left guard in Cordy Glenn, also their back-up left tackle. But Williams (who may be back in December after shoulder surgery) and Glenn (who on Wednesday had a limited practice for the third time in his eight weeks of concussion protocol) have yet to take a snap in the regular season.
That left a training camp derby at both spots and the left guard turned into fourth-rounder Michael Jordan, a guy they deemed the left guard of the future that they didn't want to hurry as a rookie. That went by the boards when the future came early. They still see him as the future, but now they're back in the present because the Bengals are going to start Billy Price at left guard after Jordan got jostled by some powerful people for Pittsburgh and Arizona the last two games.
"I think Mike just had two tough games, two tough matchups, probably," Callahan said. "Certainly against Pittsburgh, the size and their power were, for a young player, probably a little bit difficult for him. It was definitely a rookie moment, I think. And Billy gives you some steadiness. Mike's still a little big green. He's still working his way through some lumps and we knew that was going to be the case.
"He's done well for stretches and there's been stretches where he's struggled, which is kind of normal for a young player. He's still developing. We're still going to count on him for a long time to be the left guard. But in this case, we're going to give Billy a shot to see if he can help give us a little more steadiness and some power inside, too."
 The guy that has taken the bulk of the snaps at left tackle, Andre Smith, had one start at the position in 10 NFL seasons before his 11th Opening Day last month. And after the Cardinals chewed his ankle last Sunday, it looks like tackle No. 4, John Jerry, a guard by trade and a tackle by necessity as he was for the last three workmanlike quarters last Sunday, gets the nod against the Ravens.
Which means the next man up is a guard that not only has never played the position, but missed the first month of the season under NFL suspension. That would be Alex Redmond, a third-year player who had 15 starts at right guard last year in a season he impressed with his sheer ferocity and physicality while learning on the job with 11 penalties. Offensive line coach Jim Turner probably got the same looks down in Miami about six or seven years ago when he said he was going to kick Jerry out to tackle.
And they turned to the 6-5, 320-pound Redmond even before Smith got hurt on Sunday. Head coach Zac Taylor said Redmond worked at left tackle for two days in practice last week. And he didn't call him Jerry's backup, but a candidate to start.
 "Alex is a tough kid, plays hard, plays with some passion and he's got some athletic ability," Callahan said. "Is he a natural tackle? He's never played it before, so no. You can't say that. But try to get him a bunch of snaps and see how he does and if we can work with it. The reality is, there's no help that just shows up. So you've got guys that know what to do and how to do it. And at least Alex has been with us for the better part of the program. He at least understands and knows. It's not perfect by any stretch, but it's a necessity."
There's not exactly a manual for picking a fifth left tackle. As Callahan will you, there's a shortage of starting left tackles, never mind No. 5s, so you're not going to find a free agent in the second week of October. For another, if you could, he wouldn't be ready for a few more Sundays and you need somebody that knows the playbook.
Sometimes the best option is no option. There's no question the next best left tackle is Trey Hopkins. But he's generally perceived as their highest-rated lineman and he's playing center. The falling dominos would defeat the purpose.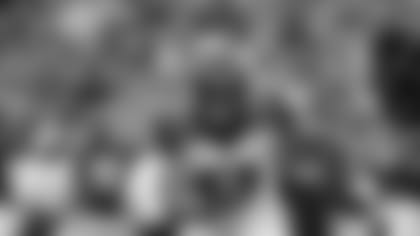 "Sure, Trey could play tackle. But now you're taking the center out," Callahan said. "And he's played well. You don't want to disrupt someone playing in a position. So you try to work the guys that are swing around. Inside. Outside. They have to be able to do it because you only get seven for a game. You're looking around for who's got a skill set that maybe we can use to get us through a game or a few games."
And in the next few years (maybe as soon as next) you won't be having this discussion because the 6-6, 315-pound Jordan is the obvious emergency tackle. But not now.
"You end up crossing streams a little bit. You want Mike to settle in at left guard as a young player to get a bunch of reps and get good at something," Callahan said. "So you throw a young kid like Mike in there, say hey, I know you've only got reps at guard, but try this tackle thing out, I think that could be tough for a young player."
This is why they love Redmond, a terror on the California high school wrestling mats before he went to UCLA:
Without revealing his new position before Wednesday's practice, he talked about his training regimen during his absence at a local Ignition Sports facility staffed by some coaches that used to work with him with the Bengals. He did a lot of kick boxing and aerobic work to reach his view of football shape.
"I tried to work out harder there than I would have here so it wasn't a shock," Redmond said. "So kick boxing, anything to get the adrenaline going. The only thing different with football shape is you get fatigued faster. Because you're worried about getting blasted. You could go through the motions and you'll be fine, but there's no threat of danger. That's what fatigues. That's what churns your blood and makes you tired is the threat of danger. I feel like I'm (in shape)."
He says his current weight, which has fluctuated here from between 310 and 350, is right where thinks it's good for him at 320.
"Getting in the playbook and staying in the playbook and being prepared for Sunday," said Redmond of what his top priorities have been on upon his return.
It's not how they drew it up in the draft room. But like Callahan the younger said. "When you get in those situations you have to try and make the best decisions for the long term and the short term."