The Bengals offense has yet to establish an offensive identity, but rookie quarterback Joe Burrow already has his in his first three NFL starts.
He's got a little bit of the swashbuckler in him to go with the mentality of a gutty welterweight boxer sliding off the ropes. Able to slip the big punch while trying to deliver the knock-out blow himself from anywhere in the ring even as his trainer is yelling to get out of the clinches.
Nah, he says, all those hits, not as bad as they look despite the 14 sacks, eight of them Sunday in Philly. He's expecting the shots because that's how he plays and because, as he reminded the Zoomers, these men are being paid millions to sack him.
"My style of play, I'm going to get hit. You know I'm going to try to extend the play as much as I can, and that's something that I'm going to have to live with and I've lived with it," Burrow said before Wednesday's practice. "I understand that's going to happen."
Head coach Zac Taylor has pinned four of those eight sacks on the offensive line. Burrow says a couple of them belong to him and one of those belong Taylor himself after he told Burrow to eat the ball at the end of the half.
"I'm always going to go try make a play. I understand when and when not to, situations of the game," Burrow. "You know if its second-and-long, you know you're getting close to taking a sack just get rid of the ball and play third-and-8 instead of third-and-15. But you know on the one, it was second-and-15 and in my mind there was not a lot of difference between second-and-15 and third-and-20 so I'm going to extend that play a little longer than I would have otherwise."
Just like that second-and-15 pass he completed that didn't count on Sunday when rookie wide receiver Tee Higgins came out of bounds to make a 20-yard catch from Burrow buying time with a white-knuckled scramble that he topped off with sideline pirouette and throw in the face of a linebacker as Taylor screamed at him to throw it away.
That's when Burrow winked at him after a play that lit the sideline.
"A.J. (Green) was a little excited about that play. That was fun," Burrow said. "He got excited, Bobby (Hart) got excited, unfortunately it didn't count, but those are the kind of plays I expect to make out of the pocket, more explosive plays like that."
Then there was the naked bootleg where had to reverse direction and took a hellacious hit completing a pass to wide receiver Tyler Boyd before taking the next snap off to catch the wind hit that escaped with the shot.
"That's what I'm going to live with when I'm running around out there trying to make plays," Burrow said. "I understand that I'm going to take hits when I naked to my left, roll back right but we completed the ball, made a play, got a first down. So I'm going to live with that hit every day of the week."
INJURY UPDATE: Defensive tackle Geno Atkins started practicing Wednesday in individual drills, returning to the practice field for the first time since injuring his shoulder in the Sept. 3 scrimmage. Hard to see him playing in a game without a full week of practice, but Taylor is still calling him day-to-day. Mike Daniels (groin), the vet tackle who gave them such a big effort in Philly without practice, had a rest day Wednesday. So did end Carlos Dunlap, another busy defender Sunday.
Linebacker Logan Wilson (concussion) and slot cornerback Mackensie Alexander (ribs)/hamstring) didn't work. Wide receiver A.J. Green went limited for rest. Also limited were left guard Michael Jordan (knee) and cornerback Darius Phillips (knee).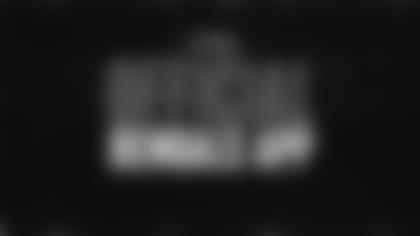 Download the Official Bengals App
The Official Bengals App the only app that gives you access to all things Bengals anytime, anywhere for FREE. Download it today!
DECISION-MAKER: On Sunday, Burrow was asked what the one thing is he could take away from the tie. He said to check in with him Wednesday.
"I was happy with the decisions that I made," Burrow said of Eagles defensive coordinator Jim Schwartz's shenanigans. "They're bringing a lot of zero pressures, a lot of blitzes and I was happy with the decisions that I made. Not turning the ball over. I was upset with myself after week one with that interception. I haven't made any more decisions like that, so that's a positive."
Burrow has yet to throw an interception overhand. His only pick while setting the NFL record for the most completions and attempts by a quarterback in his first three games is the ugly shovel in the opener against the Chargers.
That's out of 141 flings. That compares quite well to, well, anybody. One of the guys he passed on the way to the record is Arizona's Kyler Murray, last year's overall No. 1 who threw three interceptions in his first three games on 137 throws. Cleveland's Baker Mayfield needed four games to get past 141 passes in his overall No. 1 year in 2018 and he had five interceptions in his first four games. By the time overall No 1 in 2015 Jameis Winston had 133 passes in his first four games, he had seven interceptions.
The same here. Andy Dalton threw 124 passes in his first four games and had four interceptions. Carson Palmer threw 117 passes in his first three games and threw five picks.
So the kid is taking care of the ball. And he knows the coordinators are going to keep bringing it because that's what NFL coordinators do to rookies.
It's like Eagles Pro Bowl tackle Fletcher Cox told Burrow Sunday after he rudely shoved him out of bounds on a borderline non-call.
"He told me I wasn't going to get that call, Rook," Burrow recalled. "Maybe in a couple of years I get that call. We'll see."
He expects the same treatment from the frequent blitz calls.
"That's what I expected going into every game," he said. "The defensive coordinator is going to see if I can handle it. Rookie quarterback in his first couple of starts and see if he can handle the pressure. So I'm going to expect that going into every game."