The first-place Ravens made sure they stayed a game ahead of the 7-4 Bengals in the AFC North playoff chase Sunday, but the one good thing is in doing it they dropped Cleveland to 6-6 to put the Browns a game behind.
Which means Bengals slot cornerback Mike Hilton helped put his old team in the basement with his first career pick-six that buried the Steelers in Sunday's 41-10 loss that puts them at 5-5-1 and the Bengals into the playoff picture at No. 5.
ESPN puts Cincinnati's chances at making the playoffs at 62 percent with six games left and Hilton, knows all about it after winning two AFC North titles with the Steelers.
"Being 7-4 in late November, that's a great place to be in, but we just have to take care of the rest of the games coming up," said Hilton, who got a game ball instead of the one he caught from quarterback Ben Roethlisberger with 30 seconds left in the first half and returned 24 yards for the ridiculous 31-3 halftime lead.
But what really made it such a huge play is that it came a snap after a skirmish between Bengals quarterback Joe Burrow and T.J. Watt, the Steelers' famed game-breaking pass rusher.
You know, one of those dustups with the bully that always seemed to turn a Bengals-Steelers game to Pittsburgh.
Thanks to Hilton, not Sunday.
Burrow threw his only interception on a deep ball at the Steelers 3 and on safety Minkah Fitzpatrick's return, Watt manhandled Burrow when he turned to block him. He grabbed his jersey up near the neck with both hands, twisted, walked him back and threw him to the ground. Head coach Zac Taylor erupted on the sidelines while the Bengals offensive line wanted to go.
Burrow simply muttered to himself walking off the field and said after the game he had no problem with it and even said he told Watt, "Nice block," when they had words at the end of the third quarter. After the game, Watt congratulated some of the Bengals.
"He was just blocking me. I wasn't too worried about it. It's football," Burrow said.
Watt was clearly frustrated on a day that was his only shot on Burrow and just as clearly, tempers had simmered by the end of the game.
"Of course, any time you see your quarterback on the ground, we're always going to take issue with that," Taylor said. "I haven't actually seen a replay to see if it was bad or not; they probably just got tangled up.
"Watt is a tremendous, tremendous player, and we have a ton of respect for him in the way that we game plan. But it was good to see Mike Hilton do that. It was a big moment, it was an emotional moment, and for Mike to turn around and go the other way with it really kind of catapulted us to what we wanted to do the rest of the day."
Hilton thought it was just another moment among many moments in this volatile series. When the defense huddled up after that play, it was business as usual.
"No pressure. Go out there and put those guys (offense) back on the field," Hilton said. "We knew our offense was going to move the ball. We knew as a defense if we give them as many opportunities as possible, they'll do what they do best. They put up 41 points against that defense. You can't beat that.
"It was a rivalry game," he said. "There's going to be some heated moments. Guys just have to keep a level head, and that next possession I was able to make a big play, and how quickly everyone forgot about what happened on the offensive side."
He had to admit that he made the play with some local knowledge after four seasons in Pittsburgh. It helped that right end Trey Hendrickson backed left tackle Dan Moore, Jr., into Roethlisberger's wobbler outside the numbers on the right side. Hilton stepped in from of wide receiver James Washington and …
"It was an empty formation, so you know the ball's going to come out quick," Hilton said. "We were in a certain zone, and I saw three go up field, so I knew two were either coming in or going out, and I was shaded inside, so I protected myself inside, and he broke out, and I was able to undercut it and take it to the house."
TEED UP: Wide receiver Tee Higgins had his break-out game just in time with his first 100-yard day centered by his jump-ball 32-yard touchdown catch he says he hopes makes the Got Mossed segment. He had 114 yards and it looked like he should have had more, plus another touchdown, but he went down on a tackle at about the one-foot line after catching a crossing route. That looked like it went for a 20-yard touchdown. But it was a 19-yard catch.
"I'm pissed. I'm pissed. I relaxed when I got to like the three-yard line and the next thing you know guys jumped on my back," Higgins said. "You should have seen Joe Burrow how he looked at me. He was like, 'Are you serious Tee?' I said, 'Man I got you next time.' "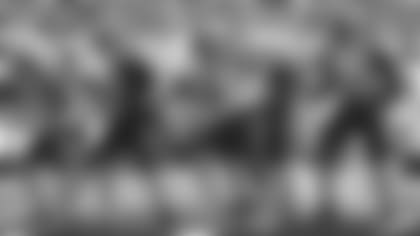 MIXON EYES TEMPTATIONS: After Higgins didn't get in, running back Joe Mixon had time to talk to left guard Quinton Spain about a celebration with the offensive. Mixon just improvised after his one-yard touchdown run and it looked like they had been working on it all week when Mixon channeled The Temptations with a two-step. The next thing the PBS crowd knew, Mixon was singing into the microphone.
"Big Spain was like 'Let's all do something.' And I was like 'What's up?" Mixon said. "So big Spain was like 'Let's do the two step. Let's do the two step.' I was like 'OK. Temptations.'
"So we ended up coordinating that real quick and to really see all the lineman and other positions joining in, that was lit for me. Only if you all knew and only talked to certain people, you wouldn't expect big Jonah (Williams) to go out there and do the two step. It was funny. I thought it was a hell of a deal. "
STAT CHECK: With one touchdown pass and an interception Sunday, Burrow remains the AFC's leading passer and is on pace to break Andy Dalton's club records set in 2013 with 34 touchdown passes and 4,381 yards.
With 924 yards, Mixon is third in NFL rushing, 13 yards behind the injured Derrick Henry and more than 200 yards behind leader Jonathan Taylor. He's on pace to give Corey Dillon's club record of 1,435 a run with 1,428.
Rookie wide receiver Ja'Marr Chase hasn't had a 40-yard game since he had 201 last month in Baltimore. His 39 yards on three catches gave him 906, good for sixth and on pace to tie Justin Jefferson's NFL rookie record of 1,400 yards.
With 10.5 sacks, Hendrickson is 3.5 off the lead of Cleveland's Myles Garrett and just three off Carlos Dunlap's official Bengals season record of 13.5. Only Garrett (14), Watt (12.5), New England's Matthew Judon (11.5) and the 49ers' Nick Bosa (11) are ahead of him as he tries to add to his club record seven straight games with a full sack.