Don't look now, but look who is running the ball the best they've run it in years and with Bengals head coach Marvin Lewis returning to his Camden Yards roots preaching AFC North physicality, look for him to eye the rush to add to the pounding in his first defensive coordinator assignment Sunday (1 p.m.-Cincinnati's Channel 12) in Baltimore.
They've also begun adding their own zone-read running weapon in back-up quarterback Jeff Driskel. He may not be a Heisman Trophy winner like Ravens rookie quarterback Lamar Jackson, but he's averaging 13 yards a run and has Cincinnati's longest touchdown run of the season. With Pro Bowl wide receiver A.J. Green (toe) iced and a close-to-the-vest-game looming between two division teams at the crossroads of their seasons, why not?
"What weapons would we have available?" asked offensive coordinator Bill Lazor rhetorically after Thursday's practice. "As you look at your team, we know what we have in this guy. He's part of the talent, so try to use him. You just have to be smart how you do it."
Before last Sunday's game came crashing down around them in historic fashion, the Bengals quietly ran the ball well on the NFL's top-ranked run defense. In the first two series of the game running back Joe Mixon went for 6.8 yards per five carries. But that wasn't going to be enough on a day New Orleans scored on every drive they tried. Mixon didn't see the ball again until the second half before finishing up with 5.5 per on 11 carries, but it was a weird game all the way around as Giovani Bernard replaced Mixon for the last two series of a half the Bengals went from down 14-7 to down 35-7.
"We said to the offense it is lost that we were running the ball better than anybody has run it against them," Lazor said. "For us to understand we're gaining momentum in the run game is very important. That's how we feel. We feel like we're getting better in the run … I think we're gaining momentum that way … I don't think it had to do with (the running backs). I think in general our momentum kind of slowed up making first downs."
It's been a trend ever since Mixon came back from a knee scope Oct. 7 against the Dolphins. He's averaging five yards per carry. It may say something about how the lack of defense has forced them to throw or that they're being careful with his knee or maybe a little of both (he was limited Thursday after not appearing on the injury report Wednesday), but he's doing it averaging 16.5 carries per game. Now that Bernard is back after missing a month with a sprained knee, he's adding to their confidence.
"The offensive coaches have mentioned the running game continues to escalate," said rookie center Billy Price, whose return last week from a foot injury didn't hurt. "We continue to get good runs. They've been saying it's just a matter of time before it pops. For the work we've put in, continue to improve, make sure we're matching what the backs are doing and making sure the offense is in rhythm, there are a lot of good things going on."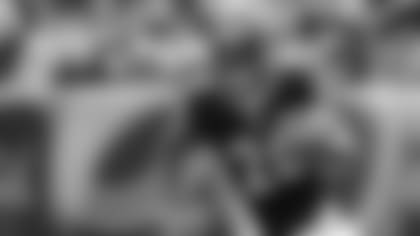 It's a fact of Bengaldom that their running game has been inconsistent in the Green-Dalton Era and has been almost an afterthought, except for rookie running back Jeremy Hill's 5.1 yards per carry in 204. That's the only season since 2011 their back with the most carries has hit four yards per carry. Mixon is reaching rarefied air at 5 per. Before Hill did it, the last Bengal back with the most carries hitting 5 was James Brooks in 1990, the last season of their fabulous run run of five straight seasons in the NFL's rushing top five.
But with the worst time of possession (26:53) of the 16 seasons of the Marv Era, it's been hard to run it. They're coming off their fewest rushing yards ever in a season (save the shortened '82 strike season) with 1, 366 yards. Now despite the overall 4.6 average, they're on pace for their fourth fewest ever at 1,514 no matter a 14- or 16-game schedule.
So they'd love to keep the ball like the 31:50 they kept it against Baltimore in the second game of this season, a 34-23 victory fueled by three Green TDs that gave them a 21-0 lead early. But Mixon quietly (again) racked up 84 yards on 21 carries despite injuring his knee on one of his first carries and that's a number they just haven't hit against the notoriously stingy Ravens very much.
They've had six 100-yard rushers against the Ravens in the 37 games of this century and none between Cedric Benson in 2009 and Rex Burkhead in 2017. And while this may be a last-stand game for the Ozzie Newsome Ravens, they do what they do. They're tied for 10th defending the run and they've got back relentless inside linebacker C.J. Mosley, their Pro Bowler that didn't get out of the first series back in September.
Now there is no Green and Ravens cornerback Marlon Humphrey is talking about how they haven't paid enough attention to wide receiver Tyler Boyd after he nicked them for 91 yards in each of the last two games. Weapons? Lazor knows he can't overuse Driskel because he's his back-up quarterback, but that eight-yard run in the red zone in last week's first series was helpful. The 27-yard TD bolt at the end of the game was nice ("There was no one on that side of the field and it was a walk-in," Driskel said), but the first one with quarterback Andy Dalton deployed wide may be more impactful.
"Anything that gives the defense something to think about and prepare for is a good thing for you," said Driskel, the former Red Sox draft pick who came within a whisker of being a career 1,000-yard rusher in college.
"He's big, fast, smart. What else do you want me to say?" asked Lazor with a smile, who probably wanted to add that right now he's healthy.
But, like Dalton said, "He can throw it, too."
After Dalton diagnosed his blitz so effectively in the first game, Ravens coordinator Don Martindale spent this week heaping effusive praise on him, noting Dalton is getting rid of the ball second fastest in the league. But Dalton isn't taking the bait. He believes they'll blitz him again.
"That's who they are," Dalton said.
Martindale could have also noted that, according to profootballfocus.com, only Tom Brady and Ryan Fitzpatrick have more than Dalton's six touchdown passes against pressure.
Since that night the Ravens have struggled covering those quick throws to slot receivers (that's where Green scored his three TDs) running backs and tight ends. But Ravens head coach John Harbaugh has objected to the notion that the league took the Bengals' blueprint to use against them in three straight losses.
What the Bengals have to be careful of is awakening the Ravens defense from their turnover nap, which is another reason another effective rushing outing would be nice. Historically they've been one of the best in the game and in the 11 seasons under Harbaugh they've got the sixth most in the league and third at home. But they haven't forced one in the last 49 quarters and have just seven on the year.
Still, the Ravens defense does what it does. It's in the top seven in everything from yards allowed, yards allowed per play, third down percentage, sacks and passer rating.
"They're physical. That front seven is huge and they can move and they can hit you," said Price, who agrees that Lewis has spent the week talking about standing up to the physicality.
He always does when they play the Ravens, but he never called a defense against them before, either.
"There's been a kick in his step this week," Price said.
They're hoping the running game has emerged enough to supply Sunday's finishing kick.