The thing is, Jordan Evans had been talking about the idea with his dad a few weeks before the marching in the streets.
And, when you really start getting down to it, Evans, the Bengals' 25-year-old linebacker, has been thinking about it for a lot longer than that. Longer than the four seasons he's been in the league. The idea may even be older than that report he wrote on Malcolm X in the eighth grade. Or the books he has read about Martin Luther King Jr., and Muhammad Ali.
It just may go all the way back to the little girl on the playground.
"I'm not going to sit here and say I'm a political activist," Evans says. "There are a lot of things I'm trying to educate myself on. This is something I'm passionate about. I feel like with our platform I have an opportunity to help and I feel like if I don't use it then I'm wasting what god gave me."
His idea is education. A course on diversity in middle and high schools. Knowledge always beats ignorance at the line of scrimmage is the way he was raised. Last week during the Bengals' virtual team meeting that sliced open jagged thoughts into raw emotion on the subject of what to do next in the battle for the high ground of social justice, Evans' idea resonated.
Not only that but as the month has churned through events, the idea he has sketched out to the group back in his hometown of Norman, Okla., is getting even more traction. There is a scheduled meeting at the end of this month when Evans gets back from working out in Tampa, Fla.
Dr. Nick Migliorino, Norman's superintendent of schools, is one of his biggest supporters. Some school board members want to hear more. And it helps that his mother, Tenika Evans, knows the terrain as one of Norman North High School's more valued resources as a teacher helping students tracking behind the graduation curve. The best ideas always seem to come close to home.
Evans is cautious because nothing is set in stone and he'll feel better about where the idea is after the meeting. But it is ideas like this one that the Bengals and the NFL hope help.
"Honestly, my dream is for the authentic history be taught," Evans says. "We have certain curriculum that you have to follow in order to graduate high school or pass classes. Why is some of our curriculum (electives) when you can sit there and learn about diversity? People want diversity to work for us, but how can you expect people to know how to handle diversity if they've never been taught it? I think the way you learn about it is through the true history of other people. I feel like that's a step to being able to understand each other, know each other's history, know what people go through. That can help with some of the racism and ignorance we see today."
His dad has always had his ear on this or any other subject, giving his son a unique view of it all. Scott Evans, who is white, had a cup of coffee in the NFL in the early '90s before he came back to Norman to start a family with Tenika, the black University of Oklahoma co-ed he met in bible study.
Scott, just as much as Tenika, is the reason Jordan has a Malcolm X poster on his wall, as well as the poster with the photo of the "Black Power," salute featuring John Carlos and Tommie Smith at the 1968 Mexico City Olympics.
 "Even though my dad's white, he emphasized me knowing my culture at a young age," Jordan says. "At the end of the day, he always told me we identify in Christ, but we do know the world is going to see me how the world is going to see me. They both made sure I was aware of that, whether it was dealing with cops or dealing with people. He always tried his best to make sure I knew the history of stuff and how to handle situations, along with my mom."
All that still didn't stop the little girl on the playground. Evans thinks he was eight and the girl seemed younger as she stunned him with an age-old observation: "My mom and dad said I'm not allowed to marry a guy like you because of your color."
"I'm sitting there thinking, 'What's wrong with my skin?'" Jordan Evans says. "I came back home and my mom and dad broke it down for me. Just one of many."
Tenika Evans remembers all the talks. Especially that one. Her oldest of three has always been curious about the subject and she thinks she can trace his passion back to that day on the playground.
"That was the first talk. That kind of sparked it. I think he became more aware after that," Tenika Evans says. "He's always been intrigued by injustice and people having the proper rights. He has his mind set on finding equality and justice.
 "Scott has even said the way we raised him, you're a Christian first. We didn't raise him to be black or white, but in the eyes of society they see him as black. So of course, you have to educate him as a black male because he doesn't get called white names, he gets called black names when people are being mean."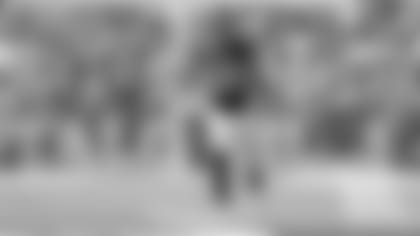 This is truly a mixed marriage. Tenika grew up a Cowboys fan in Plano, Texas. Scott was born in Cincinnati the same year the Bengals came to be and he grew up on Ken Riley, Ken Anderson, Isaac Curtis and he still swears by the Orange and Black even though his dad, a Xavier University football player, took the family to Oklahoma for his job when Scott was 12.
So when the Bengals drafted Jordan Evans in the sixth round in 2017, that worked out just fine for the notorious Cowboy detester. (The only time Scott rooted for the Cowboys were the three years they were coached by Barry Switzer, his old head coach at OU.) Tenika still has to keep the Cowboys clock in the closet and while she now loves the Bengals, too, she's walked out of some rooms when she and Scott are watching when Dallas is playing somebody other than the Bengals.
Sometimes, Jordan and the old school Sooner can clash, too, like any generation gap.
"They bump heads on things," says Tenika Evans, who may be thinking about music. "But Jordan listens. He's not hard-headed. He listens to his dad. He listens to me. He sorts through it. That's what I truly admire about him. He doesn't say, 'Whatever. I don't know what you're talking about.'"
Jordan Evans is taking that open mind back with him to Norman and the meeting later this month. Would it be a two-week course? A semester? A full year? One thing he knows, it would include everyone.
"American history. Native American history. Honestly, black history and American history should be intertwined. Obviously our origins are different. But being tied as a whole instead of being whitewashed in a sense."
During a month of searching for the next step, this linebacker hasn't taken a false one.
"It is about taking steps," Jordan Evans says. "Hopefully the steps are in the right direction. You can't expect anything, but you can only hope for it."