The sun was shining and music was playing as 180 female high school athletes and coaches took the field at Paycor Stadium on Saturday for the first-annual Girls Flag Football Jamboree hosted by the Bengals.
To kick off the event, Bengals head coach Zac Taylor, center Ted Karras, cornerback Cam Tayor-Britt, safety Mike Thomas and running back Trayveon Williams stopped by to share their love of football and advice for the young female athletes.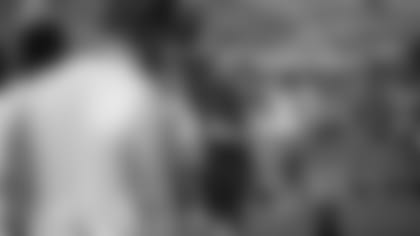 "This is such a great, growing sport, and the Bengals are doing such an awesome job of empowering all the women in this community to make this such a great sport, not only in Cincinnati, but nationally. Not only nationally, but internationally," Taylor said. "You are on the cutting edge of participating in this. It's such a wonderful thing that the Bengals are participating in, and that the NFL is participating in."
"I'm really excited to see all of you out here," Karras said. "It'll be a lot of fun. This is awesome that you are doing this. Take advantage of everything that you can in athletics."
"Any dream that you have, go out and dream it. Make it your priority, and you can do whatever you want to do," Williams added.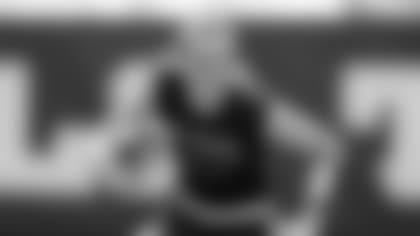 For Alli Magary, a senior at Notre Dame Academy and safety on her school's first-ever girls flag team, that dream has always included an opportunity to play football. Growing up watching Bengals games and tossing a football in the front yard with her twin brother, Magary was excited to be able to join in on the action alongside her teammates and friends.
"It honestly feels surreal," she said, "I'm excited to be here on the field where the Bengals play. I love it."
As part of the Bengals' commitment to bring football to more women, the team hosted a skills clinic and 5v5 tournament to introduce high school female student-athletes to the fast-growing and fun sport of flag football. The participating student-athletes attend six local all-girls high schools in the greater Cincinnati area, Mercy McAuley, Mount Notre Dame, Saint Ursula Academy, Seton and Ursuline Academy – all members of the Girls Greater Catholic League in Cincinnati – and Notre Dame Academy in Northern Kentucky.
"It's beyond rewarding to be able to give hundreds of girls access to football," said Bengals Director of Strategy and Engagement Elizabeth Blackburn. "I know and see how much playing football can give back to those who play it. It's the ultimate team sport. The Bengals are so proud and grateful to be able to serve as a platform to get more girls into the game of football."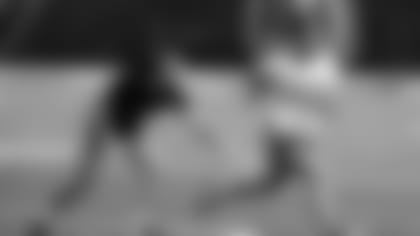 To jumpstart the flag football programs at these six schools, the Bengals provided a startup grant to each institution in addition to USA Football equipment and Nike uniforms in preparation for the first year of games and team practices, which have already begun in preparation for their pilot season in spring 2024.
"As a woman in football, seeing this is amazing," Blackburn said. "It makes me, my mom, my sister, the whole Bengals organization and all of my fellow female executives so proud to see this amazing turnout today. We're really excited to see the sport grow over time, too."
Coach Taylor emphasized that flag is an effective introduction to football and echoed the beneficial lessons the sport can teach.
"I have two young girls, and they will be out here playing flag football one day," Taylor said. "It teaches you how to catch, it teaches you how to communicate, it teaches you how to cover. It teaches you all as teammates and as coaches to get out there and problem solve."
The day's skill clinic was led by USA Football staff and volunteers, including local professional women's tackle football players from the Cincinnati Cougars of the Women's Football Alliance. USA Football, the national governing body of American football in the United States, works to promote tackle and flag football around the country. The non-profit partners with NFL teams, including the Bengals, to host flag football events and provides resources to coaches and parents such as rulebooks, playbooks and health and safety materials. Around a dozen NFL teams have now hosted a jamboree-type event in their local markets, and in total, USA Football has introduced over 25,000 girls across 900 schools nationwide to the flag game in the last 12 months.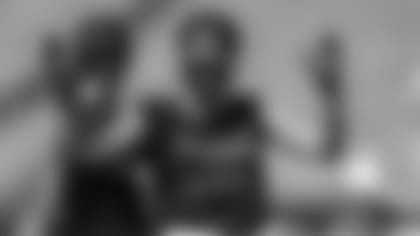 Flag football has grown exponentially in the U.S. over the past decade, and as of 2022, more than seven million kids ages six and up participate in flag. So far, eight states have sanctioned flag football as an official high school sport, and 15 – including Ohio – are in the process of doing so. The NFL has identified girls flag football as a key initiative for advancing the sport, and the Bengals are hopeful that the inaugural season of girl's flag football in Cincinnati, officially kicked off by the jamboree, will lead to increased local interest in the sport and the addition of new teams in the near future.
"It's just fun," Blackburn said. "The Bengals are about bringing fun to people's lives, and bringing flag football into more young people's, especially girls', lives is fun."
In addition to the skills clinic and tournament, Saturday's participants also got to experience a photoshoot using the same set used by Bengals players at the team's media day in June. In all, the day provided the young women with lifelong memories of being Bengals for the day while also supplying fundamental skills that will set them up for successful futures in flag football and beyond.
Magary said a highlight of her day included a safety-to-safety chat with Bengals veteran Mike Thomas, who made sure to pose for a photo with her after sharing some pointers.
"It feels like a dream," said Magary. "There's no other way than 'completely awesome' to describe it."
If your local high school is interested in bringing Girls Flag Football to your school, please let us know \[HERE\]
More than 180 female high school athletes and coaches took the field at Paycor Stadium on Saturday for the Bengals' first-annual Girls Flag Football Jamboree.