Paul Brown: the Pro Football Hall-of-Famer had a different touch for his expansion team.
Imagine we are in Warren McVea's room on the third floor of the players' dorm at Wilmington College.
It's one of the rooms where the rookies gather in the Bengals' first training camp during that endless summer of 1968 and their stories flow like the seminal current events pouring out of the newspapers that Paul Brown puts at the end of the hallways.
"So you can read what people are writing about you," Brown tells his team in that first meeting. "But it's not free. It's only a dime. So pick up your newspaper, put the dime down. We don't want dime thieves on our football team."
Bob Trumpy, the marvelous rookie tight end who is the subject of many of those stories, is listening intently.
"There were guys that didn't put a dime down," Trumpy says, "and they were gone."
Now the Bengals' veterans report Thursday and start practice Friday against the backdrop of the Cincinnati skyline and the club's 50th season celebration with the news on a phone instead of the end of a hallway.
(Did you hear the one Trumpy tells of a guy on the hallway phone telling his family he's milking a hamstring injury for a few more weeks? An assistant coach hears him passing by and the guy is cut in the morning.)
 Today's Bengals practice once a day, stay in a posh riverfront hotel, and get a day off after four days of practice before camp closes to the public after 13 days.
"It seemed like we were there 13 weeks," says Bob Johnson, the Bengals' first draft pick. "One week more than usual with a special dispensation because we were an expansion team."
So let the stories roll. Of daily two-a-day practices and cramped, airless dorm rooms and legends and felons and pigs and perverts and Yours Truly.
There is McVea, the rookie speedster from Houston who Trumpy swears puts away a quart of vanilla ice cream a night and still stays 5-9, 182 pounds.
There is rookie linebacker Al Beauchamp, a sleek beauty of an athlete from Louisiana whose high-pitched laugh and terrific sense of humor cushion his first trip north. He's watching films of Packers linebacker Dave Robinson to help him make the transition from a 3-4 stand-up defensive end and he'll go on to play the first eight seasons and miss only one game while starting on three post-season teams on the outside.  He's riveted when that first meeting starts with Paul Brown introducing himself.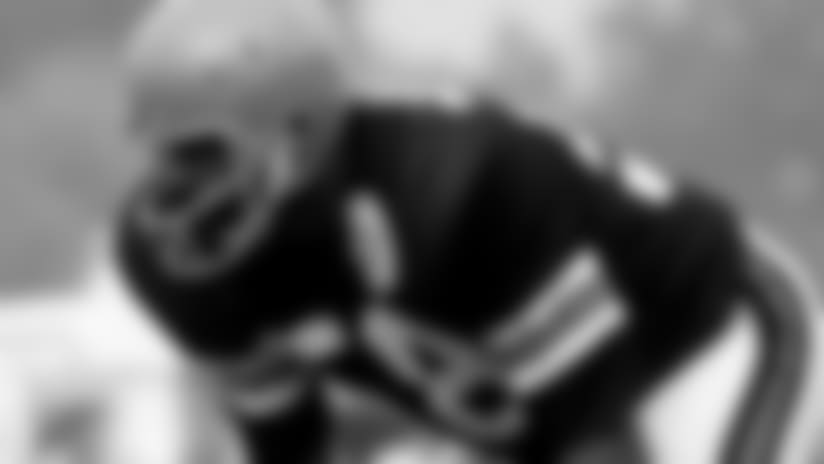 Al Beauchamp was all ears during that first training camp speech.
I'm Yours Truly. There's nobody above me." Then he introduces the team president, John Sawyer, and says, "I vote for him."
"I read what happened to him in Cleveland with the Browns," Beauchamp says of the 1963 firing. "He let everyone know right then. There's nowhere you can go because I'm the top … He had the main vote. He had 51 percent control of the team. He wasn't worried about someone coming into his office and saying, 'Paul, we no longer require your services.' Everything happens on his watch."
There is Johnson, the Tennessee center and the No. 2 pick in the draft who is late to camp because he's practicing with the College All-Stars and arrives just in time to shake hands with Brown before making the first punt snaps in Bengals history in their exhibition opener.
He gets plenty of work in in the 38-14 loss at the University of Cincinnati's Nippert Stadium to a Kansas City team poised to win the Super Bowl the next season.
"I don't think we made a first down until the third quarter," Johnson says.
And there is Trumpy, the gangly sure hands who would go on to define the modern tight end. But it is his smoky bass and confident opinions he displays in those third-floor bull sessions that will put him in the Pro Football Hall of Fame as one of the NFL's first great TV analysts.
 "I was sitting in the back of the meeting room counting numbers," Trumpy says. "There were 23 guys vying for the receiver and tight end position. I figured I'd double my chances to make it if I played both."
The numbers game is staggering and memory can play tricks. Of course, that makes the stories even better. Bengals president Mike Brown, then the assistant general manager as his father's top aide, remembers the Wilmington stay as nine and a half weeks.
Which is about right, taking them from the Fourth of July to mid-September. The guys remember as many as 150 players jockeying , but the papers report it as 83 who originally report and the rules said they could have no more than 60 players under contract.
If it seems crowded it's because it is.
"It was always churning," Mike Brown says. "We'd bring in six guys and send out six guys. To be fair, to those guys it seemed liked there were a lot of guys because they're trying to win jobs."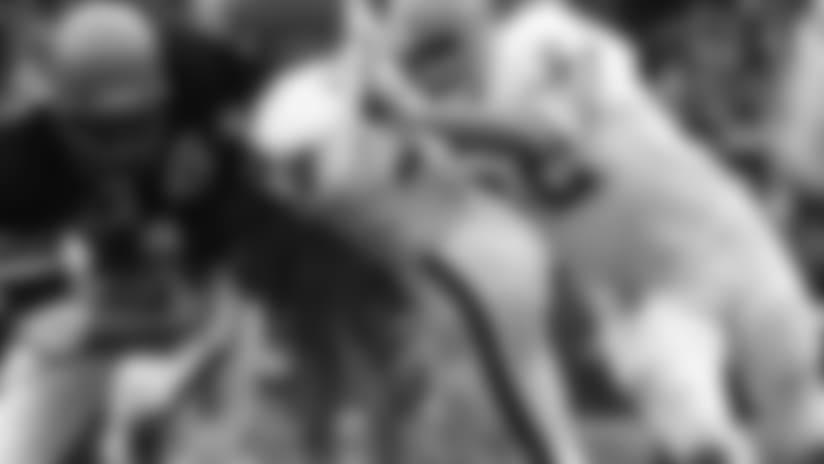 Bob Trumpy (84) had six roommates that first camp.
"Oh man, it was a madhouse," Beauchamp says. "To and from the airport. Eat breakfast with them and they're gone for lunch. You're eating lunch with a guy and he's gone for dinner."
Trumpy: "Starting a team like that, I'm not sure you could do it any other way."
The Bengals bring in guys to run a 40-yard dash and if they don't rate they keep on running out the door. Guys who practice in the morning are gone in the afternoon. Trumpy has six roommates that camp and he can't remember the names of five of them. The Turk, linebackers coach Frank Smouse, knocks on his door five times and each time says, "Paul Brown wants to see you. And bring your playbook." And it's never for Trumpy.
"You had to stay in your room for a half-an-hour, either from 7 to 7:30 or 7:30 to 8. That's when they cut you," Trumpy says. "Anybody on the street who had a size 13 shoe was a candidate to be a Cincinnati Bengal and they were."
That's when they got Wally Scott, the only name Trumpy remembers.
"He was in bed when I got in and I shook his hand," Trumpy says. "The next morning he's a little ahead of me and is rustling around. He tells me where I can get some breakfast and leaves the room. I take a shower and then go get some food. I sit with one guy I know, (Alabama A&M defensive tackle) Bill Kindricks, and we sat and talked. I go back to the room and if the bed wasn't rumpled I would have thought I was in the wrong room. There was no sign of Wally Scott. The closet was cleaned out. He was gone."
They're rolling on the third floor. That's the home of the famously notorious Jess Phillips. He's the fourth-round pick from Michigan State who doesn't get to Wilmington until a month late. That's when he gets out of the penitentiary after he forges a check his senior season and is sentenced to 18 months to four years and gets paroled after four months to join the Bengals when Mike Brown flies to Jackson, Mich., to pick him up at the prison gates.
"Everybody liked Jess. A good guy. Friendly. Fun to be around," Mike Brown says. "But he had a knack for getting in trouble."
Bob Johnson becomes stunned not because Phillips just got out of jail, but because of how he spends his signing bonus on a big 98 Olds.
"It was the only car I really knew was bullet proof," Johnson says.
"That's how much they thought about me and what I could do. They drafted a felon in front of me," says Trumpy, the biggest draft bargain in Bengals history in the 12th round.
Phillips isn't the only interesting character on a team that not only gets players from the college draft, but also from something called the expansion draft when they take unprotected players from other AFL teams.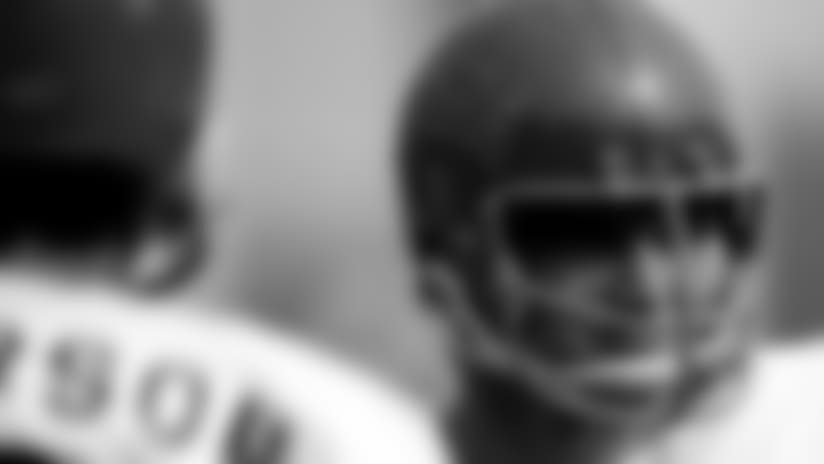 Bob Johnson: "It was such a collection of people."
"It was such a bizarre collection of people," Johnson says. "We got these guys from other teams and they were cast off for a reason. Not criminal. But there were some unusual ones that were almost deviant personalities."
Paul Brown is furious at the veteran allocation pool the NFL gives the Bengals. In fact, he almost refuses the franchise because of it. Even though the league is merging they get to choose from only eight American Football League teams. Miami, which is exempt, got to pick the year before when the rosters were frozen at 25. The Bengals get to pick only after they're frozen at 29. Meanwhile, New Orleans and Atlanta get stocked from the 14 teams in the much deeper NFL.
Of those 40 veterans, only 15 are on the team in late October. The best one may be Chargers tackle Ernie Wright out of Ohio State. The most important may be another Charger, linebacker Frank Buncom, who takes Beauchamp under his wing and teaches him how to play NFL linebacker over meals and skull sessions.  
"Some of those guys were at the end. They would show flashes in games," Johnson says, "but they just weren't up to it physically."
Beauchamp: "The first two weeks, it was a madhouse. As the weeks went by it was slowing down and you began to see the progress. How the rookies were inserted in the lineup where the veterans were playing and they were gone."
That's why it is a training camp owned by kids like Trumpy, who is really a sage veteran by the time he gets here. For that he thanks a fortuitous trip home one day from work in the Los Angeles area not long after the telegram (telegram!) telling him the Bengals drafted him.
He quits his job as a bill collector and finds a construction job to get in shape when he stumbles on guys throwing around a football in the park.
"It's Zeke Bratkowski. Bart Starr's backup for the Green Bay Packers who lives in Sherman Oaks," Trumpy says. "He says they've only got one other guy to throw to so I fit in perfectly. Six days a week from March to June we work out before we have to leave for camp. He pulls me aside and says I have to do something every day in practice to get noticed."
One day in seven-on-seven at Wilmington Trumpy runs a shallow cross and then chooses to run over another rookie, defensive back Charlie King.
"I apologized a few weeks later," Trumpy says. "I could have stopped. I could have gone around him. But I wanted to show them, 'Yeah, I can run over somebody if I have to."
 Since he has so many kids, this isn't the Paul Brown that coached the Browns to 11 championship games in the '40s and '50s.
"These guys thought he was firm and that's how they remember him," Mike Brown says. "He had been firmer in the old days. He was a little more compassionate, a little more understanding."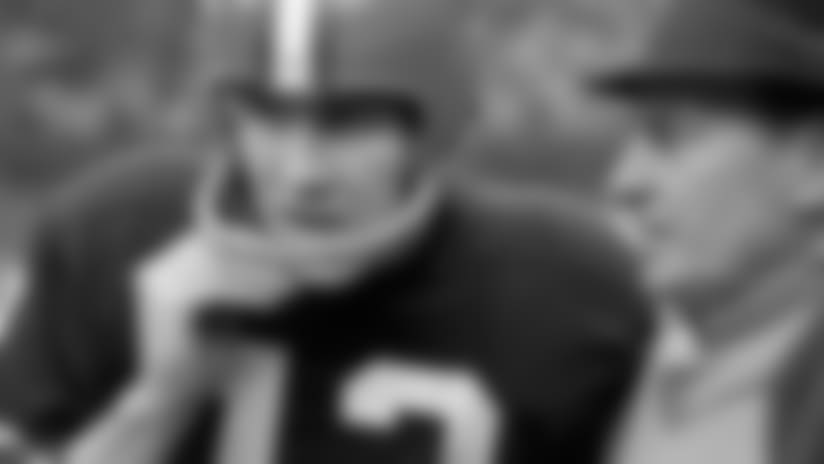 It all got back to fundamentals when Brown built his team.
Stories and this one probably doesn't happen in Cleveland. It may not happen without the third floor, where after about a month in Wilmington and everyone has been able to see what everyone can do, there is a bull session where McVea offers, "I know one guy who is going to make this team. Trumpy."
"Because you've caught it, done everything. They're moving you around."
Which gets Trumpy thinking. His wife Pat is "very pregnant," back in L.A., and has reminded him if he makes the team they don't have a doctor, hospital, or apartment in Cincinnati. Emboldened by something else Bratkowski tells him, which is that the Packers love big receivers like Max McGee and Boyd Dowler and that he'll tell his coaches to keep an eye on the waiver wire for him, Trumpy tells his fellow rooks he's going to Paul Brown's room to ask him if he's made the team.
"You're re crazy," they tell him. "He'll cut you."
The first thing Trumpy notices is that Brown has the only air-conditioned room in the place. The second is that while he lays out his dilemma ("If I don't make the team I'm leaving tomorrow. If I do make the team I need to get my wife here next week"), Brown is looking over his half-glasses at him.
"He hemmed and hawed and he finally said I'd made the team and they would help find us a doctor and hospital and apartment," Trumpy says. "I told him, 'You promised me $1,000 if I made the team. That check would sure come in handy now.' He leaves the room and I hear him say, 'Write Trumpy a check for $1,000.' And Mike Brown brought it in."
As Trumpy heads back to his room down the third floor, heads are popping out of the rooms. There are bets riding on this meeting. One guy follows Trumpy into his room and asks, "He cut you, didn't he?" Trumpy waves the check and says, "No, he gave me $1,000."
The players feared Brown, yes. Beauchamp remembers him telling one brazen player "I'll send you out of here as quick as this," as he rips the tape with the player's name off his locker.
But, "Paul took care of his players," Beauchamp says. "He wouldn't beat you up in scrimmages. I remember him saying he wouldn't pay for a player for getting hurt in practice.
"On the south side of the (Wilmington) stadium, the defensive and offensive lines were practicing and the DBs, linebackers, running backs, and receivers were down on the field and all of a sudden we hear this racket. He stopped practice. 'Cut that out. No hitting up here. Walk through. Walk through.' He wasn't that big on scrimmaging. He was a basic coach."
Each practice, morning and night, was an hour and 15 minutes.
"If it was an hour and 16 minutes," Trumpy says, "he was pissed. 'Get off the field.''' He says they were in meetings longer than they were on the field.
That makes Mike Brown laugh when he thinks how the 21st century practices have been scaled back.
"He was ahead of his time," he says. "His practices are pretty much what we do now pursuant to the collective bargaining agreement."
How basic? There are stories about that, too. Every Paul Brown practice starts with a tackling drill. The take-it-to-the-ground drill and 1968 was no different. And there is one new play in the morning and one new play in the afternoon. Each year to start it off it is the running plays 56 and 57 in the morning.
"It was about learning technique and responsibilities," says Beauchamp, who'll be one of the guys that carries Brown off the field when they win their first play-off berth two years later. "That's what I liked about Paul."
The Bengals use the basics to get a 1,000-yard season that first year from third-round pick Paul Robinson, the "Cactus Comet," from Arizona. Robinson's speed makes him a threat on the outside and the sweeps called 28 and 29 become a staple of that camp. It also shows the versatility of Trumpy.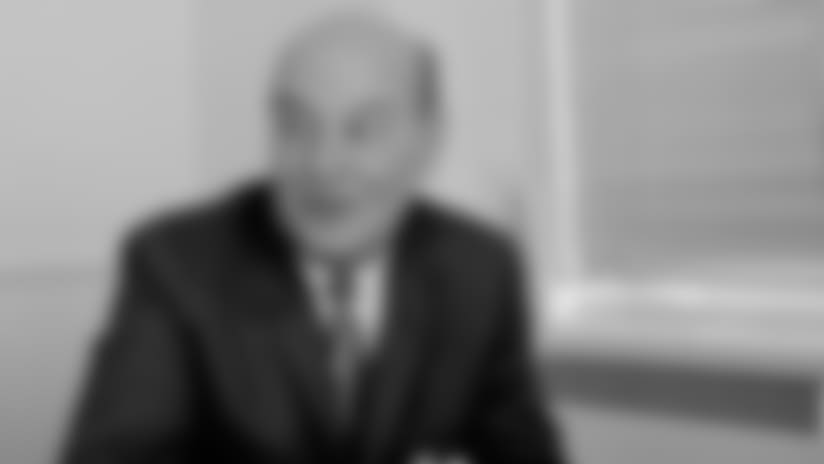 The 60-year-old Brown gave the kids a chance back in '68 and they put him in the '70 playoffs.
JOHNSON:  "The block that should not be Abe to be made is the tight end because the halfback is running from the back side and going all the way across the backfield. There's no deception other than the fullback filling. You've got to stay on that outside linebacker. Trumpy did. You couldn't run that play today because you don't have the tight ends to stay with people like that. It takes too long to develop."
This is the camp Trumpy struggles with his weight. Desperate to show the coaches he's big enough to play tight end, he resorts to draping a towel over weights when he gets on the scale. Poor beleaguered trainer Marv Pollins charting all these names. He's barely got room and time to jot down the weight never mind check for foreign objects.
Johnson notices first it is a 2.5-pound weight. Then a couple of fives. Then one day he hears receivers coach Bill Walsh walk by and say something like, "212. Hey, I think this is going to work, Trumpy."
The stories get weightier than that, like the poker games, usually run by the monstrous Wright. Even though Brown warns them that cards for money can unleash a lot of emotions, the stakes get too high for Johnson's tastes. "Not $1,000 pots. None of us were making enough for that."
But Johnson swings by and watches on occasion and on this one night the guys get a little rowdy and trash the common room with soda and food all over the place. A monument to being cooped up for weeks. It's so bad the janitor shows Brown before he cleans it.
"The next day Paul comes into the meeting red-faced. And he just starts pacing," Johnson says. "He's so mad, he can't talk. He was such a gentleman. He couldn't understand how people could do something like that. He was so mad and he finally just blurted out, "pigs and perverts."
Let's face it. Never mind the kids. This is Paul Brown's camp and it isn't an easy time for a 60-year-old coach who comes of age in the post-war era.
Bobby Kennedy has been gone less than a month when the Bengals begin to gather at Wilmington. Two months after he had marched in Martin Luther King's funeral. The Bengals will still be in Wilmington six weeks later when the Whole World is Watching the Vietnam War tear apart the Democratic Convention in Chicago with mass rioting pitting police and protestors.
"It was a powder keg getting ready to explode," Beauchamp says.
But not in Wilmington, Ohio, where Brown has built a moat of equality that leads to only football. One of the many things that impresses Johnson is that Brown outlaws rookie hazing on a team he believes some of the recycled veterans would love to exploit their station.  
"We were going to be the best team we were going to be. Nothing was going to distract from that," Johnson says. "We believed him and probably should have. He would stand up and say everybody here starts even. You could see nobody being treated differently than anybody else."
From that first training camp on, Trumpy made sure he sat close to Brown's line of sight in every meeting. "I wanted him to see me first thing every morning … Fear is good. Fear is not bad when its, "What can you do for me, son?' I'll show you. Give me a chance."
Which turns out to be the story 50 years ago up here on the third floor.
Cincinnati Bengals host Pre-Training Camp media luncheon at Paul Brown Stadium.