Remember the first day of school when you were a kid and the teacher would ask everybody to stand up and tell the class what you did over the summer?
I enjoy basically doing that each year in the Bengals locker room.
Here are some of the interesting adventures that Bengals' players have had in the offseason.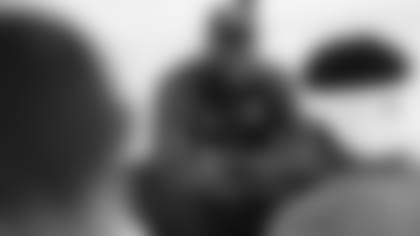 "The names are all tongue-twisters for me and I don't want to mess them up but we did about six bases – Air Force and Army while we were over there," Dunlap said.
"That was amazing. That was a once-in-a-lifetime thing and I'm glad I jumped on the opportunity to see those guys. Going behind enemy lines and seeing guys from home.
 "Most of those guys are just excited to be around football players because for them to see our games, a lot of them mentioned that they had to stay up until 2:00 or 3:00 am to catch the games. So they're avid fans."
Ryan Hewitt traveled roughly 10,000 miles to watch auto racing.
"Me and my mom went to Australia for a couple of weeks," Ryan told me. "The main reason was to watch the season-opening Formula One race in Melbourne. I've always been a big fan of that. We started in Sydney for about five or six days and then we went to Melbourne and it was incredible. We checked out most of sights in Sydney. We didn't branch out to many of the beaches but we saw all of the sights in the city.
"By the time we got to Melbourne in was race time. My focus was being at the track almost all day every day and my mom was compliant enough to deal with it. By the end of it I think I converted her into a Formula One fan. Every weekend she's texting and watching the race when I'm watching it.
"A funny situation happened with the rooms at our hotel in Melbourne. Me and my mom were supposed to be in separate rooms and it was a boutique hotel that only had 15 rooms. We ended up having to share a room with a queen bed for a whole week which is pretty hilarious. But because of that, we met the owner of the hotel who was a great guy named George and he hooked us up with all sorts of different experiences. We went to one of the Australian rules football games at the Melbourne Cricket Ground which if the biggest venue in Australia. I didn't know any of the rules so I'm asking the lady next to me to explain the rules for a whole game. But that was a blast."
Keivarae Russell went back to school in South Bend, Indiana.
"I graduated from the University of Notre Dame with my management degree," he said. "One of the best business schools in the country so it was big-time. I spent the whole spring there this off-season to finish my degree.
"When OTAs started, it seemed like I was driving back-and-forth to Cincinnati almost every other day. Monday and Tuesday I would be in Cincinnati; Wednesday and Thursday I would be in class. I would drive back to Cincinnati on Friday and then have to drive back to Notre Dame the next Wednesday.
"I had 15 credits left and I finished them. That's five classes – a full load. It was tougher this time around than it was in college because you lose that regimen of going to class. No matter how hard high school or college is, you have a routine. Even if you struggle with time management, you have a routine. I've been gone from college for two years so it was tough. The first day of class I put all of my books and assignments on the table and just looked at them for like two or three hours and thought, 'OK, how do I start this?' But I knew it was what I wanted to do. I wanted to finish it now and get it out of the way. It was tough but I got it all done.
"It might be even more important than the day I got drafted because I am the first person (in my family) to graduate college, and to see the smile on my mom's face and my grandfather's face and the rest of my family that were there and know that we have a college graduate – we're changing the trajectory of our family. Moving forward everybody will have to do it now.
"I already had a job that allowed me to help my family and help myself live a good life. You have to find an internal motivation because it's not a matter of finances anymore. For me, the inspiration and motivation to go back to school was to be the first person to graduate. One day my kids can't say, 'Well you didn't go to college dad,' or 'You didn't finish your degree dad.' I never want to have that conversation in the future when I have kids. I want them to see a degree on the wall and know that I accomplished both of my goals which were to get a degree and to go to the NFL."
Giovani Bernard took two very different trips.
"It was a very eventful off-season," Gio told me. "I got engaged and I also took a trip to Haiti. I have a school over there and we try to do some stuff about every year. We supplied water this time around and it was awesome to see the kids.
"I got engaged in Versailles which is just outside of downtown Paris. We flew into Paris out of CVG. We drove through France to Italy, so you're driving through Germany and Switzerland and then you get to Italy. We stayed in Como and had the chance to see George Clooney (laughs) – no I didn't. But we spent a week in Italy so it was pretty cool.
"My fiancé has been a flight attendant for Delta and we've had very good opportunities to go out of the country. That definitely opened my eyes to the outside world. I've seen Haiti from going there a lot, but going to Europe is a lot different. I just enjoy different food, different people, and different culture all around."
Since the players get roughly six weeks off between the end of the mandatory minicamp in June and the start of training camp in late July, many of them are enjoying their offseason adventures this month.
"I've got a trip coming up to Punta Cana (Dominican Republic) after minicamp," Tyler Boyd told me. "I've got to have as much fun as possible until camp comes back around."
They'll be back to work soon.