"Have you met these guys yet," head coach Marvin Lewis asked as he led six-year old Walter "Superbubz" Herbert onto the field at Paul Brown Stadium following Friday's practice.
As Bengals players and coaches clapped and cheered for him, Superbubz headed to the middle of the huddle and called out "One, two, three. Win!"
Superbubz has inspired the Greater Cincinnati community with his battle against cancer. He was diagnosed with neuroblastoma in September 2015.
"It was very life-changing," said mom Emily Herbert. "It kind of happened over night. On Thursday, he started limping and by Monday, they were telling us he had stage four neuroblastoma. He was basically head to kneecaps covered. And here we are again with a relapse of the same thing, and actually it is worse this time."
"We see him go through everything," dad Wally Herbert added. "Three days a week, we do IV, meds, fluids and doctor visits. This allows him to be a kid. He gets to be normal. Now granted this is extraordinary, but he gets to be extraordinarily normal."
The past couple of weeks have been a whirlwind for Superbubz and his family as the community has embraced this little boy and his story.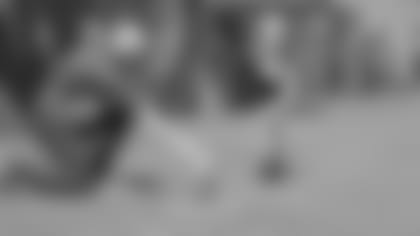 "I can't even describe it without getting emotional," said grandma Peg Herbert. "Cincinnati is a wonderful, wonderful, wonderful town to be in. A lot of caring people. The Reds, Joey Votto. The Bengals, A.J. Green. You just can't beat it. They've all been so wonderful to him."
The family hopes that memories from experiences like Friday's Bengals practice will last a lifetime.
"He is so resilient and full of life," said Emily. "Just seeing his smile and getting to watch him to do these things makes every step of it so much easier."
"He just radiates happiness," added Wally. "That's what helps us get through things like this. Everyone seems to be touched by his story. And he's a cute kid."
As Bengals players and coaches signed autographs and tossed a football with Superbubz, they could see that smile shinning ear-to-ear.
"We're so blessed to be able to do what we do," said Lewis. "Having Walter out here to take part in our Friday practice and see the smile on his face as he greeted the players was great. And the players enjoyed it too."
"To get a chance to make this kid's day, it means a lot to all of us," said quarterback Andy Dalton. "We're giving him and his family an experience, hopefully a day they'll never forget."
Superbubz visits Cincinnati Bengals practice at Paul Brown Stadium 9/8/2017