In between meetings and film work prepping for the Senior Bowl, Bengals offensive coordinator Brian Callahan and his quarterbacks coach Alex Van Pelt can't help but smile when the topic is LSU quarterback Joe Burrow.
They may not know yet if he's going to join them next week in some fashion when they coach the South in the Jan. 25 game (2:30 p.m.-NFL Network) in Mobile, Ala.  But they do know if the Bengals do what the world expects them and wants them to do and they take Burrow No. 1 on April 23 in the NFL Draft, they'll have no problem putting him in their offense that has several elements of what Burrow ran to virtual reality perfection in Baton Rouge.  
"He definitely checks off a lot of boxes early on in the evaluation process," said Van Pelt Wednesday as they began preparing for what is turning into a quarterback fantasy camp in Mobile.  "He obviously looks like a very intriguing guy."
Van Pelt, a pretty fair college quarterback himself who broke Dan Marino's records at the University of Pittsburgh, knows he's scouting the guy hot off the greatest season a college quarterback ever had. And Callahan, the old UCLA quarterback, has enjoyed watching Burrow so much that he's already viewed every snap of LSU's magical season and can only smile when he says, "As advertised."
With so much Burrow already in the bank, Callahan easily delves into the short-hand language that marks the scouting season.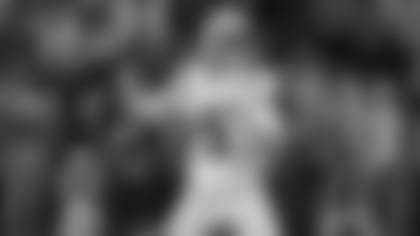 "He's got natural pocket feel. He feels it," Callahan said. "It seems like he never takes his eyes off down the field. He extends the play really, really well. He's a lot faster than you might assume when you see him running away from all those SEC guys. He's got incredible up-field accuracy. The ball hardly ever hits the ground in a game, which is rare. He just naturally puts the ball in places where those guys can make plays."
Van Pelt: "Creates on the move. Obviously takes care of the ball. Makes good decisions. You can see that with his touchdown-to-interception ratio (60-6). I got to see him (in real time on TV) in the last two games of the year and then when you watch the tape, you're seeing the same things."
They're smiling because it all sounds like understatement and maybe because they've got first crack at Burrow. But these guys are also quarterback connoisseurs and they're enjoying the prospect of getting this crop of prospects in their room a month before the NFL scouting combine.
"If you like quarterbacks, you're going to like this game," Callahan said.
The South has also been assigned Oregon's Justin Herbert, Oklahoma's Jalen Hurts and Colorado's Steven Montez. Callahan is already a few games into Herbert's tape, a montage that many believe is top five worthy. Hurts was one of the nation's more coveted players and Montez is his school's all-time passer.
"Herbert is exciting to watch. Big, strong, athletic. Efficient mechanically. Very smart. Everything you're looking for in a quarterback. Jalen Hurts has had an excellent career against top flight competition. He's a creator. It seems like I've been watching Montez forever. He's played a lot of ball (39 starts). He's really strong and he can throw it. This is going to be fun."
Van Pelt is a 15-year veteran of NFL coaching and yet he's never worked a college all-star game, so he's been hearing from friends that have how much he'll enjoy getting a leg up on the evaluation process.
"We get them for the week, so we'll see what they're all about," Van Pelt said. "I'm looking forward to getting them up there on the grease board."
They're getting a streamlined version of the Bengals playbook. Not very complex, but they think it's going to be enough. Enough to test the quarterbacks with NFL principles they haven't been exposed to very often and enough to give the scouts what they need to make evaluations.
For instance, Callahan figures 85 percent of the time college quarterbacks get the play signaled from the sideline while they're standing at the line of scrimmage. A lot of them have never called a play, never mind broken a huddle. And for the first time they'll be hearing a voice in the helmet via the communicator.
But no matter when they get to sit down with Burrow and what they throw at him, they're certain his abilities and their offense will have no problem meshing. Much has been made of how well Burrow ran the new LSU scheme masterminded by former Saints assistant coach Joe Brady and if that stunning success could be replicated in another system.
As Brady moves back to the NFL in Carolina, Callahan says the Bengals playbook won't be foreign to his No. 1 student.
"We've got a lot of similarities with their pass game. A lot of NFL offenses do," Callahan said. "He ran a lot of elements of what they did in New Orleans. Getting guys in space. Getting people in matchups. You see a lot of pro passing concepts in their offense and they did a really good job. But there are things like that you see around the league. It's all things that fit very well with what we do and a lot of people do."