As Bengals running backs coach Jemal Singleton chuckled deviously while jabbing the fishing pole-like contraption into the arms of his fellow running backs in an attempt to snatch the rock, Joe Mixon announced to a bystander on the practice field during the drill a few weeks ago, "Ball security is job security."
It's also been a way of life in this backfield, where fumbles have gone to die and Giovani Bernard reigns as the NFL's sultan of certain. During his stat-strewn summer helping assemble the media guide, Pete Schramm, the Bengals manager of media relations, sifted this orange-and-black gem from Elias:
Bernard and Mixon have the two longest active streaks in the NFL for rushing attempts without a fumble and haven't done it since they were rookies.
Bernard, at 752 straight carries, last fumbled on a run five offensive coordinators ago in the 2013 win over the Patriots. Mixon, at 524 straight, last fumbled a total of eight 100-yard games ago in the 2017 finale. That's nearly a combined 1,500 carries with just two fumbles.
The streak also stretches back to a night in the middle of the week in the middle of the '90s in Colorado Springs, Colo.
(According to Elias/Schramm, three-four-five in the NFL are Latavius Murray at 501, Saquon Barkley at 478, Phillip Lindsay at 416. And, Bernard has the third longest streak since 1980, trailing LaDainian Tomlinson's 991 and Steven Jackson's 846.)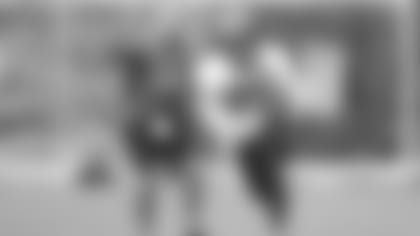 "A part of it is accountability. If your teammates can't count on you to hold that ball, it's not a good look," Bernard says. "A part of it is mindset. You don't want defenders to take your job away by taking away the ball."
The irony is that the Bengals were sent into this era with a fumble. One of Cincinnati's biggest parlor games is measuring how Bengaldom would be different without running back Jeremy Hill's fumble with the Bengals leading the Steelers by a point and 83 seconds left in the 2015 Wild Card Game.
But the bigger irony is the Bernard, their most sure-handed back, wasn't available because after catching a short pass out of the backfield late in the third quarter he had been knocked out of the game with a concussion on a hit by Steelers linebacker Ryan Shazier. The hit, outlawed three months later, forced a fumble at the Steelers 25.
(More irony? Shakespeare Schramm reports that Hill has the Bengals' fourth longest streak without a fumble in the past 30 years with 282, behind Bernard, Mixon and Harold Green.)
"If you can find me a guy that's never fumbled, get me in touch with him so I can get his secret," Bernard says. "Fumbling is part of the game, but you want to be that guy your teammates can count on. It happens, but the big thing is not letting it happen too often and taking pride in that.
There's a lot of pride in the running backs room. There's a lot of everything in any NFL running backs room and they need all of it to play one of the most demanding and celebrated positions in sport, even in a passing league. Mixon's $48 million extension earlier in the week shows how the position goes beyond the numbers.
Funneling all those adjectives into a team is the charge of Singleton, who brings his military brand of energy, resourcefulness and discipline every day. In his fifth year in the NFL after 13 years coaching in college, Singleton, 44, already has logged 1,000-yard seasons in half of his pro seasons. He was coaching the Colts backs in 2018 when Mixon idol Frank Gore rang the bell.
He's Bernard's third position coach following Hue Jackson and Kyle Caskey, both key contributors to the streak.
"I wouldn't say he emphasizes it more or less than the other coaches," Bernard says. "He takes pride in his players holding on to the ball. It reflects on the coach. I try to do my best to shine that light on him. He's done a good job since he's been here and he deserves a lot credit. And hopefully our play can show that."
Preventing fumbles is quite personal for Singleton. Go back to 1996 and a Thursday night ESPN game, when Singleton was a sophomore running back for Air Force wearing No. 24 when the academy played Pacific Division rival Colorado State in one of those frantic WAC ping-pong games. The Falcons lost, 42-41, and well, let Singleton tell it.
"I had two fumbles in that game. Big game at home. National TV. Going for the conference title. Close, close game at the end," Singleton says. "There was no doubt those two fumbles had a big impact. From that point on, I don't want any player to ever have that feeling. I don't want my guys to have to go through that."
One was on a kickoff. One was on the sidelines. Don't look for Mixon, Bernard and the rest to be wearing sleeves on Sundays.
"It was a colder night. I was wearing sleeves," Singleton says. "Don't wear sleeves on game day. I love them when you wear them in practice. It forces you to take care of the ball. But it doesn't have natural traction. Skin on leather has the best traction. It stems from that dreadful evening in 1996. Still on my mind today."
Son of an Air Force sergeant, born in Turkey, owner and rider of horses, Singleton keeps learning. While coaching in college, Singleton stumbled upon a coaching tool. The Fumble Pro, a device invented by former Navy fullback Matt Hall.
 "That shows you how important ball security is to me," Singleton says. "I'm buying it from a Naval Academy grad."
This is the fishing pole contraption. More devious laughter. It's all about pressure points.
"The first time guys use it, the ball is all over the place," says Singleton, thinking back to rookie Jacques Patrick's recent battle. "Then six months later, great progression. It's one of the few tools that I've used that you can kind of simulate the impact of getting hit and the ball is jolted really good. You can see the guys that haven't done it before. You don't realize how much force it puts on your arm."
Singleton holds the pole like a hammer. When he came into the pros, he got the company to put an NFL ball on the tip.
"It's basically on a reinforced string that connects to the tip of the ball. It's kind of like a counter balance," Singleton says. It's a weighted handle. When you slide that handle that slides up and down it catches on the back and provides a big bump. Just a lot of force between that handle against the sliding action and that can generate some pretty good power and yanking the top of that ball. You feel that sensation all the way up the arm."
Singleton can look at the tape and see where the pressure needs to be applied. If the ball is popping out of the bottom, the elbow is too loose. If it's flying out of the top, there isn't enough protection of what Singleton calls "the front cone."
 It's a modern way to teach the age-old fundamentals, the kind of stuff running backs coach Jim Anderson was teaching Harold Green during his streak from 1991-93.
"High and tight. Nose (of the ball) to the sky. Never want your wrist below the elbow," Singleton says. "Pointed toward the sky. Not vertical. Across the chest. Secured from pressure on the tip of the ball, the side panel, the elbow closing your window. Just applying that pressure to the chest."
Singleton does it from the back, too, and during the drill he keeps barking all the while, "Close your widow." He tells them when he's watching them run with the ball from the back, he doesn't want to see the ball. Elbow up.
Plus, never switch arms in traffic. Always put the ball in the outside arm.
"That way," Singleton says, "you can protect yourself, deliver a forearm, or a stiff arm and keep them off your knees."
Singleton has all sorts of ball security ideas. He fills up balls with some water, freezes them and uses them for drills. It's like the old ankle weights concept, he says. Pick up a normal ball after that and it's like picking up a feather. Then there is his homemade pipe, which he has cushioned and mounted a boxing glove on top to simulate a defender's punch.
Plus, there's "The Blaster," an orange sled with rubber arms that shoots some surprising heat.
"That thing can hurt if you get stuck in there," Bernard says. "High and tight. And keep your legs moving. If you don't, you get in trouble in "The Blaster." That's the ultimate running backs machine. He takes great joy in seeing us in there."
But, in the end, it all comes down to pride.
"Look at how many NFL games are decided by turnovers," Singleton says. "We've got guys that want to be good. They want to win. They want to be the best."
And it's all very basic. Just pressure points. Closing the window.
No jinxes now that Elias/Schramm have brought the streak to light
"I don't think so," Bernard says.