After a game Jessie Bates III is used to answering questions from the media. But after the Bengals' Week 5 contest against the Arizona Cardinals, he did his best to respond to some of his toughest and most curious critics. 
"How much money to you make?"
"What kind of car do you drive?"
"Why did you miss that tackle?"
Bates could only laugh because the rapid fire questions were coming from a small group of young kids ranging from ages six to eight.
"The little kids asked crazy questions and their mothers were acting all embarrassed," Bates said. "They were just so excited to hang out with me. Just being able to have that Sunday blocked off for them, I know they had many stories on Monday taking into school."
Bates recently held his first Single Mother's Initiative event where he treated three single mothers and their children to the game against Arizona. It's an enterprise drawn from his own life experiences to help families who experienced the same struggles growing up.
The families traveled by limousine from the Larry and Rhonda Sheakley Boys & Girls Club of Greater Cincinnati, which each child is an active member of, to the game. Bates treated the kids to a top flight experience having them stand in the tunnel with him pregame and watch the game from a premium suite. After the game the families not only met Bates, but went to dinner with him.
It was the first of many events Bates will hold to help Cincinnati area single mothers this season. Bates crafted the project with his management group and his mother, Theresa Ladd. His advisor, Carter McNabb, also helped to connect him to the Boys and Girls Clubs in the area, where he could give back and help single mothers and their children.
"When I was growing up my mom was a single mom and I saw how hard she worked and how much dedication she put in to put up for my siblings and myself," said Bates. "Just being able to give back to single moms with my mom is something I'm very passionate about."
The second-year safety out of Wake Forest grew up in a single mother household with his older sister, Aaliyah, younger brother Von, and step siblings Donavan, Kameron, and Ariana in Fort Wayne, Ind. Bates would watch him mom Theresa come home at nine o'clock every night exhausted after working two jobs to support the family.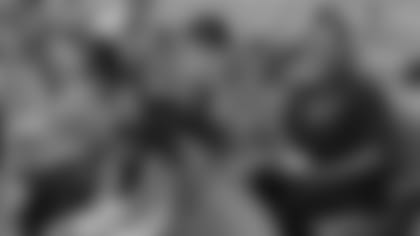 Bates understood how much his family sacrificed to help him get where he is today. His mother, aunts and grandmothers worked with him on his studies, shuttled him from home to practice and provided the structure for him to succeed. Maintaining that vision of success while keeping calm was critical for Bates to reach his potential.
"That was probably the toughest part to see," Bates said. "I think that's the biggest part of being a single mom. You are always working, always trying to do a little bit extra to make money. The biggest problem is what are you going to do with your kids. I'm trying to find a way to close the gap on that. You take those core principles that my mom displayed and apply them to your life and make you a stronger man or woman like my sister would be."
It feels right that I have an impact in Cincinnati. It is just how I was raised. Wherever you are, you have to have an impact. Bates on his efforts in the community.
Bates' immediate goals are simply to utilize this year to grow his efforts and add a little comfort during a difficult time. As a child of a single mother, he believes parents and kids can benefit greatly with added opportunities in the workforce, counseling and child care.
While the perks of being an NFL player aren't lost on him, empathy is the real fuel to Bates' work.
"It's amazing the impact you can have," said Bates. "I'm not from Cincinnati, but it is where I spend time at during the season. It feels right that I have an impact in Cincinnati. It is just how I was raised. Wherever you are, you have to have an impact. With the position that I'm in, you have to make an impact and use your voice to help people out."