Bengals quarterback Andy Dalton and his wife, Jordan, played host to 11 families for the Andy & Jordan Dalton Foundation's Holiday Hearts program on Thursday.
Families enjoyed a holiday-themed evening with Andy and Jordan, including dinner, holiday treat-making, a Build-a-Bear station, games and presents. Each family received a family gift and Christmas tree along with additional gifts from their wish lists. Most importantly, the families could spend quality time with each other, something the Daltons cherish this time of year.
"Holiday Hearts is one program that brings so much joy to us each year," said Andy Dalton. "These families go through so much throughout the year, whether it's hospital visits or doctors' appointments. Sharing the Christmas spirit, and giving them an experience they might not otherwise get is something Jordan and I will never forget."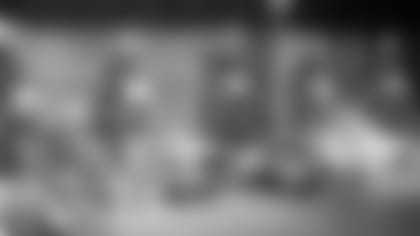 Dalton is the Bengals' nominee for the 2016 Walter Payton NFL Man of the Year Award. The sixth-year pro from Texas Christian University is among 32 team winners in contention for the league WPMOY Award, the only NFL award recognizing a player's off-field community service and playing excellence combined.
Dalton has been committed to giving back since his rookie season in the league.  Dalton and his wife launched their foundation in 2011 with the mission to provide daily support, opportunities, resources and life-changing experiences to seriously ill and physically challenged children and their families in Cincinnati and Fort Worth.  The Andy & Jordan Dalton Foundation has raised $2.1 million and has reached the lives of nearly 2.5 million individuals through its five signature community outreach programs, including Holiday Hearts.
For more information about the Andy & Jordan Dalton Foundation, please visit www.andydalton.org.