Bengals all-time passing leader Ken Anderson, the best quarterback who should be in the Hall of Fame, remains an unabashed Andy Dalton fan. And with Dalton undergoing the biggest playbook change in his NFL career, Anderson believes the latter day No. 14 is headed for some good things.
Anderson merely has to look back at his own career that was revived in a 1980 season that is starting out a lot like Dalton's 2018. Dalton doesn't have a new head coach like Anderson did back then. But, like Anderson, he's been handed a completely different scheme than the West Coast offense he operated for the first decade of his career.
 "Everything was different," said Anderson this week, echoing what Dalton said last month at the start of spring drills. "How we called the formations, how we called routes, how we called protections. It forced me to get back into the book. Took nothing for granted. It was rejuvenation for me. I think it will be fun for him.
"I think the offensive line will be more solidified this year. It will give him a chance," Anderson said. "If you can score some points and the defense plays with the lead that makes the defense better. It all ties together."
Anderson is in Cincinnati for Monday's charity event at Maketewah Country Club with Bengals radio analyst Dave Lapham, his old road roommate. For years Lapham has been the face of the Down Syndrome Association of Cincinnati's big fundraiser and now the group is teaming with the Ken Anderson Alliance that focuses on easing the challenges of autistic adults.
Anderson, somehow suddenly 69 years old, was 31 that training camp of 1980 and that means the No. 14s are in strikingly similar spots in their careers. Smart, accurate and used to winning on a team that has hit hard times.
When new head coach Forrest Gregg plucked a little known former NFL assistant to coach his quarterbacks and receivers, Tulane offensive coordinator  Lindy Infante, Anderson  had 111 NFL starts under his belt and a .532 winning percentage (59-52) with an 0-2 record in the playoffs heading into his tenth season. He was a two-time NFL passing champion, but he was also coming off his first two losing seasons as the starter.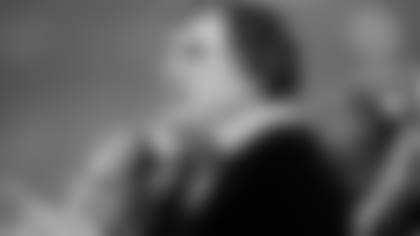 Sound familiar? In his eighth year Dalton turns 31 during the season and is coming off the first two losing seasons of a career he's posted a .585 winning percentage (63-44-2) in 109 starts with an 0-4 record in the playoffs.  Like Infante, current offensive coordinator Bill Lazor has crafted the new playbook around the winningest quarterback in Bengals history and one of the more proven quarterbacks in the league, so he's looking to highlight those strengths of brains and accuracy.
Bengaldom is going to bristle if they go 6-10 like they did in 1980. But would they if they knew the next two years after that the quarterback would win two passing titles while leading the team to a 19-6 and one Super Bowl? Which is what happened in 1981-82, solidifying Anderson's Pro Football Hall of Fame argument. The only man to win consecutive passing titles in consecutive decades in two different eras.
"We did a lot of option routes where the receivers had a lot of different things," Anderson said. "In '80, at the end of the year we were getting better and, of course it, all clicked in '81. We were kind of one of the first ones to do the quarterback bootlegs. The out-of-pockets. The nakeds. Whatever you want to call them. We had a lot of success with it. Lindy was an innovator."
Anderson likes Lazor's resume. The word is that the Bengals offense is looking a lot like the up-tempo, wide-open scheme Chip Kelly centered on the quarterback's decision-making. Infante's option routes have turned into run-pass options, but Anderson, an NFL quarterbacks coach for 17 seasons, knows Lazor has worked for a diverse group of coaches ranging from Joe Gibbs to Mike Holmgren.
"What's nice is he's been around a lot of really good offensive minds," Anderson said.  "He's got a lot to draw on. You pick out the best things and what you think your guys can do and I think they'll be exciting."
Here's another parallel for the 14s. Both came into 1980 and 2018 after the biggest two-year sack totals of their careers. Anderson took 76 shots and Dalton 80. Infante arrived with a pretty good new left tackle. A guy named Anthony Munoz, who ended up beating Anderson to the Hall of Fame. Lazor also has a new left tackle. Cordy Glenn may not have a reservation in Canton, but he's exactly what Dalton desperately needs and that's a solid, seasoned guy that can make the Pro Bowl. Lazor is also starting things with a rookie center in first-rounder Billy Price.
"I think it's going to good for Andy," Anderson said. "He's got a couple of new linemen that are going to help him and he's got weapons at the line of scrimmage and in the backfield. We've got to get (wide receiver) John Ross healthy. It's going to be fun for him."
Change was good for him and Anderson thinks it will be for Dalton, too.
"No question. Change can be good," Anderson said. "Lindy helped me get back to fundamentals where I had got into some bad habits. We worked a lot on just the basics of playing quarterback and with the new offense it became a lot of fun again."