Zac Taylor's first training camp is not yet two weeks old and it's pretty clear he's into keeping his regulars fresh and that has become a breath of fresh air for the kids.
Kids like undrafted rookie wide receivers Damion Willis and Stanley Morgan. Kids like fourth-rounder Michael Jordan as one of the platoon of left guard candidates. Or even the highly touted second-rounder Drew Sample as they try to protect tight end Tyler Eifert by limiting his snaps.
But no rookie is getting a bigger chance than running back Trayveon Williams and the sixth-rounder from Texas A&M is taking off with the opportunity to be the No. 3 back
. He was busy again Tuesday with another slew of carries that showed a burst to the edge on pitches and strong, balanced runs through the offensive line.
So expect to see the latest No. 32 (the last three backs that have worn it are Mark Walton, Jeremy Hill and John Conner) plenty on Saturday (8 p.m.-Cincinnati's Channel 12) in the pre-season opener in Kansas City.
On Tuesday the two bell cows left the bulk of the first group work to Williams for the second straight day. Joe Mixon got a rest day after minimal work Monday and Giovani Bernard rested a tight hamstring for the second straight workout. If either of them gets a run against the Chiefs it would be a surprise. The way Williams has looked early, it won't surprise them if he gives them a hard-nosed productive night of work both running and catching.
Both. Williams believes his pass-catching ability and work in space is underrated because he wasn't asked to do much of it in College Station, where he had 66 catches in three seasons.
"I think that's a strong suit," says Williams, who flashed it in Saturday's final two-minute drill with two skittering check-down catches. "With this offense and this system I'll be able to show that."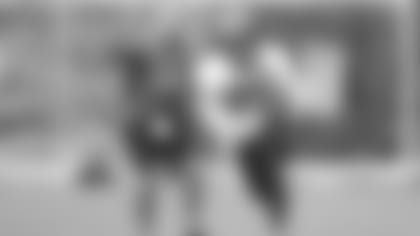 Talk about the Bengals' big back legacy of Pete Johnson-Ickey Woods-Harold Green-Corey Dillon-Rudi Johnson-Cedric Benson-Mixon. There's also one for a guy like Williams and his 5-8, 206 pounds. The 5-9, 205-pound Bernard is 33 catches away from breaking the franchise record for catches by a running back held by the 5-10, 180-pound James Brooks, also the Bengals' second all-time rusher. Go back to the 1973 AFC Central champs and there's the 5-9, 201-pound Essex Johnson three yards shy of a 1,000-yard season on five yards per carry.
"I know I play a whole lot bigger than I am," Williams says. "At the end of the day they can have what they have me on a sheet, but I play a lot bigger than I am. They can say one thing on a sheet, but when you play and turn on the film, that shows."
Bengals running backs coach Jemal Singleton has watched more film than sheet on the new No. 32. Here's what has jumped out:
"The thing I really like the most is at the second level of a run he's been able to make guys miss tackles. That part has been really good. As a back the second-level cuts are the ones that make the big runs.
"He's got some shiftiness. He's got some built-in leverage that's strength and he's got some quickness in his breaks."
Singleton needs him to become more attentive to a back's details, such as his hand placement in the pass game, but he loves Williams' approach as a top producer in a top program. Williams continues to impress on the run, but he believes he can be potent in the pass game, too, as that last drive on Saturday showed when quarterback Andy Dalton used those two completions to drive for a field goal.
"Playing against a defense like that, you have to know the situation," Williams says. "Everybody is dropping. Those are two big gains. We had situations like that (at A&M), but at the same time we had a young quarterback who really didn't understand the importance of check-downs. He was thinking about the big ball or the big intermediate ball. It's just the little things."
Williams is a lot like Bernard in that he doesn't have a "Napoleonic," chip on his shoulder because of his size. The chip comes from the position he plays and the game he loves. It's like Bernard says about himself: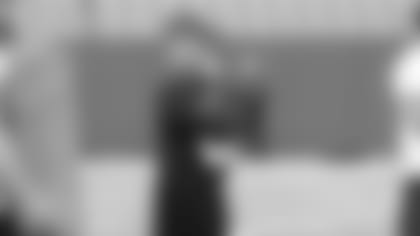 "I'm just a go-getter, man. I don't care what it is. I just want to win and knock somebody out."
Offensive line coach Jim Turner had that mentality in mind on the last day of the draft. The Bengals were talking about the backs they would eventually get. They were talking Williams and Oklahoma's Rodney Anderson all day. They loved them. But they had other priorities and by the time they got through them, they were in the sixth round.
So were Williams and Anderson. Turner, coming from A&M, had helped Williams become the first true freshman in Aggies history to hit 1,000 yards and last year helped engineer Williams' conference rushing championship. His recommendation way back in the process was strong.
"You're talking about a small back that was the leading rusher in the SEC. Small back in a brutal league, right?" Turner says. "A guy that can take that pounding, carry the ball like he did, be the leading rusher in the SEC, that's a guy that's tested. You know what he's capable of doing. He's going to play hard, he's durable, he's going to block. And he's going to compete. Guaranteed."
Here's something else that's guaranteed. No. 32 is going to get a lot of air time Saturday and his goal is to make it a long-running show.
"Small guys, big guys. I just want to be remembered," Williams says, "and leave my mark on this program."