In partner with Campbell's, the Boys & Girls Club of Greater Cincinnati hosted their fifth annual Spelling Bee from John P. Parker Elementary School. More than 50 students in grades first through seventh from the Boys and Girls Clubs of Greater Cincinnati competed for the title of Spelling Bee Grade Level Champion in front of their family and friends. "At the Boys & Girls Club we have a huge focus on literacy and improving literacy especially for our kindergartners through third graders," said Angela Giani, Regional Education Coordinator for the Boys & Girls Club of Cincinnati. "So doing the spelling bee is a great way to showcase what the kids have been learning and how they're improving their reading skills."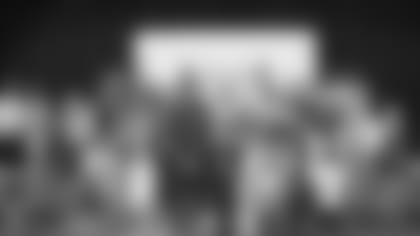 Before the competition began the students were surprised when Bengals star receiver A.J. Green entered the cafeteria to guest judge for the event. "It was fantastic to have A.J. here," Giani mentioned as she smiled from ear to ear. "So many of our kids look up to him as a role model and really idolize him, and would like to go into the sports industry someday. To have their hero literally sitting two feet in front of them while they're spelling these words that they worked so hard to study is such an awesome experience for them."
The event was broken down between grade levels, with seven total winners taking home some hardware. But the stiffest competition of the night came from the first graders. The two finalists went head-to-head, battling it out until one was left standing. "They went for so long they actually had to bump up to the second grade word list because they ran out of the 100 words that were prepared for them," said Giani. "It's funny that the little ones are the ones that saw it all the way through. You'd think it would be the most challenging for them, but you can tell how hard they worked and prepared, which I think is really cool."
After the event was completed, Green stayed to chat with the participants, take pictures and sign autographs for those in attendance.