Dez Thomas and his main man, Andy Dalton
Andy Dalton, wearing a Santa hat during a Christmas season he has helped deliver the best start to a 16-game season in Bengals' history, locked eyes with his wife as if she were A.J. Green and he was one-on-one.
He had just said good-bye to the 17 families, wished them one last "Merry Christmas," to close out their Monday night holiday party, and Jordan Dalton's eyes told him they were both relieved and rejoicing.
"It was exactly what we were trying to do," Dalton said Tuesday, the day after, trying to sort out the snapshot of moments as if they were protections. "When you have this vision in your mind, this is how we want to help; this is how we want them to go after coming to this thing. And then you see it happen, it's great."
The high five may have been soon after five-year-old Dez Thomas grabbed the biggest present he could find and dragged it back to his table as if he were Carlos Dunlap wrestling down Ben Roethlisberger.
Or the high five may have been before the volunteer approached Matt Thomas and stunned him like a Leon Hall pick-six when she told Dez's dad that if he didn't have room for the Christmas tree in his car, it could be shipped to him free of charge anywhere he liked.
It definitely came after Rene Thomas, Dez's mom,  looked at the iPad every family received and since it is their family's first one, she quickly came up with a game plan like Dalton's offensive coordinator Hue Jackson and told Dez he'd be able to put his favorite roller coaster videos on it.
"One family had been borrowing a Christmas tree from somebody and they were excited to take one home," Dalton said.  "We've got a guy on our board with UPS. If they didn't have a car that could take the tree and the presents, they're going to get it shipped to them where ever they are. What more do you want?"
Dalton wasn't talking about the families. He was talking about the Andy and Jordan Dalton Foundation's good fortune to have the resources to make dreams come true for families of critically ill children. The current leader with a month to play, Dalton is trying to win an NFL passing title like Bengals quarterbacks Ken Anderson and Boomer Esiason before him. But that's not the half of it.
In five short seasons he may be running even with them when it comes to community contributions and that's not some throwaway screen pass because Anderson and Esiason are past NFL Man of the Year winners.
"They're complete people. To be in the same sentence with Kenny Anderson and Boomer, he deserves that," said Nick Vehr, one of those foundation board members. "I know time will tell in terms of the on-field stuff. But the off-the field stuff, his heart comes from the right place. He and his wife. It's exciting to see."
Vehr is as deep-fried Cincinnati as Opening Day and Over-the-Rhine. After serving in city council for a few terms in the early '90s and working as an executive in the city's Chamber of Commerce, he began the public relations firm Vehr Communications eight years ago. A product of Cincinnati's hotbed of prep football, he played on a national championship team at Notre Dame.
"He's a humble guy, but obviously a super competitive guy. I think Cincinnati likes that," Vehr said. "I think Cincinnati likes people that just go out and do their job and get it done. And he's doing it right for all the right reasons. Right now I'm looking at a couple visiting the tables and that's who they are. Here's a guy as hot as a rocket and this is what he's doing. Very sincere."
Vehr watched the Daltons work the room that dined on a buffet and stop at one of the tables where the Musselmans were trying to get five-year-old Alayna to eat a Christmas cookie instead of just scraping off the frosting.
Of course, after the summer and fall Amy and Scott Musselman have just had, they were letting Alayna do whatever she wanted.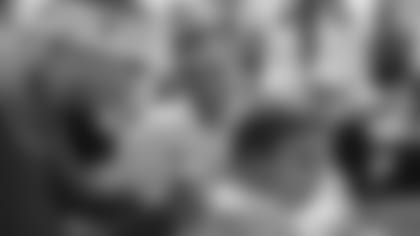 Andy Dalton making his mark at his holiday XMas party.
From the time Amy found a softball-sized lump on her stomach during one of Scott's 24-hour shifts, to the diagnosis of a kidney cancer that only 20 Americans are diagnosed with yearly, to the surgery, chemotherapy, and radiation, to the recent joyous examination that gave her a clean bill of health, her father could only call the last seven months "inexplicably hard."
"You go from everything being to total chaos in three days," said Scott, a firefighter and EMT in both Deerfield and Goshen townships. "We lived at the hospital. My wife had to take a leave of absence from her job as a nurse's assistant. I took vacation and the guys worked my shifts and I came back a couple of months ago . . . So this is a nice night for us."
It's one their few nights out in months, since they would go to the Round Robin Diner in Milford and get the bottomless steak fries because Alayna made them come through on the "bottomless," part.
It is the Musselmans and the Thomases who are the centerpieces of the Daltons' foundation, a five-program juggernaut inspired by their days at Texas Christian. The Holiday Hearts T-Shirt that Dez Thomas planned to wear to school after Dalton signed his name above the No. 14 banners one of the programs that is based out of Cincinnati's Children's Hospital.
Along with the dinner there was karaoke, treat-making, video games, and a build-a-bear station while Christmas carols played softly through The Underground concert venue in the Cincinnati suburb of Fairfield.
Brody Muskopf, 11, who goes to Children's once a week for three hours of treatment and visits 15 doctors year-round to treat his immune system disorder, beat Dalton, 14-0, in Madden.
Just like in real life, Brody's Bengals got a touchdown from A.J. Green, and Dalton's Seattle team couldn't block right end Michael Johnson. (FYI: Dalton didn't pick Seattle, it was already on the set.)
Real life is at the heart of the foundation, too.  Both of Jordan Dalton's roommates at TCU are special education teachers and the impressions have stayed long enough to make critically ill children and those with special needs their focus. It folds over with the line from scripture that her husband has been devoted to since the days he played in praise bands growing up in Katy, Texas:
"Each of you should use whatever gift you have received to serve others as faithful stewards of God in its various forms."
So like their families did when they were kids, they let everyone in each family on Monday night open a gift before Christmas. That's when Dez dragged out the box that turned out to be a trampoline. But his seven-year-old brother Tristan got to open a gift, too, and the box he grabbed had winter boots.  Mom got a gift card to Barnes and Noble and Dad got a gift card to Home Depot.
"We thought about having everyone open all their gifts, but that would be too wild, there really wouldn't be any family time," Dalton said. "So we open one and then send the rest home with them."
One of the gifts is just getting the families out together. Rene and Matt and their two adopted boys haven't been anywhere together in six months except home. Dez, the bouncy kindergartener with an eye for big things and an ever bigger smile, has a behavior disorder that was discovered after Rene and Matt adopted him.
A year ago he was in the hospital 50 out of 75 days. There are medications and tests and appointments. His parents can be his only caregivers. Rene left her job as a physical therapist and says, "We don't make plans. Every day is new." Matt, an engineer at GE, spends hours playing in the backyard with his guys at their Wyoming-area home. There are good days and bad days.
"It can be a lonely existence at times having a child with special needs," Matt Thomas said. "It's nice to be around people where everyone has issues and things to deal with at home and it's not judgmental. It's very welcoming."
They're a little bit overwhelmed. When Matt came home a few weeks ago and told Rene about a call, she automatically stiffened.
"Usually when the phone rings, it's not great news. A lot of times it's about a bill, but my husband takes care of most of the finances and he said it was a good call," she said. "He said he'd gotten a call that we'd been chosen for this foundation's event.  The positive interaction tonight for our family has been tremendous."
The iPad was an enormous get ("A lot of face time with grandparents out of town,' Matt said), but the family's wish list had been stowed in two boxes with about 15 presents out on the curb. Plus the tree.
Pretty good service here, too. Each family had volunteers to help pack up and board member Mike Rohrkemper, the former CEO of Gold Star Chili, and his wife did the honors for the Thomases.
"Get the car, Dad," said Dez, parroting Tristan.
No doubt it would be a different ride home. On the way there, Rene and Matt, Indianapolis natives, asked the kids who their favorite player is.
"Andrew Luck," came the answer and a lesson was needed. Right first name, but let's do some work. By the time Dez and Tristan built their bears, both named their own, "Andy."
When the time came for the group picture, Dalton had heard a lot of, "This is the best Christmas I ever had." Or, "I never thought I'd have something like this.'  Or, the "Thank you, Mr. Dalton," that Rene coaxed from Dez.
"The little things," Mr. Dalton said. "That's what makes it special."
When they looked up at the photographer above them on the second floor for the group picture, Rene was holding Dez in the second row and Dalton commanded a "Who Dey!" for the smile.
"We're die-hard Colts fans," Matt said. "But we're Bengals fans now going forward. At the very least, fans of Andy and Jordan."