An orange helmet. That is what started Jack DiTeodoro's love of the Cincinnati Bengals.
DiTeodoro grew up on Long Island, NY.  His father was a Green Bay Packers fan, so naturally that was the first team he followed.  One day in 1970 that changed.
"We were watching a playoff game and I said look at this team. Look at those orange helmets," said DiTeodoro.  "The orange helmets are what started this whole thing and I've been a Bengals fanatic ever since."
DiTeodoro, his wife, two kids and his nephew are traveling 700 miles from Stamford, CT to attend Saturday's Family Day practice in Paul Brown Stadium.  Family Day seemed fitting since the team continues to bring the family together.     
"When I got married, it was great because then I would have my whole family over to watch Bengals games.  My nephews lived around the corner, so they would come over," said DiTeodoro.  "It's our Sunday ritual to watch the game, spend time together and then afterwards have our usual pasta dinner which is our Italian tradition."
Jack DiTeodoro met his wife Amy in 1997.  It didn't take long for his Bengals fandom to shine through.  Their first date was a Bengals game against the Eagles in Philadelphia.
"Our first date, I took her to Philadelphia.  I didn't even tell her what we were going to do," said Jack DiTeodoro.  "I made her wear a Bengals sweatshirt.  I didn't even have tickets.  I got tickets in the parking lot.  And she had a great time.  Ever since then she's been a convert also."
"He hands me a Bengals sweatshirt and I'm thinking I'm not going to last, this is not going to be good," said Amy DiTeodoro, who notes she still has that Bengals sweatshirt nearly 20 years later. 
"We went to the game and I asked for a hot chocolate.  He gets up to go get it.  An older man behind me starts heckling me.  When Jack comes back with the hot chocolate, I'd had it.  At that point the Bengals were winning, so I turned around and said 'excuse me sir, but how can the Bengals be winning?' and my husband fell in love."
The DiTeodoro family supports the Bengals every Sunday, but what they remember most is when the team was there to support them.
When their youngest son needed a kidney transplant when he was 18 months old, Jack DiTeodoro was a perfect match.  Before he donated the kidney, Jack received a call.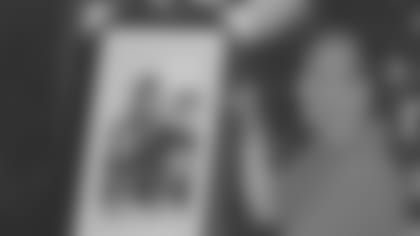 "The organization was fantastic after we had the transplant and I gave my kidney to my son," said Jack DiTeodoro.  "They had me talk to one of the Bengals players on the phone before the transplant, who was very nice on the phone, very encouraging." 
"After the transplant, the Bengals sent us tickets and an opportunity to be on the field," said Amy DiTeodoro. "Jack and I were pretty exhausted having a sick child and two little ones, so we took the weekend to go out there and it was just amazing.  It was so restorative to him and it was really very special."
The DiTeodoro's son passed away in 2010 when he was four years old.
"It's been a long road. They've gotten us over some humps, so we're very grateful to the team," said Amy DiTeodoro.
On Saturday, the family will enjoy spending time together, watching the team that has come to mean so much to them.
"We're excited that we're going with the people that we love," said Bryan Latorraca, Jack and Amy's nephew.  "It's family first and the team second."
Amy jokingly added, "That isn't what Jack would say."