D.J. Reader, who has reached the cusp of the Pro Bowl playing multiple positions on the Houston Texans' defensive line, admits he's in a brand new spot.
Who isn't nowadays? He has agreed to a contract with the Bengals but isn't officially a member of the team. He'll sign with them when he passes a physical, but when in the name of J.J. Watt is that going to be?
"A weird space right now, that's for sure," Reader said Monday from his Atlanta home. "The man upstairs leads you to where he wants you to be and I feel this is the place where he wants me to be."
He's certainly isn't in the neutral zone. According to published reports, last week Reader agreed to a four-year, $53 million contract that not only makes him the biggest free agent in Bengals history but also the NFL's highest-paid nose tackle. All sides are all in.
"I feel like they're confident in me. That's always a big thing," Reader said. "You want the organization to be confident in you and I'm confident in them. I'm excited. I think we're in a good spot with a good mix of young and experienced guys."
Monday turned out to be Reader's first day of his new work-out regimen by himself in his home. During his five seasons in the league he's worked out in the Atlanta area with, among others, pass rush specialist Chuck Smith.
"I'll watch some of the videos and figure it out," Reader said.
You can believe that a workout for David Vernon Reader Jr., a movie buff, probably comes straight out of Hollywood. Try Rocky, the film he first saw with his dad when he was seven years old. The story about the down-and-out boxer who took the heavyweight champion 15 rounds before losing a decision made such an impression on him that he named his four-month-old son Rocky after Rocky Balboa.
"I'm a big Rocky fan. My dad and I watched a lot of Rocky movies," Reader said. "Life lessons that those movies taught you. Just about persevering and pushing through. It was a very interesting year in my life that year. I felt like that's what he meant to me. The signs of those things."
It was the year that Reader saw all the work in the gym pay off in not only a huge contract, but league-wide acceptance as one of the top young players in the game. A long haul for a guy that didn't start at Clemson until he was a senior and was the 166th player taken in the 2016 draft when Houston sifted him out of the fifth round.
"That was one of my dad's favorite movies," his son said of David Vernon Reader, Sr. "He would share his knowledge. My dad was very good about that. Having that great, strong mentality. We just get back up and work and work."
His is a three-generation story. David Sr., a teacher in their hometown of Greensboro, N.C., died of kidney failure when his son was a sophomore at Clemson. D.J. has committed so much time and money to the battle against kidney disease that the Texans nominated him last season for the Walter Payton NFL Man of the Year award.
"I felt like that's something that ties into me," Reader said. "I didn't really have an idea of what I wanted to do yet when I got into the NFL. And that was something that was close to me."
It's tough right now because Rocky isn't close to him physically. He and his mother are in Oklahoma. Waiting like everyone else.
"There is more family support out there," Reader said. "You don't want to go out there and get stuck or have them come out here and they can't get back to the family. Right now, we're in a good spot. It's really tough because I'm missing some important days, but luckily we've got technology with face time and stuff like that."
A tough time, he says, but an exciting time, too.
"Not to be able to go there and get my hands on (Cincinnati), that was the toughest part," Reader said. "But that will come. It looks like a great place. I'm not stressing over it."
He really enjoyed his one trip here. It was the second game of his second season in 2017. A Thursday night at Paul Brown Stadium best remembered as Texans quarterback Deshaun Watson's first NFL start. As in his 49-yard scramble on third-and-15 for the game's only touchdown in Houston's 13-9 victory.
But Reader, who had five tackles that night in an effort that helped keep the Bengals out of the end zone, only remembers the defense on a night of Bengals wide receiver A.J. Green's acrobatic 50-yard grab.
"That was one of my favorite games because there was real defense being played," Reader said. "There was a lot of stuff that happened in that game and still no points were being scored. You had Geno (Atkins) going off and that catch by A.J. A whole bunch of stuff."
Atkins, the Bengals' eight-time Pro Bowl tackle, had two sacks that night and now he's got an elite guy next to him in Reader. Reader can't wait to join him.
"The guy's awesome. He's one those guys you watch growing up and he's a guy who is still at the top of his game playing good ball," Reader said. "I watch him all the time. If you play my position and not watch tape of Geno, you're crazy. You look at his technique. His raw power is awesome. He gets after it. It will be a fun time."
If the Bengals have confidence in him, he certainly has confidence in his new teammates.
"I know we're in a good spot with the mix of young and experienced players that know what they're doing. You've got guys like Geno and Carlos (Dunlap) that have played a lot of ball. They're great leaders and everybody in the back end. And we've got some new guys coming in now. It's a revamped team, but a lot of their standard pieces are in place. It wasn't like you needed that much to come. You've got young guys like (right end) Sam Hubbard, the receivers are good. Running back Joe Mixon is good; the offensive line is good and has a lot of guys that have been there. I knew the record didn't reflect what the team had last year."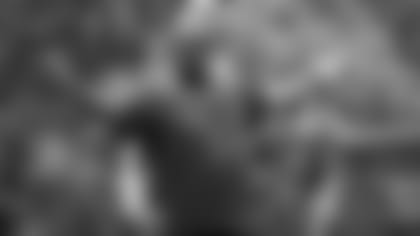 Also in Cincinnati is a familiar face in defensive line coach Nick Eason, a fellow Clemson product. Reader couldn't talk to Eason until after he had agreed to sign, but he knew where Eason was working.
"I thought, 'OK, that's somebody I'm familiar with, that's awesome,'" Reader said. "He came back to talk to us when he was transitioning out of the league as a player. He was one of those guys on the highlights back when they had a couple of guys stealing the show and he was one of the really good guys. He was in Tennessee (coaching on the Titans defensive line) when I was coming out. He came down and worked me out. I knew what he was about I liked him."
That's where the Bengals are with Reader and where Reader is with the Bengals. A new different place. But a good place.
Even if it is unofficial.
"Can't wait to get in there," Reader said.