While the NFL's grind of news and knocks is far from a walk in the park and never takes an off day, Carlos Dunlap and Michael Johnson quietly took the Bengals' day off Sunday and let the kids walk through the park at their annual Back to School Fun Dey.
As Dunlap stood by the Washington Park cannon in the heart of Cincinnati's Over-the-Rhine neighborhood taking pictures with little smiling people damp from the NFL water slide they brought, he and his buddy Mike had again conquered their lofty goals without firing a shot. As always, their fodder to improve the community is through the kids, but first there is a message and then there is pizza, which is where you could find Johnson with the volunteers behind the table under the trees taking orders from parents and children alike.
"That's what you want. There's more than one way to skin a cat," said Johnson of another civic line stunt with his partner in grime on the Who Dey front.
The back of Johnson's T-Shirt said it all. "Another community event brought to you by the MJ 93-90 Fund and Carlos Dunlap Foundation."
So did the back of four-year-old Keoncye Alexander. His mother had just got done strapping on his new backpack loaded down with goodies and he may be able to help the Bengals up front one day, too, because the backpack may have weighed more than him. OTR may be up-and-coming and Washington Park is a jewel, but Dunlap and Johnson know plenty of kids still need help.
"I'm the mother and father to my baby," said Keoncye's mother, who is raising her son around the corner in Findlay Market, as she waited in a polite line to thank Dunlap. "I don't have a job yet. I'm hoping to get one when he starts school. This is a big help with supplies. He's going to Rothenberg (Academy) and he's got to have a uniform. This will help."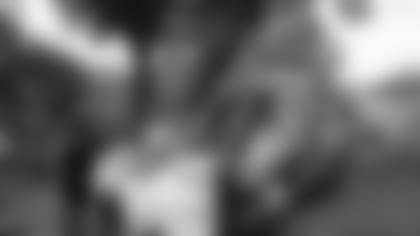 But in order to get the pizza and the backpack and get on a ride or on the slide or slurp "A Smoothie with a Purpose," you had to get a passport punched four times. The idea came courtesy of Mike Johnson's mother. She runs his foundation and that's how they ran the health fair in his hometown of Selma, Ala., earlier this year.
"Before they get free supplies, they have to have some accountability," Johnson said, "and they have some things they have to complete."
On Sunday, one was a financial literacy booth. Another booth was for trivia questions that could be answered by anything inspirational. Then, there's what is close to Dunlap's heart. They have to make "a kind statement," in the anti-bullying tent. And there's what is close to Johnson's heart. One of the punches has to come from someone in blue. "You have to make friends with a police officer," Dunlap said.
Which was easy Sunday because there were at least three of them walking around with more on the way fist-bumping with kids and asking them what school they were going to. Officer Phil Penn, a Cincinnati policeman who is a school resource officer has worked with Johnson bringing students into contact with his brethren, so they're not strangers.
"I wanted to be here for Mike, so I stopped by to help," said Penn, making another punch.
They got support like that from their teammates. And from both sides of the line. Tackle Cedric Ogbuehi showed and so did tight end Tyler Kroft, whose dog was getting the best of him and his leash while his June bride spoke with Dunlap. Veteran safety Shawn Williams surfaced pushing a stroller with a baby clone. Another big kid, rookie nose tackle Chris Okoye, answered the bell from the D-line.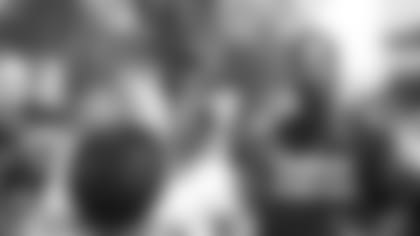 "They always talk to me, give me advice. I had to be here," said Okoye, from the suburb of Novi about 15 minutes from Detroit. "I got involved in my church growing up and we did back-to-school giveaways ever year."
Cincinnati police sergeant Cassandra Tucker, who is Penn's supervisor in youth services, was also there punching passports and making friends. She was also wondering about the young Bengals.
"I hope they see what these two are doing," Tucker said. "What I like about what Carlos and Michael are doing is they're trying to bridge the gap between the community, the people and the police. That's my purpose being here. Bridge that gap between the kids, the community and police and to let them know the NFL and the players are trying to bridge that gap."
A day off. But they were on their game.
"I'm hoping we've got enough," said Johnson, handing out slices earned with everything on it.
Carlos Dunlap and Michael Johnson host a back-to-school Sunday Fun Dey at Washington Park.