A capsule look at the Bengals' class of college free agents:
S Larry Brooks, 6-0 204, Tulane: Three-year starter with 212 career tackles in 47 games … Nine interceptions, 12 PBUs and three forced fumbles … 11 tackles vs. SMU in 2020 … Two picks vs. Missouri State in 2019 … Lettered four years at Kennedale High School in Kennedale, Texas, where Rivals.com rated him three-star prospect … HOMETOWN: Fort Worth, Texas. BORN: 9/30/00
SCOUT'S TAKE: "Really mature, really intelligent. Very instinctive. Stood out at College Gridiron Game and impressive in the interview there. High school cornerback and wide receiver. Recruited to play corner, moved into strong safety role. Thicker body type."
WR Malachi Carter 6-2 210. Georgia Tech: Signed after Friday's rookie minicamp tryout … set school record for most games played with 58 … Caught 23 passes for 342 yards as senior … Tied for team lead with 37 receptions and led team with 489 yards as junior … Two-time Gwinnett County Wide Receiver of the Year (2016 and 2017) in high school …Caught a Gwinnett County-record 1,348 yards as a senior … HOMETOWN: Lawrenceville, Ga.; BORN: 3/15/00
LB Shaka Heyward, 6-3 238, Duke: Remember Vincent Rey, 2010 CFA from Duke who played in 128 games for Bengals at linebacker with 50 starts during nine seasons? … Meet the guy who won Vincent Rey Award twice as Blue Devils' top backer … Same M.O. … Productive leader … 12 double-digit tackle games … Captain … played 3,400 career snaps while racking up 340 tackles, 32.5 tackles for loss, 11.5 sacks, four interceptions, five fumble recoveries, nine PBUs, 12 quarterback pressures ... From well-known sports family … Brother Victor played at Georgia State … Cousin Cam Heyward familiar Paycor face via Ohio State and 12 seasons with Steelers at defensive end … Cousin Corey Heyward played basketball at Georgia Tech … HOMETOWN: Dacula, Ga. BORN: 4/19/00
SCOUT'S TAKE: "Athletic, fast … Can cover, can blitz … There was a draftable opinion on him … Vinny was an old-school Mike backer and a good one. This guy is more of the modern WILL backer … Has similar skill set to an Akeem Davis-Gaither, keeping in mind Akeem was the first pick of the fourth round."
WR Mac Hippenhammer 5-11 177, Miami (Ohio): Signed after Friday's rookie minicamp tryout … Penn State transfer who had 21 starts at Miami the past two seasons … Back-to-back 100-yard games against Ohio and Northern Illinois in 2022 and had career-high three touchdowns vs. Ohio …. In 2021 had a career-best eight catches for 170 yards in a win over Central Michigan ….Career-long 63-yard touchdown catch in a win over Bowling Green … Played 20 games at Penn State and had seven catches for 188 yards and a TD … also saw time as a punt returner … Won an Indiana state title playing at former Bengals safety Jessie Bates III's alma mater of Snider High school … HOMETOWN: Fort Wayne, Ind.; BORN: 11/5/98
WR Shed Jackson, 6-1 195, Auburn: Averaged 13.2 yards per 66 career catches in 33 games and had a touchdown … Dominated tests with 4.27-second 40-yard dash, 38.5-inch vertical leap and 11-2 broad jump … Played on Hoover High School's Alabama state Class 7A champions … Nephew of NFL and MLB great Bo Jackson gets NFL shot with team that played in uncle's last game at L.A. Coliseum. Raiders running back Bo Jackson suffered a career-ending hip injury during L.A.'s win over Bengals in the 1990 AFC Divisional … HOMETOWN: Hoover, Ala.; BORN: 10/20/99
SCOUT'S TAKE: "Extremely explosive guy. Impressive body type and build. Has a lot of raw traits. Wide receivers coach Troy Walters and our coaching staff are some of the best in the league at developing these guys. It's exciting what he could turn into with Troy coaching him. He just has to put all those rare traits together. A rotational starter for most of his career and has played a lot of snaps. Good kid. It will be exciting to watch him.
G Jaxson Kirkland, 6-7 328, Washington: Played 49 career games … Won Don James Perseverance Award last season after starting at left tackle and left guard … Captain … Before that, two-time All-Pac 12 left tackle … And before that, began career as right guard for two seasons … Father Dean Kirkland was three-year starting offensive lineman for Huskies, All-Pac-10 first-team and captain on 1990 team …HOMETOWN: Portland, Ore.; BORN: 7/30/98
SCOUT'S TAKE: "He's a guy that's got some versatility. Played guard and tackle. Good strength in his upper body. Good anchor to him. Good lateral movement. We liked his ability to pass protect and run block. Played a lot of football. Smart. Style of play is Clint Boling-like." (Boling is the left guard from the Bengals playoff teams of 2011-2015).
DT Devonnsha Maxwell, 6-2 297, Tennessee-Chattanooga: Holds Southern Conference record for career sacks with 37.5 … Nine career games with multiple sacks, including school-record five in 2021 win over East Tennessee State … Led or tied for league sack title in 2019 (seven), 2021 (12), and 2022 (eight) … Captain … In 47 games with 42 starts also had 187 tackles (55.5 for loss) with five forced fumbles … Led Valdosta High School to Georgia 6A state title … HOMETOWN: Valdosta, Ga.; BORN: 5/5/99
SCOUT'S TAKE: "Very productive despite playing so much for them. He played more than 80 percent of the snaps, which is a ton for a D-tackle. Not tall, but has good length and athletic. He can bend and has great balance. Good pass rush instincts. Savvy. Reminds you a little bit of DeShawn Williams. Undersized (6-1, 292), but has a good feel for the rush." (Williams was a Bengals CFA out of Clemson in 2016 and had 34 starts and 7.5 sacks in last three seasons for Denver with 4.5 of those sacks coming last year.)
LB Jaylen Moody, 6-0 222, Alabama: Special teams staple for Crimson Tide in 65 high-pressurized games … Chased down starting WILL backer job this year in fifth season … But only got eight starts and 10 games trying to play through torn labrum and rotator cuff injury before ending year sidelined … Injured foot in draft workouts, but they think he'll be cleared soon … Top 30 visit to Paycor Stadium impressed scouts and coaches … Comes with Nick Saban seal of approval: "Been a great special teams player for us, has always accepted his role, being a really, really solid backup player. But he's played — he's been able to play very well." HOMETOWN: Conway, S.C..; BORN: 11/6/98
SCOUT'S TAKE: "We really like the athleticism. Tough. High-level of urgency and physicality we like. One-year starter, but with more time on task and more reps in preseason games, he's interesting. Has all the raw tools. Would have tested really well if he could have run. We liked him enough that he was one of our top non-combine guys and the only CFA we ended up bringing in for a pre-draft visit, where he was very impressive. We like the person, like his character. He'll have to make it on special teams and he's got the explosiveness, speed, physicality, want-to, all that. A lot of tools and upside. He's a practice squad candidate if he doesn't make the roster. When it comes to a comp, Keandre Jones has a similar style." (Jones is the Bengals' speedy backer who has spent most of his time on the practice squad, but when active has had value on special teams and on passing downs …
LB Tyler Murray, 6-1, 226, Memphis: Finished five-year career starting 13 games and logging 67 tackles, six tackles for loss, two interceptions, three quarterback hurries and two pass breakups for the Tigers … Before last season, played 2021 and 2022 at Charlotte, where led 49ers in tackles both seasons and was a captain … Began career at Troy and in two seasons had 64 tackles (eight for loss), three sacks and four interceptions. HOMETOWN: Jacksonville, Fla.; BORN: 2/15/99
SCOUT'S TAKE: "Very good athlete. WILL backer. Has special teams value. Tested well. Ran a 4.65, broad jumped over ten feet."
DT Tautala Pesefea 6-3 314, Arizona State: Signed after Friday's rookie minicamp tryout … Played for former Bengals head coach Marvin Lewis, who worked with him at ASU … Played 40 games in four seasons … Last season led team with five tackles for loss … Played nine games in junior college at American River College, where he had 17 tackles, 1.5 tackles for loss, a sack, and pass breakup … In high school, three-time team captain...Three-time All-Pioneer Valley League First Team selection … During high school career CaliHiSports.com named him state's Most Inspirational Player of the Year … Survived life-threatening car accident when he was eight years old … HOMETOWN: Sacramento, Calif. BORN: 6/25/00
RB Jacob Saylors, 5-10 199, East Tennessee State: Prolific two-time 1,000-yard rusher … Topped off his senior year with 1,314 yards and 15 TDs on 5.8-yards per pop … Lugged it 609 times in five seasons and that was his lowest average … Piled up 4,100 yards and 74 touchdowns while adding 18 interceptions in leading Marion County High School to three straight Tennessee Class 2A state championship games …HOMETOWN: Jasper, Tenn.; BORN: 3/8/00
SCOUT'S TAKE: "He won't be the fastest (4.6 40) or the biggest, but he's smart, instinctive and has excellent vision and toughness. He did everything for them, including kick returns, although he may not do that here. He can catch (91 career receptions), but they didn't ask him to do much of that."
TE Christian Trahan, 6-2 256, Houston: Played 53 games in solid college career that began with current Bengals tight ends coach James Casey recruiting him to Cougars. As a frosh, played 98 snaps before Casey came to Cincinnati after 2018 season … Captain … This past season had highs of 73 yards vs. Memphis and six catches vs. East Carolina …Onside kick recovery with 1:14 left led to win at Memphis …Quintessential James Casey grinding tight end, taking 44 snaps on field goals and PATs while graded third best blocking tight end in American Conference by Pro Football Focus …HOMETOWN: Sulphur, La.; BORN: 10/22/98
SCOUT'S TAKE: "Primarily in-line blocker. He's got very good length. Extremely, extremely intelligent. Did all the dirty work for them and did it well. Tough as nails. Great dude. Wants to go into health care after he's done playing."
RB Calvin Tyler Jr., 5-8 208, Utah State: Rushed for 2,006 yards on 449 carries (4.5 average) during two seasons at Utah State with 10 100-yard rushing games … Last season went for 1,122 yards on 253 carries (4.4) …Caught 15 passes … Led team with eight touchdowns … Rushed for career-high 162 yards on career-best 33 carries against Connecticut … Played 2017-2020 at Oregon State … In 14 games rushed for 124 yards on 30 carries … Graduated from Oregon State in spring of 2021 with communications degree ... Earned master's in sports management from Utah State last fall ... Cousin Christine Michael, second round pick of Packers in 2013, played six seasons in Green Bay, Dallas, Seattle, and Indianapolis …
HOMETOWN: Beaumont, Texas; BORN: 4/23/98
SCOUT'S TAKE: "Compact build. Productive runner with good toughness, vision, and patience. Solid hands in the pass game and will need to show value in pass protection to ascend. Solid testing numbers with a 40 in the low 4.5 range."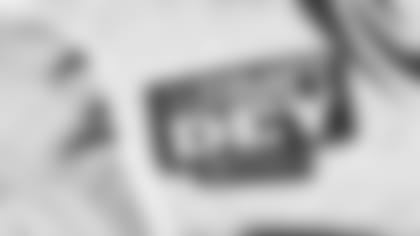 2023 Draft Dey Center
The official sources of news, photos, interviews and more of Draft Dey 2023, presented by Integrity Express Logistics.