Anthony Munoz, who has now been a Pro Football Hall-of-Famer longer than he's been a grandfather and a Bengal, takes the drive to Canton every year.
Every year since Aug. 1, 1998 he and wife DeDe head up I-71 before kicking over to Route 30 heading to Wooster and Mansfield. Every year for 20 years, since the Hall did what it had to do and inducted the greatest left tackle who ever lived. Only twice he hasn't made it back for the induction ceremony that is now part of a sprawling weekend celebration compared to what amounted to the intimate cocktail party that welcomed him in '98.
Once the Bengals were playing and he couldn't miss it as Channel 12's long-time pre-season analyst. And the other time he had shoulder surgery because the Bengals were playing in the nationally-televised Hall-of-Fame game and he didn't have to call a game until the next week.
"I took a couple of meds, got on the couch and watched the whole thing," Munoz says. "That's when (Dick) LeBeau went in. That hurt. I really wanted to be there."
It is 20 years after they made that first drive and they got to Columbus before they realized son Michael had forgotten the speech he had written to present Anthony for induction.
And he still tingles. He remembers how the hair on the back of his neck stiff-armed him when Bart Starr looked at him and said, "Mister, I know you would have loved playing for Lombardi."
 "I still can't believe I'm on the same team as these guys," Munoz says. "You're sitting at a table with Joe Namath. Bart Starr. (Jack) Lambert. (Jack) Ham. One table over is Jim Brown. It's so humbling. So much fun. Deacon Jones said it best. When you're on this team you can't get cut, you can't get traded. You're on it forever."
Jones has been gone six years now and that's the tough thing. You begin to lose friends. Merlin Olsen. Otto Graham. Ray Nitschke passed a few weeks after Munoz got voted in, but not before the Packers master of mean gruffed to him, "Anthony, it was a privilege for us to play the game and not the other way around like some feel."
"You grew up watching these guys and they know about you and your families because they're still passionate about the game and follow it," Munoz says wistfully. "I'll never forget it. Here was Ray Nitschke, this big tough man speaking so passionately about the game."
Twenty years ago Munoz was a few weeks shy of 40. Now he's one of the older guys. Check that. He's one of the more distinguished guys. If baseball has Sandy Koufax, football has Anthony Munoz. Larger than life and almost untouched by time except for a sliver of silver as if to symbolize the stature among his peers. He's on more committees than a senior senator, such as the Centennial Commission overlooking the Hall's events for the 100th anniversary of the NFL in 2020. He's a big man in a big room.
When the formidable Willie Lanier stepped down as one of the two Hall-of-Famers with seats on the Hall's board of directors, David Baker didn't have to think very hard about a replacement to join Warren Moon.
"A guy like Anthony," says Baker, the Hall president and CEO who knows guys like Munoz for a living, "when he walks into a room, he commands the room. And it's because of his character and credibility.
"The logical guy was Anthony because he is respected so much by all the members," Baker says. "He's involved in so many charitable activities that build the character of kids. Frankly, it was an easy choice."
In his four years of running the Hall, Baker has combined his almost evangelical zeal with a business approach to transform the organization from an afterthought into a juggernaut. In an effort "to promote the values of the game," Baker has reached out to local communities focusing on youth throughout the country in a variety of ways and that's where he has common ground with his fellow Californian. He calls Munoz one of his "go-to-guys," because he turns to him so often for charity events and youth outreach.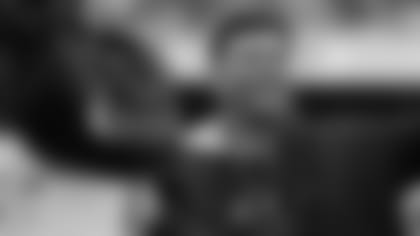 Just recently Baker sent his first team to Madison, Ind., a community hit hard by flooding, opioids and a high teen suicide rate. Turning to his Strong Youth, Strong Communities group, Baker dispatched Munoz and three other Hall-of Famers, Aeneas Williams, Darrell Green and Rod Woodson to spend some time in the town of about 12,000 near the Ohio border.
"It kind of changed all the youth in this town in a couple of days," Baker said. "That's the power with a guy like Anthony Munoz."
Munoz has been drawn to fellow Hall members like Williams and Green because of their commitment to the Christian way of life. When Williams, a pastor, decided to build his church in Ferguson, Mo., the heart of steaming racial problems, it inspired Munoz even more if that's possible. He says wearing the gold jacket has allowed the Anthony Munoz Foundation even more opportunities to reach out to youth as spreads his gospel of making character count.
"I can count the number of times I've had people tell me to put 78," says Munoz of the autograph seekers. "They don't care anymore about the jersey number. They want the Hall of Fame and the year (of induction). I think it helps make a difference in the things I do. My foundation has always been in Cincinnati, but I've been able to get national sponsors. More visibility. Opportunity. I can always get face time with a CEO and I would think of all that helps."
As in "Anthony Munoz, H of F 98." Of course, just being "Anthony Munoz, Man," helps, too. But Munoz recalls a 40-minute meeting in NFL commissioner Roger Goodell's office. Munoz, the first Hispanic in the Hall, had been running a program to expose Hispanic inner-city youth to football and he felt like if he could get some league backing it could take off. Seven years later the Play 60 Character Camp has gone multicultural and is now in 47 cities with a fifth straight year in Mexico.
"I don't know if that happens if I'm not in the Hall of Fame," says Munoz of the face time with Goodell.
The favorite day of the weekend is the first day. Noon Friday. The Nitschke Luncheon, named in honor of the teddy bear linebacker who loved it so. Only gold jackets. Only their stories. The inductees aren't allowed to say a word until next year. Some stand and talk about the game and the passion and the bond.
"Can't tell you," says Munoz of his favorite luncheon story. "It's like Vegas. What happens in Vegas stays in Vegas. I could tell you, but I'd have to throw you in the river."
 The theme is always to come back next year. No matter what. Keep the team together.
"You hear some of the young guys say they'll come back and it's great and then five years go by and you don't see them," Munoz says. "It's too bad. It's something special."
Now that the luncheons have names, the parties have entertainment. It just wasn't like this in '98.
"I think I had a record player at mine," Munoz says.
Last year, DeDe deferred to Anthony and Michael for a stop by Cowboys owner Jerry Jones' get-together, which was more like a $16 million bash.
"Jerry built a three-story facility on the Glenmoor (Country Club), driving range," says Munoz, who caught a glimpse of Warren Buffett. "We stayed to listen to Justin Timberlake and then we left."
Munoz didn't even have Jimmy Buffett, but he said he would have bought him a couple of margaritas if he sang a few songs.
"The money just is different now than it was then," says Munoz, who admits he didn't even have a record player. "It was nice. Family. A few friends. Mingling. Kind of like a cocktail hour."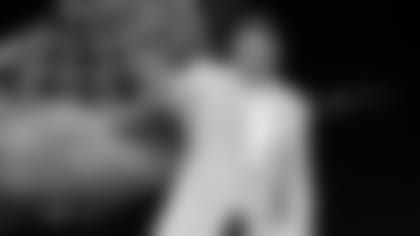 Munoz has to laugh. Like Jones, he wasn't even the most famous person at his own Hall-of-Fame party. He says it was his son, even before 17-year-old Michael made the speech on the steps of the Hall that was saved by a friend that hadn't left Cincinnati yet and rescued the manuscript. This is when Michael was going into his junior year at Cincinnati's Moeller High School and ranked one of the top tackles in the country.
"During the parade (in Canton), I lost track of how many signs I saw that said, 'Please Michael. Come to Ohio State,'" Anthony Munoz says. "I was the second most famous guy at my party."
Now he's the second most recognized Munoz at the Hall. The teenager who wowed the Canton crowd with such an adult speech ("You have shown me strength and the control and how to be tough while still being tender. You are a real man.") is now the Hall's vice president of youth football and character development.
It turns out Baker can recruit, too. He watched Michael oversee the growth of the character camps and how he worked with his father to keep the foundation expanding and thought it was a great fit. A few days ago father and son worked some more Hall magic. Anthony and Randy Moss, a member of this year's class, anchored "A Day Out With Dad," for 2,000 children and their fathers.
"Neither of them knew their dads. Anthony was raised by his mom. That's a tremendous tribute. It's such an inspiring story," Baker says. "The one thing I know about Anthony besides him being an incredible football player is that he's an incredible dad."
Twenty years went fast. "Flies," he says. But like Munoz always seems to do, he's put it to good use.
"Take a heart like the one of Anthony Munoz," Baker says, "wrap it in a gold jacket and you've got something special."
The Hall's big man is ready to sign up for another assignment.
"That H of F 98 helped a lot of things happen," Munoz says.