Bengals founder Paul Brown has modeled his second franchise in Cincinnati on his first in Cleveland with the same conservative, button-down philosophy. From the solid orange helmets all the way down to the black cleats. But tonight when he unveils the first uniform change in Bengals history, his taste for fashion seems to be as cutting edge as his offenses. The Bengals are going with tiger stripes. Everywhere. The iconic Cincinnati Zoo meets the NFL legend at the 50-yard line. On the sleeves. On the pants. Even the helmet.
Lonnie Wheeler of The Cincinnati Enquirer is mesmerized by the wavy sea change. "For their entire history the Bengals have dressed like the bankers of the National Football League," Wheeler writes the next day. "Plain white and black. Pale orange ….Now the Bengals are bankers reborn and decked out for the disco. The look is part strobe light, part jungle, part circus, and entirely different." Especially the helmet. When linebacker Reggie Williams and guard Glenn Bujnoch model the new unis tonight at the College Football Hall of Fame at Kings Island in Mason, Ohio, the buzz is about the helmet striped in orange and black.
"When the Rams came out with their helmets and those horns on them, everybody rolled off their chairs, laughing," Brown says. "But now they've probably got the most distinctive helmets in the league and the other teams would like to have the same thing." No one seems to be laughing. Particularly Brown. Now the Bengals have the most recognizable helmets in the land. Like he always does, he has the last word with the NFL office. "The league has been after us for some while to get more distinctive uniforms," says Brown, who no longer has to hear how the Bengals look like the Browns in his own image. "Now when people see us on TV, they know it's our team."
The Bengals cement their helmet as an NFL treasure a few months later with maximum exposure when they go to their first Super Bowl. Head coach Forrest Gregg seems to have a hint tonight. "The people we play this year are going to be sick of seeing those striped helmets," Gregg says.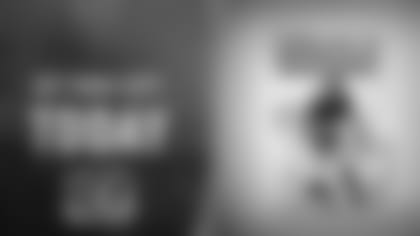 This is an excerpt from the limited edition book "This Day in Bengals History" by Geoff Hobson. To purchase the book, visit the Bengals Pro Shop or go to Bengals.com/Book.