Bengals.com's Geoff Hobson sat down with head coach Zac Taylor this week to discuss how time management helped get last Sunday's game into overtime and how early-season lessons convinced them to stay with the run. And the only No. 1 pick Taylor would discuss is Browns quarterback Baker Mayfield.
Youth ball, anything, ever been around anything like those last two minutes of regulation on Sunday in Miami?
No. Not off the top of the head. But I can't imagine many people have.
You and your team really kept focus in such a unique situation. It looked like you actually practiced it.
Believe it or not, we do. There's a big emphasis on situations we've placed on these guys since June. That's the first time we practice that stuff here in the stadium, describing what the situation is and when we're going to need it. We're hoping that it's a play we're making in the future for a better opportunity for our team to go to the playoffs or win the division. You just never know when it's going to come up and our guys executed it well.
You put one of your coaches, offensive assistant Dan Pitcher, in charge of game management. Last spring during OTAs, he led a presentation to the players on the stadium scoreboard of situations. That showed up in the last two minutes. You're commitment to that paid off.
Absolutely. That's a credit to Pitch. There were a lot of tricky situations in that game with clock management in the fourth quarter to make sure that we got enough opportunities to give ourselves a chance. Even the way we called the timeouts, and this is a credit to Pitch, allowed us to have four seconds on the clock to have that last play of regulation to score and put it into overtime.
Can you walk me through some of that? There was clearly the obvious, the spiking of the ball. How else did you get four seconds at the end?
When to spike it. When not to spike it. When to call time out. We're calling the timeouts, really, in the drive leading up to that trying to save ourselves for the time we had the ball.
All three of your timeouts came in Miami's last drive of regulation that ended up in the missed field goal with 3:07 left. Why didn't you save them? What you're saying is the fact you used them when you did allowed you more time.
There's no doubt. They would have taken all 40 seconds off the clock. We're going to be quick when we're on offense, so you'd rather use the timeouts when the defense is up to maximize the 40 seconds you can save. So we had four seconds after we clocked it…It's similar to when we played Cleveland. The reason we were down 11 against Cleveland and we kicked a field goal with over 30 seconds left … because if you run two more plays and try to score a touchdown without taking the points to get into a one-possession game, by the time you kick the on-side, now you don't have time to hit the deep pass to Tyler Boyd (against the Dolphins) that we hit and get into striking range to score another touchdown. Those are just situations that we work through and talk about every Friday. Pitch does a great job staying on top of it with (analyst) Sam (Francis).  They did a great job.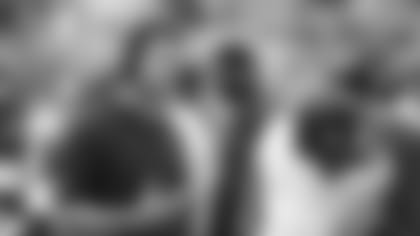 The big play was Boyd. He knew not to go down or the game is over because of the 10-second runoff for injury. When's the last time you showed the team that situation?
That specific situation? You talk about that once or twice a year. You can't talk about it every week. You just have to educate them and trust the players are going to remember that moment. You never know when it's going to come up. I think it was Mike Evans and Tampa Bay with the 10-second runoff two or three years ago where he was injured badly. But it's an example that you use to show the players there will be a 10-second run off if you don't get up and get off the field.
It looked like Tyler Eifert went over to Boyd to make sure he got up.
All of the guys were in tune with it, there's no doubt about it.
It looked like Boyd knew.
I think he knew, absolutely.
When was the last time you talked about that situation with the team?
It could have been two months ago.
I've got to believe you've got Boyd on that teaching tape now.
He's obviously a great piece to the puzzle and played well yesterday.
The way he got off the field was something after the spike. Just crawling and diving.
That's a whole scramble. Now you're down to two wide receivers for the last play.
That's what I wanted to ask you. It was kind of symbolic of the season. Not enough healthy wide receivers.
I love the way you came out in overtime. You started both series with two runs, although you couldn't convert the third-down pass. As much as I love you running it, I was also thinking, you did put up 23 points in the last six minutes throwing it and had the Dolphins on the ropes with the pass.
Yeah, I know. We felt like we could put ourselves in manageable situations. It's not a race against the clock like the last time we had the ball. It's just a normal drive. Let's march it down the field the way we think we can. A lot of the runs were two and three yards in that game, but when you're looking at the pictures and talking to the players, you know the runs have potential. We're so close.
And the Dolphins were next-to-last against the run.
They did a lot of things against us they hadn't done and told us they weren't going to let us run it.
I thought it was significant that you stuck with the run game in overtime despite how they were playing it.
We've learned our lessons. You can't just abandon it. It's happened early in the year. Those are things we learned from.
Even though you're coming off quite a game between Bengals quarterbacks past and present that may have decided the fate of a future one, I guess you're not talking future quite yet.
There's plenty of time to talk about the draft in the offseason.
I guess the only No. 1 pick you want to talk about is Browns quarterback Baker Mayfield, since that's who you play this week.
It's a team that beat us just a couple of weeks ago. It's still fresh in our memories. It's a game we felt like we could have done a lot of things better. Now we get a chance to do that. There are a lot of things in that game we certainly could have done differently that would have given us a better opportunity to win.
The offensive line has played so well as of late, but they really struggled in Miami, giving up four sacks to a struggling defensive line and unable to get the run going against one of the league's worst run defenses.
There were a lot of moving parts in that one. We played a couple of different right guards and left tackles. You could see the lack of chemistry show up with that. And you could tell from the first snap that Miami said, 'We're not going to let you run the ball. We're going to make you throw the ball every snap.' We're not willing to throw the ball every snap. There were some challenges. It probably wasn't built to be a 150-yard rushing day the way they came out and played us. But I still thought there were opportunities there we could have been better in the run game and in protection some of those sacks were completely unnecessary.
What did you think of Fred Johnson at left tackle, one of your rookies who played 69 percent of the snaps?
He showed some real positive things. He's a young player. He's got a lot of talent. Obviously he's very green. He hasn't had a lot of reps, but he's earned opportunities from his time in practice. I felt like it's important to get a look at him, so we worked him in there.
He's been perceived as a right tackle and a guard because of his size, but obviously you think he can play some left.
He's a tackle. No question about that. So you have to evaluate best you can. So we felt like getting him some reps over there at left tackle and see what he can do. Certainly a step in the right direction for him. There are some things we can clean up, but we're glad to have him.
It looks like he's better than a project and you think he can help you next year as maybe a swing tackle playing both.
Those were his first real reps against a live defense. He goes against the scout team where they're giving us the looks, but he doesn't run our plays, our protections against a starting unit on defense. For never taking a rep in the run game against a starting defense at this point in the year with a lack of pads we wear in practice, there were a lot of things he had to work through and I thought it was a positive start for him.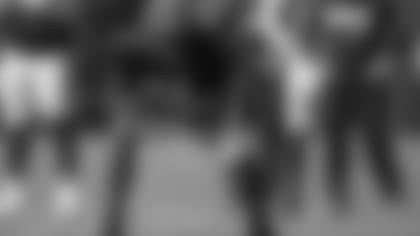 There was a stark contrast in that game when it came to a first-year program. The Dolphins have been adding guys left and right for tryouts and you're pretty much sticking with your guys unless there's an injury. You've never really reached the point where you're going to play all the kids. You went back to Andy Dalton after going with rookie Ryan Finley, but you never really went the re-building route like the Dolphins did to see what you got.
We feel we've got a lot of good evaluation of about every guy on the active roster. It's the approach we take and the approach they take. We certainly didn't start that game the right way in any way shape or form on either side of the ball. We dug ourselves in a hole and that's a credit to Miami and they came out and did a great job executing what they wanted to do winning in the one-on-ones. We didn't do that in the first half.
I guess you guys weren't there mentally.
I don't know why that would be. We felt like we were dialed in leading up to the kickoff. I wouldn't necessarily say mental mistakes. There were some. But a lot of it was physical. Just winning matchups. We didn't do it.
** People would say, well you've got better talent than them, you should win those matchups.**
That's for other people to say, but we certainly felt like we should have started better than we did.
** The defense had played so well for the last six weeks or so and that had to be a disappointment with so many blown coverages.**
That was hard to stomach. In the first half they had some big opportunities with some stuff that shouldn't have been so easy for them.
Do you want to get more of a look at Darius Phillips at cornerback?
We'll see how it plays out with William Jackson's shoulder. It may cause some people to step up if he can't play.
*I'm sure you'd like to see the corners improve after what happened Sunday. *
There were some real one-on-ones out there and we have to make more plays on the ball and be in better position on a lot of those plays to knock them down. That was frustrating.