Darrin Simmons, the Bengals' meticulous special teams coordinator for the past 16 seasons, has busted coverage schemes and chops with equal niftiness. As he prepares to pack for Tuesday's trip to Indianapolis and the NFL scouting combine, Geoff Smith, the player personnel department technology consultant, makes Simmons smile with a return of his own.
"You missed a chance to bust my chops," Smith says of a missing running back on one of the myriad of prospects lists. "I noticed you're breaking them by position group. So that one now breaks by position group if you rather."
Smith wasn't around for Simmons' first Bengals combine. In fact, none of the assistant coaches that accompanied Simmons to that first Marvin Lewis combine are around. In fact, none of the technology, as he knows it today, is around.
"Tape decks," Simmons muses of that '03 combine. "I took a bunch of VCR tapes with me and watched them in the hotel room."
But that's only after Travis Brammer, the Video Vicar, and his legion hooked up the tape deck to a hotel TV, which had to be as tough as taking a punt to the house. Now Simmons can sit in the Bengals suite at Lucas Oil Stadium and peek at a snippet of Stanford game tape to ready for punter Jake Bailey's workout. He'll be able to mark the time in his notebook and click back to Stanford.
"You used to have to wait days to get the 40 times and then the scouts and everybody else would have their own interpretations," he says. "Now it's right there in real time for you."
Technology and the kids are the biggest differences since that first Bengals combine. Simmons' own and the prospects he scouts. Hannah, a volleyball player at Mason High School, was just born in Simmons' final season with the Panthers. Weston, 14, a four-sport guy that can't get enough of the games, joined the club in Cincinnati. Cameron, 10, arrived just in time for that '09 combine where his dad was more than convinced the University of Cincinnati's Kevin Huber had just the right even-keeled personality to punt in the NFL for a long time.
They're both still here and some things stay the same.
"I tell my wife this all the time. I don't know if she believes it or not," Simmons says. "Part of my job is I've got to judge a guy in 15 minutes. Form an opinion. A real strong opinion … You have to decipher what's in the back of their mind, too."
Now that he's 45 with 263 games running the kicking game as opposed to being 29 with exactly no games running the show, he's got a better grip on what he sees and hears during prospect interviews. "A lot of games and more gray hairs," he says. "I've seen them and felt our players on Sunday. I've got a better feel for the big picture." But technology has changed the kids, too, when he meets with them. The 22 year-old from '03 isn't the 22-year-old in '19.
"Every guy potentially is going to pre-combine camps to prepare for it," Simmons says. "Players have changed just like society has changed. It's the information, gratification age. Everything is so easily available because of technology. It absolutely has changed them. They're smarter. Everything is faster. They're just aware of more things. Good and bad."
Now the draft is in prime time and spread over three days. In '03, it was like a frat party wedged into a raucous Saturday followed by a hung-over Sunday. In '03, the only folks allowed behind the combine curtain were coaches, scouts, trainers and owners. Now fans fill the seats and NFL Network goes live with footage that 16 years ago would have been death to a reporter if he even glimpsed it.
"It's great for the game. It helps drive the popularity," Simmons says. "It doesn't get in the way of how I do my job. It just means more criticism. Now everyone has a mock draft. But that's fine. We signed up for criticism when we took the job."
And at a lot of positions, especially on defense they're looking at different kinds of players, not just different kinds of humans. If society has become more specialized, so has the league. The NFL has kept up with Netflix. Or is it the other way around?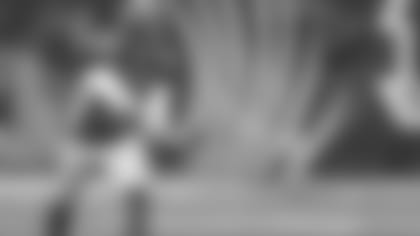 "Everything has become smaller and faster," Simmons says. "Whatever the defensive ends vs. the linebackers are. It's happened in college football trying to deal with the spread offenses. They have to do better in space and you need more players that can go sideline-to-sideline. There are those position groups where the skill sets may have shifted a little. Maybe some of those linebackers who were big run stoppers can't play three downs. What is the value?
"You're looking at more specialty players. I don't know in 2003 if we would have ever drafted a nickel (a player that plays only pass defense) or ever thought about an outside linebacker playing on first and second down and then moving to defensive end on third down. Those guys have always been there and you talked about them to some degree. But now you're drafting a guy specifically to do that. Or you're drafting a slot receiver. You didn't do that in '03 because now it is so much more specialized.
Simmons has proven to be more than adaptable. He has coached the most prolific punter (Huber) and returner (Brandon Tate) in club history, as well as the most accurate kicker (Shayne Graham) and biggest kick returner (Adam Jones). His players dominate the record book. Huber holds four Bengals' season records, kicker Mike Nugent three and Graham and Jones one each.
Coming into this past season, Simmons had been a Golden Goose. Rick "Goose," Gosselin has been charting NFL special teams play in four decades on the basis of 22 categories and the Bengals had finished in the top ten three times in the last six years. Because of a nightmarish start to the season as his units' youth struggled, the Bengals ranked 22nd.
But they steadily improved. Simmons points to drive start, where they were fourth receiving kicks and 13th covering kicks after they had reached the top ten late in the season. While wide receiver Alex Erickson finished fifth in kick returns (he won their lone game after the bye) and ninth in punt returns, they finished seventh overall in punt return average and fifth in kick return average and were ninth covering punts.
"The improvement shows up in coverage," Simmons says. "We adapted to the rules changes well and that happened probably a little quicker for us than for some other teams. Our guys learned and spent a lot of time adjusting and we hit the ground running."
But Simmons isn't happy with the flags and he's banking on another year of experience quelling the penalties.
"We were a very youthful team and it showed up in the mistakes we made," Simmons says. "The biggest thing we have to address is the penalties at crucial times. The experience should help and give them a better feel for playing. It's not knowing what they can and can't do. It's being exposed to the way they have to make decisions, all within the scope of trying to execute their job. Sometimes they take chances knowing if they don't do their job they could lose it to someone else."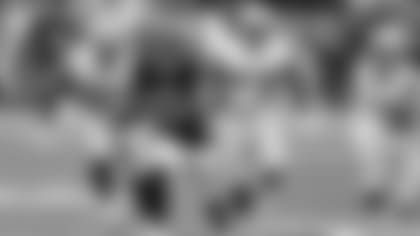 While some things change, some things still stay the same. Before they replaced the RCA Dome with Lucas Oil, Simmons always sat with his buddies (mostly special teams coaches) in a corner to chew the fat and time the 40s. Now each team has a suite where the coaches and scouts can get fed while immersing themselves in the iPads spitting out everything they need. Now and then Simmons meets up with the old crew, but it's not like the old days.
What is are the punting and kicking drills. Those were the last workouts to be taken over by the NFL coaches and the first year of it just happened to be '03. Simmons was there at the creation and has a big say in how the action down on the floor plays out. He's still looking for the same things this week that he was seeking in 2003 "and I'll do it the same way five years from now."
The future is now in Bengaldom. Simmons, sitting in a temporary office while new head coach/offensive play caller Zac Taylor rips up the coaches' floor plan, gets the same kind of "everything is different vibe," he had watching Lewis 16 years ago. Simmons doesn't put much stock in the old wives' tale that special teams coordinators are more comfortable with defensive head coaches. When Simmons broke into the league with the 1998 Ravens, it was under an offensive guy in Ted Marchibroda. Since then he's worked for three straight defensive coaches in Lewis, John Fox and George Seifert.
But he only has to look at how Taylor's Rams performed in the kicking game the past two seasons, placing first and ninth, respectively, in the Goose rankings.
"They've got an offensive guy in Sean McVay," Simmons says, "and Kansas City is always solid with Andy Reid as the head coach. I think that stuff is overblown."
Sixteen years later and while some things change ….