As Head Coach Zac Taylor and his new staff get settled, Bengals Season Ticket Members helped them get to know their new city with welcome messages and recommendations on places to visit in the Greater Cincinnati area.
Some of the most popular places to visit included:
American Sign Museum
BLINK Cincinnati
Carew Tower Observation Deck
Cincinnati Museum Center at Union Terminal
The Cincinnati Zoo
Eden Park Overlook
Findlay Market
Friday night high school football games
Graeter's Ice Cream
The Kentucky Bourbon Trail
Kings Island
Labor Day Fireworks 
Loveland Bike Trail
Over-the-Rhine
Queen City Underground Tunnels
Zip's Café in Mount Lookout Square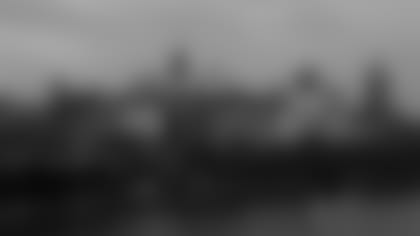 Welcome Messages from Fans:
"Very excited to have all the coaches bringing their experiences and expertise to the Bengals! My wife and I will be at all the games cheering and backing you all up. I have had season tickets since I retired from the military and am very excited for what you will bring to the table. Keep your eye on the prize and enjoy the ride. I know I will."
"Welcome to Cincy! Excited for the young energy and new ideas. Looking forward to hearing the roar come back to the jungle. Cincy fans will get behind an aggressive approach on offense and defense---I love the word Attack. Good luck---we will be cheering loud from the south end zone."
"Welcome to the Queen City! Looking forward to many years of successful playoff wins and championships!"
"Welcome to Cincinnati. I, for one, am proud of this team, this city, and the tradition of football. I have great faith in the future of this organization to deliver the championship the players, city and fans deserve. You are now part of these hopes and dreams and have the full support of my family in your endeavors."
"I am very excited to see a new era of Bengals Football take place. I am a coach and teacher that uses my love for the Bengals to escape into a fun stress relieving setting. I hope and wish for this job for you to be a fun and excited experience. Good luck with everything and go make the "New Dey" era a "Super Bowl Dey" era. Who Dey!!!"
"Welcome to our Jungle! I'm looking forward to another winning season and a long awaited championship. Who Dey!"
"Hey Coach Taylor welcome to Cincinnati Can't wait to watch you lead this team & to watch all the success in the near future, I wish you the best & Good luck on the upcoming season welcome to the family."
"WELCOME!! We've been season ticket holders for almost 50 years. Looking forward to the upcoming season. Who Dey!!!"
"Welcome to the JUNGLE and hopefully a new Dey in Bengals history. I've been an avid Bengal fan since inception as my father played on the 1942 Ohio State University National Championship team coached by Paul Brown. I was nine years old when he founded the Bengals and I've been there ever since. He was such an inspiration to my father that he wrote a book about Paul and the '42 National Champs, many who became part of the first Cleveland Browns team. If you're interested, I'd love to share his book with you as it shows what a great coach and man Paul was. I could go on and on about my love for the Bengals, but I have been a loyal season ticket holder for the last fifteen years and rarely miss a game. Good luck!"
"Welcome to the JUNGLE!! My family have been ticket holders since 1968. We are all excited about our 2019 TEAM and new coaching staff. I drive from Panama City Beach Florida for the home games!!
"Welcome to the wonderful Southwest Ohio region. A great place to live and raise a family. Please win and stay a long time!!!"
"Best of luck coach; looking forward to some exciting, winning ways!! Bengal Nation is hungry for some successful times!"
"Could not be happier that Coach Zac and all the others are here! Season ticket holder since 1980 (Forrest Gregg's first year and Anthony Munoz rookie season) and was strongly considering giving up my seats with my son. No way, as soon as Coach Zac appeared on the radar. Can't wait for opening day to cheer the new staff from my seat in the stands. Great times in Bengal Land."
- Gary and Chris Vermillion
"Hey Coach Taylor! Excited to have you on board, looking forward to making some positive changes within the organization and getting us on track to winning not only a playoff game, but a Super Bowl! My wife and I will be yelling for the Orange and Black from our seats every game as always. Welcome, good luck and Happy Who Dey!"
"I am so excited to see what you can do and for this coming season! Welcome and Who Dey!"
"Welcome to Bengal Country! I am very excited you, your coaches, other personell, and all your families are going to make Cincinnati your new home. I look forward to the 2019 season and hope I have an opportunity to meet you sometime in the future. WHO DEY.....NEW DAY!"
Fans interested in purchasing Bengals Season Tickets can do so by contacting the Bengals Ticket Hotline at (513) 621-8383 or toll-free at (866) 621-8383, online at Bengals.com or by visiting the Paul Brown Stadium ticket office. 
Season tickets start at $400 and flexible payment plan options are available.