Wide receiver A.J. Green booted through the Bengals locker room Monday wearing the dreaded thing and the fear is when the specialists re-examine his turf toe he'll undergo season-ending surgery. There are reports Monday night that Green is headed to a surgical procedure to repair torn ligaments but that he'll be able to be on the field in the spring. The concern is that the condition will get worse if he plays any more, like the partially torn hamstring that ended his 2016 season after nine games.
He was still the Bengals leading receiver that season with a monstrous 964 yards, but 2018 will be No. 18's least productive of eight seasons that ends with 46 catches for 694 yards. With 69 catches for 938 yards, Tyler Boyd is 62 yards away from becoming the first non-Green 1,000-yard receiver since Chad Johnson's 1,047-yard season in 2009. If you said Terrell Owens in 2010 was the last guy to lead the Bengals in receiving for a season before Green, you're right.
Offensive coordinator Bill Lazor said Monday they crafted Sunday's game plan against Denver believing he was OK after missing the last three games.
"We assumed not playing for a while, he might need a break during the game at times but we were going to call it like he was in there," Lazor said. "When he wasn't in there it was the next guy to go in and take his spot, which was pretty much what we did. We tried not to move too many pieces around after he left the game. It's a big strategic piece to miss because he's a great player as well emotionally I think the team was fired up for him to be back. We've gotten used to that."
_There are no reports, yet, where head coach Marvin Lewis is going to be in the spring, but just wait. It's been reported Lewis' deal has a team option for next season so the questions began Monday now that Green Bay's Mike McCarthy has joined Hue Jackson on the list of dispatched coaches.
Asked if he's been delivered assurances by the front office that he'll finish the season and have a discussion about next year, Lewis said, "No. I wouldn't expect any or ask for any."
Asked if he wants to coach next season he said, "My job is to coach the football team."
The front office here is Bengals president Mike Brown, the guy making the call.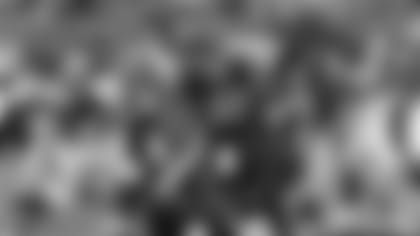 _Give Lazor credit. He knew exactly where he was going to get second-guessed after Sunday's 24-10 loss to the Broncos after running back Joe Mixon had 82 yards on just 12 carries and quarterback Jeff Driskel threw just five balls of at least 20 yards in the air of his 38 passes (according to profootballfocus.com) despite the Broncos' No. 25 defense losing Pro Bowl cornerback Chris Harris to a broken leg in the first quarter.
"There's really a list of what didn't get done. I guess that's on some people's list. I mean, really it's everything," Lazor said, "Did you get the ball to the guys against their backup DBs enough? Did you get the ball to your starting halfback enough? Did you throw it deep enough? Did you run it enough? Someone in the building would answer no to all those things … Different person, at least. Trust me. There's probably others that haven't gotten to me yet. That's the life when you score 10 points and you lose the game. That's being the offensive coordinator. I understand that."
Give credit there. Lazor took ownership of it, including leaving left tackle Clint Boling one-on-one on the sack-strip at the end of the game, although he felt the slew of penalties forced them out of the plan of short, quick passes bolstered by the run game.
"Second-and-20, it's a hard down to run the ball on but we ran it again. I just thought, well, they did sub into dime defense. Maybe we can kind of make them think we are going to throw it," Lazor said. "They did sub into dime defense so I thought maybe we could make them think we were going to throw it, we did in the first half on second and long and try to pry one through there and pop it open and we didn't. Then it's third and 17 or whatever it was.
"We talked about it the guys saw it. That's part of being smart football players and correcting it. You are never going to be penalty free. You are never going to be perfect. You've got to be smart with how you play. That game our margin for error was tight, just the way you are playing. We didn't put ourselves in good situations. You look at the list of third downs in that first half it's incredible – 24, 25, 39, 24, whatever."
_Don't look now, but Mixon is on the verge of getting 1,000 yards with the fewest carries by a Bengals running back since Ickey Woods got his 1,066 on 203 carries 30 years ago. Joltin' Joe is averaging out to 1,057 yards on 216 carries. And so there is a chorus in Bengaldom wondering why the running game has been virtually ignored in the four-game losing streak where Mixon is averaging five yards per carry on just 12 carries per game. And they went into the streak on Mixon's only 100-yard game of the season, a 123-yarder vs. Tampa Bay on 21 carries.
"We're going to run it when we can, but obviously it doesn't make sense to hand it off on second-and-20," Lewis said. "We had a big gain with Gio (running back Giovani Bernard), and we had it called back. Those things, along with the foul by (center) Billy (Price), which I'm still looking for on the tape. It didn't seem to be an even playing field yesterday regarding holding (penalties), and I can't figure out why. Yeah, there's a couple other times where Joe had opportunities, but we went a different way and threw it. Those will come, based on the look as well."
With Driskel getting his first road start in Los Angeles Sunday, Lewis says the idea remains to establish the run.
"We intend to throughout, and it's never been different than that. We have to," Lewis said.
Lazor knows Mixon has been effective and it sounds like he wanted to do it more than he did against the Broncos and maybe it's a sign of Sunday in L.A. The Bengals have upped their worst time of possession in history to 26:55 and they play the Chargers' sixth highest-scoring offense in the league that has racked up the second most pass yards in the league. But they're also 11th against the rush, not 23rd like Denver. What makes Mixon's run so remarkable is that the last four games include the 14 yards rushing he had on 12 carries against the Ravens' third-ranked rush defense.
"Our run is as good as it's been. You look at the numbers at the end of the game and you say you've got to get it to him more," Lazor said. "We have to keep ourselves in positions where we can keep doing that. That was the plan going in. We knew the passes that were planned going in were based off running the football. They weren't to drop back and expose our guys one-on-one. You get into those situations, it's hard to call a play action when it's second-and-20."
_Yes, Lewis wasn't happy with the officiating after 12 penalty flags were dumped on them Sunday.
"Very questionable in my opinion," he offered after the first time in his 252 games as head coach his club suffered back-to-back games of at least 12 penalties.
_The Bengals badly need a good performance against a good team on Sunday. They've been outscored, 171-100, by teams that are currently in the playoff picture, where the Chargers have the fifth AFC seed at 9-3.