In the most sweeping off-season playbook changes engineered by Marvin Lewis in his 16 years head-coaching the Bengals, all eyes are on the biggest change of them all when the rehabbed, revamped and what many believe is a re-energized offensive line takes its bow in Thursday night's pre-season opener (7-Cincinnati's Channel 12) against the Bears at Paul Brown Stadium.
Not since the Bengals opened the 2009 preseason in New Orleans with a new left tackle, a new center and a rookie right tackle holding out after he was taken in the first round has the Bengals' line entered the season in such flux. With Bills veteran starter Cordy Glenn at left tackle and rookie center Billy Price here because of a blockbuster first-round trade and four veterans vying for the right tackle job, the Bengals have more experience than they did then and they can only hope it works as well as it did nine years ago when they swept the division on the way to winning the AFC North.
One thing is for sure. The culture up front has changed dramatically, if only because for the first time since old friend Sam Wyche stunned them late with the NFL's first two-point conversion to win the 1994 pre-season opener in Tampa they go into a season with an offensive line coach other than Paul Alexander.
The fiery, intense Frank Pollack, a 49ers' Super Bowl backup guard in the '90s, brings a hefty resume from Dallas, where the Cowboys twice finished runner-up in NFL rushing during his tutelage. It's a worthy marker for a Cincinnati team coming off its worst rushing season in franchise history.
Everyone seems to have a Pollack story as his players appear to gravitate to his style that has hit a chord with veterans and rookies alike. The one going around this week is that he stepped on a piece of chewing gum during practice to spark a torrid two-minute response.
"I like the intensity he brings to the room," right guard Trey Hopkins says. "He brings it even when we're not feeling that. You can lie and say you expect to have it for 10 straight practices. But he brings the same intensity every day and you feed off it and it really helps."
The two men analyzing Thursday's game for local radio (Dave Lapham) and local TV (Anthony Munoz) just happen to be members of the Bengals' first Super Bowl offensive line and members of the Bengals' First Fifty players in franchise history. As they watch the duel at right tackle unfold, they see representatives of all walks of the NFL that have talent and can emerge.
There are the two high draft picks with even higher expectations (2015 first-rounder Cedric Ogbuehi and second-rounder Jake Fisher), the recycled veteran looking to get revived by a change of scenery (Bobby Hart) and the undrafted (Kent Perkins) looking improved and more assured in his second training camp.
"I think they have two or three guys out of that group that can do the job," says Munoz, No. 1 of 50 and known as the greatest tackle who ever lived. "I'm optimistic. You've got the two drafted guys with the high expectations and now with Frank here I'm hoping what hasn't happened the last couple of years happens."
Lapham, beginning his 33rd season in the Bengals booth, has seen it all. He played for Jim McNally, Pollack's current consultant who reached guru status during 15 seasons as the Bengals offensive line coach. Lapham also lined up next to Munoz in the Freezer Bowl when he convinced the Great One and everyone else on the line to go without sleeves. He called every one of the games coached by Alexander. He sees a change with Pollack. He's just hoping his fire spreads to the game.
"Nobody's taken it," says Lapham of the right tackle job and he could have been talking about right guard, too.  "You've got a position that's wide open and no one has separated themselves. I think they (can do the job), but someone has to go out there and win it.
"There's a sense of urgency with every practice. They're not comfortable anymore. I think (they have tackles that can play). I think they're taking to the technique well. Let's see how the young guys adjust to speed and the bodies. It's an eye opener for them. I think they'll play hard. The thing that's impressed me is how hard they're working. The conditioning. There's no down time with Frank. He's got them working all practice."
Hopkins is trying to fend off two youngsters that looked ready to take the next step at the end of last season in Alex Redmond and Christian Westerman. Redmond is a massive and strong guy with nasty, physical streaks to match and Westerman has a fifth-round pedigree but neither has been as reliable as Hopkins and that's why he's No. 1 on the depth chart at right guard.
The 6-5, 334-pound Hart is also striving for consistency, but he got the nod over Ogbuehi as the new-look, younger candidate at No. 1 right tackle. Even though Hart has 21 NFL starts, 14 of them while taking more than 800 snaps for the Wild Card Giants in 2016, he won't turn 24 until three days after his return to the NFC East when the Bengals play their second pre-season game on Aug. 18 in Dallas. Ogbuehi, with 25 NFL starts, turned 26 in April, three years after he was their first-round pick and has played some of his best NFL ball under Pollack.
But Hart gets the nod first Thursday and, like Ogbuehi, he's responded at times under Pollack.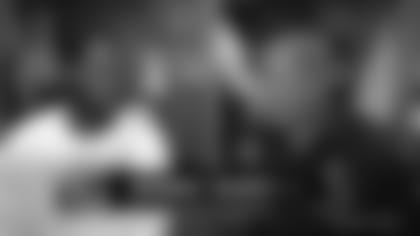 "I've learned tremendously. He's played the game," Hart said. "He's seen a lot of good players and athletes that have similar skill sets and have the things you possess."
One of those things is long arms. Both Hart (33 inches) and Ogbuehi (a monstrous 35 7/8) have them. They don't quite have what Pollack had in his Pro Bowl left tackle in Dallas' Tyron Smith (36 and 3/8), but observers believe Pollack knows how to use such players and has Hart and Ogbuehi in more aggressive sets than the Bengals have had in the past so they can get those arms in action. Hart doesn't have the athletic feet of Ogbuehi (who does?), but he moves quite well for a big man.
"He's a Florida State guy. There is some ability there," Munoz said. "He's got the long arms. You have to use them. We've had long arms here the last several years. They haven't been extended or violent … I have a feeling it's going to be much more aggressive using your hands and getting extended and punching. I'm curious to see what happens."
Hart had a curious end to his Giants career at the end of last season. The Bengals signed Hart (naturally on Valentine's Day) the day after the Giants cut him to culminate a series of events that began when he reportedly informed coaches he wouldn't play in the finale against Washington. The media ripped him for shutting it down for a 2-14 team and portrayed his release as the first act of a new general manager's house cleaning.
But Hart said upon his arrival in Cincinnati he thought that there were those with the Giants that agreed with him that not playing against Washington was OK if his nagging ankle injury still bothered him, which he said it did. If he was healthy, he said, he had plenty of incentive to play in that last game because as a seventh-round pick he's eligible to be paid under the league's plan to reward lower-paid players for performance.
In the wake of all that, Hart was sold on Lewis' genuineness and while he feels comfortable with Pollack he says this doesn't feel like a new lease on life. Despite getting into a nasty Twitter war with some former and current Giants on his way out, he chalks it up to life and learning.
"I feel like everything happens for a reason," Hart says. "God uses it so you can learn and prosper. I learned how to be a pro, how to handle things, how to adjust to certain situations. I'm appreciative of everything I went through. (The Giants) are a top-notch organization. It's a business. It's professional and you have to handle it as such. You can't let your personal feelings get in the way of business. It doesn't mix."
It'll be interesting to see how Lewis conducts business with the O-line. He said the No. 1s could potentially play beyond what quarterback Andy Dalton works and that probably won't be more than two series, if that. The Bears played virtually none of their starters in last week's Hall-of-Fame Game, so how much of that cast that put a 33-7 hurting on the Bengals here back on Dec. 10 is going to work remains to be seen. Those guys sacked Dalton three times while putting enough heat on him to hold him to a 0 passer rating from the last two minutes of the first quarter to the beginning of the fourth.
"The way I look at it," Hart said, "if I can make it New York, I can make it anywhere."
Finally, Hart, the rest of the right tackles and their offensive line has the stage.