Bengals linebackers coach Tem Lukabu, the son of the Congo's first U.N. ambassador who grew up to be a two-time Patriot League Defensive Player of the Year, is about as fast as this year's crop of backers he just viewed at the NFL scouting combine. Like much of new head coach Zac Taylor's staff, Lukabu hasn't lived very long, but he's lived a lot.
"That's another thing I really love about the National Football League," Lukabu says. "You bring all these different people together and it comes together."
Everyone knows the Bengals need speed, speed, and more speed at linebacker and it looks like they'll be able to find plenty in the draft. They aren't the only team that has been riddled in the middle by those new age offenses and as if to sense the drastic need around the league 10 backers ran 4.58 seconds or faster in the combine's 40-yard dash.
"I can't remember the last time as a group I've seen that much athleticism," Lukabu says. "In the past it's been four or five guys that stood out. But this year the whole group was strong."
Lukabu, 37, knows the past. He got his degree in history and minored in political science at academic heavyweight Colgate before studying defense under Greg Schiano, Bill Belichick's latest visiting professor at Foxboro State. Defensive line coach Nick Eason, 38, played in 117 games and two Super Bowls during the previous decade. Running backs coach Jemal Singleton, who gave up flying to coach, become one of the Air Force Academy's rare two-year captains before completing his service obligation and is coaching his third set of NFL running backs.
Offensive assistant Brad Kragthorpe, 26, is a third generation coach whose grandfather Dave was former Bengals head coach Marvin Lewis' head coach at Idaho State. Line coach Jim Turner, dean of the offensive staff at 54, walked on at Boston College and then earned a four-year scholarship before walking on to the Marine Corps for four more years.
Taylor is about to announce the Bengals' largest coaching staff ever and if it's not as young as you may have thought, it is certainly teeming with diverse backgrounds. Looking at the average age of the top 20 coaches from 2018 (44.5) and 2019 (39.85), there is four years difference and they did a generational shift. But there is also a nice mix of gray and blond. They're older this season on the offensive line and at running back, the defensive coordinators are the same age (53), the two special teams coaches are the same and if reports are accurate about Mark Duffner (turning 66 before training camp) returning as a senior defensive assistant, they'll have their oldest coach since 65-year-old Dick LeBeau's final season in 2002.
(By the way, if the report is true, signing Duffner is a genius move by Taylor. Everyone likes the affable yet highly-regarded Duffner. He's been a defensive coordinator, worked with first-time DC Lou Anarumo, a college head coach and can be a sounding board for Taylor in a non-threatening way. If Wade Phillips is the Rams model opposite Sean McVay, Duffner is the Bengals model opposite Taylor.)
Schiano, the estimable Patriots defensive coordinator, thought enough of Lukabu to give him his start in coaching. Twice. First he brought him home to New Jersey for his first coaching job in player development at Rutgers and then gave him his first NFL shot in Tampa Bay, assisting the linebackers in 2012 and then the D-Line in 2013. When Lukabu went to Chip Kelly's 49ers, he completed the trifecta by assisting a secondary with first-rounders Eric Reid and Jimmie Ward.
"He's the ultimate detail coach," Lukabu says of Schiano. "That's why it's not surprising he's in New England because they're obviously so detail oriented. He'll overturn every rock until he gets the best game plan. He's great at information gathering with every I dotted and T crossed.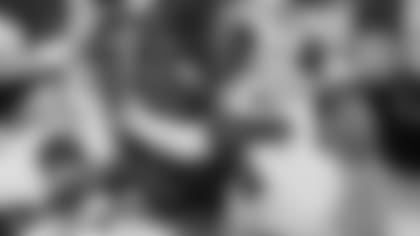 "I've been fortunate enough to be around some great minds like (Schiano), Chip Kelly, Kyle Shanahan," Lukabu says. "I've had the opportunity to be in all three (defensive) rooms as an assistant throughout my career. I have an overall view of defense in the NFL and that will serve me well."
Now he's going to be in front of his own NFL room and it sounds like he's more than ready after a season he led the Mississippi State backers to a prominent role in the nation's top-ranked defense.
"He came from the NFL before he came to Mississippi State. He was the same way. He had NFL eyes," said MSU defensive lineman Gerri Green at the combine. "He knew what those guys did and he kind of helped us in those ways. He stayed after guys, held guys accountable and everything. Our linebackers loved him."
None of his backers were at the combine, but don't worry, Lukabu says, "We'll be talking about them next year. They're young and they're coming up." Lukabu is ready for that room. He says he's been striving for his own NFL room since he got into coaching.
"I would say the ultimate measuring stick is the guys. The players have to believe that you're there to help them get better. Help them reach their goals and, I'm going to sound cocky, but if you went around and asked guys that I've been around and coached, they'll tell you that's what they would get out of me."
But no one has influenced him more than his late father, career diplomat Khabouji N'Zaji Lukabu. When Tem was six he moved with his family from the African nation of Zaire when his father was named the country's U.N. ambassador. The family later moved to North Caldwell, N.J., for educational reasons, and then settled in Woodbridge, N.J., when he was 16 after his father died suddenly of pneumonia at 56.
By then, Khabouji N'Zaji Lukabu had served in the post 10 years and had to use all of his diplomatic skills with a civil war back home bringing chaos and economic devastation, according to a 1997 New York Times report. Those talents allowed him to survive both governments.
In May of 1997 the Pan African News Agency reported that Lukabu sent a letter to U.N. Secretary-General Kofi Annan saying his country had changed leaders, names, national anthem and flag. Although Laurent Kabila changed the name from Zaire to the Democratic Republic of the Congo, Lukabu remained the U.N. ambassador and said in the letter the flag would be the one first raised in 1960 on the occasion of independence.
"He educated himself at a time a lot of people weren't educated that way in that area," Tem Lukabu says. "He went to higher education in Europe and became a self-made man. I think that rubbed off on me."
His son became the American version of the self-made man, 21st century style. You might say Tem was a tad under recruited coming out of Woodbridge. They say that when you captain a Colgate team that wins 24 straight and earns a shot in the NCAA Division I-AA national championship game while you're named an Associated Press All-America third team linebacker.
"Reaching that championship game for a non-scholarship school, that was almost like a fairy tale," Lukabu says.
But he probably won't be reading about it. That history is a little more recent for his tastes. He'll take it back a couple of centuries.
"I like to hear the stories," Lukabu says. "There are different stories and you have to decide through research what really happened and what didn't happen and what did you learn from it.
"The colonial era," he says of his favorite period. "The whys of what was happening at the time, the genesis of it. Why did they even want to explore those different lands?"
  The questions surrounding the Bengals linebackers aren't as lofty, but they're also unanswered, starting with the statuses of their best backer (the oft-injured Vontaze Burfict) and their most experienced linebacker (Vincent Rey) and their two young guns they desperately need to make the jump from year two to year three (Jordan Evans) and from year one to year two (Malik Jefferson).
Lukabu says he's reached out to the guys he could find to say hello in an offseason, "They're all over the place." Don't get him wrong. He saw all that athleticism in Indianapolis, but he's not ready to play two-hand touch.
"There's a fine line," Lukabu says. "No question speed is paramount and important, but a balance has to be there, too. In my opinion there are teams that have come full circle like the Patriots. You want to put in all speed and DBs? We'll put our fullback on the field and we smash you. So you better be able to do both."
The one guy who is supposed to be able to do it all is LSU's Devin White, a 6-1 240-pounder. Just ask him.
"I feel like I put the work in, I showed it throughout my career, I progressed every year, I did everything right on and off the field as far as being a great guy, having that attitude, going to work every day and leading my team," he said at the combine. "I have been doing all the formal interviews and knocking them out of the park. I am just doing everything right.
"I am a guy who can play inside or if we're having trouble with a tight end in our zone coverage catching a lot of balls, you can stick Devin White on him and he'll go stop him. That's very important. I pride myself on speed. That's just God-given"
It may be God-given and it looks like it is out of the Bengals' hands. They have to make a decision and not just on White. Some pundits are saying he could be there at No. 11 for them. Certainly Michigan's Devin Bush is going to be and what's not to like about him? He also had a fabulous combine with a flying 41-inch vertical leap matching that 4.43 40. But White being available at No. 11 was always shaky and it pretty much got blown out of the water when White tore up his workouts in Indy this week. He backed it up by running the backers' fastest 40 at 4.42, a hair faster than Bush and Texas' Gary Johnson.
But does a great linebacker have as much impact as a solid left tackle or pass rusher? That's the debate at No. 11 for Cincy. Of course, not for White. And this was before he put on a show.
"You can't be a guy that shies away from leadership," White said. "You can't be a guy that doesn't study and knows what he is doing on the field. You're  the quarterback of that defense. You have to be a playmaker and an absolute stud. I am not shy. I have to be able to go into the league, win guys over and start leading those guys."
With Lukabu already in the room, they've got a self-made guy that hasn't shied away yet.