Marvin Lewis is walking through a Paul Brown Stadium hallway Friday picking up a wire headset off the rug while explaining the call that led to Ravens cornerback Duane Starks' 49-yard pick-six that broke open Baltimore's Super Bowl victory early in 2001 and certified Lewis' crew that had set the NFL's scoring record as one of the greatest defenses of all-time.
"Quarter, quarter half," Lewis is saying of the coverage against Giants quarterback Kerry Collins as he sticks his head into the special teams meeting and puts the lost wire on a shelf while letting the class know what he found. "Most of the time they put the formation in the boundary to the left. He told (safety) Rod (Woodson) he'd have an opportunity. They communicated."
So Starks was true to his word. He cut underneath wide receiver Amani Toomer on Collins' quick throw to his right sideline and he was gone.
"Simple. Cover Four. No blitz," says Brad Jackson, a back-up linebacker on that team now a Baltimore media figure. "Simple. But not really. They had run that play before. It worked because Duane trusted that Rod would cover over the top if it was a slant-and-go. Cover Four. Cover Two. Cover Three. Cover Six. I could coach that up right now in Marvin's defense. The two corners. The two safeties. All three linebackers. It sounded simple, but the idea was to play it fast."
Jackson says Lewis stuck to the KISS methodology back then. Keep It Simple, Stupid. Jackson has an idea that might be at play in a Throw Back Sunday game (1 p.m.-Cincinnati's Channel 12) in Baltimore's M&T Bank Stadium with Lewis assuming the role of defensive coordinator as well as head coach in a classic November AFC North survival game featuring his 5-4 Bengals and the 4-5 Ravens. Will the turn-of-the-century NFL record architect turn out the lights on the Ravens 18 years later?
This game is not stacked with blitzes, but irony. The last time Lewis arrived in Baltimore for last year's finale, it had been reported he was out as Bengals coach. But the Bengals knocked the Ravens out of the playoffs and suddenly this Sunday the word is Baltimore's John Harbaugh is out.
"Last year they kind of poked the bear," Lewis says. "They were all giving me condolences. Not this week.  I'm not getting any bouquets of condolence flowers this year. Last year they were saying goodbye to me. I don't realize how things played out. It's ironic. It's good.
Of course, back when he was the Ravens defensive coordinator Lewis didn't have to worry about wires on the floor or special teams or anything else. And that's the 288-point question. That's how many points the Bengals have allowed this season, already 123 more than what that '00 Lewis defense allowed. Can Lewis do both jobs to get it all back on track?
After Friday's walk-through, Lewis is loose and excited, belying the tough week of firing defensive coordinator Teryl Austin, replacing him with himself and convincing former Browns head coach Hue Jackson to re-join him to ease the transition just two weeks after Jackson got let go as Cleveland's head coach. He sounds ready to put the game day operation in motion.
"I'm pretty comfortable with that. We're going to do. And hopefully with the flow of the game I can keep a hand on both," Lewis says. "That's why Hue is here. By bringing Hue here, I brought somebody here that knows me, he knows our players, everybody here is comfortable with him in the building. So it's not like somebody comes from the outside and no one knows them. He's worked with some of the coaches that are here. He's obviously comfortable with everybody that's in the building, and he knows the players. A lot of the players were here with Hue. So it was the easiest thing rather than get somebody from outside that everybody's wondering, who's different, they don't know him. I think that's the thing. And Hue being able to work his way to being comfortable from his standpoint. It's an adjustment for him. It's been good. I'm glad this worked out."
Lewis, 60, has to admit it. This week should have worn him down. He thinks he hit a total of 20 hours of sleep after the New Orleans game not until Thursday night. But it's done the opposite.
"I'm very excited. I can't tell you how excited I am. I'm excited to do this," he says. "It was obviously a big step. I just felt like it's what I needed to do in order to give our players the best opportunity to play fast and play good. It's a huge step and not something you ever want to have to do."
WILL linebacker Vontaze Burfict, Lewis' best defender when healthy, is questionable after missing the last two games with a hip injury. But he's not questioning the move. Lewis is the major reason Burfict is in the NFL and it looks like even though he's hurt he'd love to saddle up for Lewis this time.
"He brought his own littler flavor, energy, making everybody accountable and making sure everybody knows the defense," Burfict says. "He's a defensive guy … His game plan is what we need. It's not so much back to basics. It's what we run. It's our bread-and-butter. Everybody knows it."
Things are different, Burfict says. Especially seeing Lewis in every defensive meeting. And practice? Burfict says the calls have been crackling through the defensive communicator.
"I'm saying, 'Damn, that doesn't even sound like Marvin,'" Burfict says. "He's clear. He's vocal. He's not rushed. And I'm not saying that TA or G (Paul Guenther) weren't clear. They were. It's just that things can get crazy, there can be yelling or noise or it's not loud enough.
"We're trying to help him as leaders so he doesn't have to go through all the little details with the rookies and he's got multiple coaches like Hue and Coach (linebackers coach Jim) Haslett to help."
Rob Burnett, the Ravens left end who set the tone of that Super Bowl with a sack on the first snap of the second series, says what Burfict is hearing this week is what he'll hear on Sunday.
"The great thing about Marvin is that whole year he was always even keel during games," Burnett says.  "He was the role of the calming influence. Once in a while he might yell at us, but that was pretty rare. And that was something the players appreciated."
Burnett's torn loyalties are symbolic of what this game means in Baltimore now that Lewis has the headsets. Burnett, a New Jersey real estate baron, had planned to go across the line and watch his Syracuse Orange play its biggest game in years against Notre Dame in Yankee Stadium. But not now with the Bengals in Baltimore that same weekend. He's headed to Baltimore and not the Bronx.
"This is a tough one for me," Burnett says. "I love Marvin."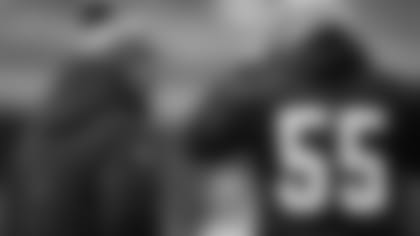 It's funny, but Burnett, the last Raven drafted by Cleveland, played for both Lewis and Bill Belichick and Lewis is the guy that he remembers with the "Do Your Job," line. Burnett remembers from about the seventh game on in 2000, Lewis hardly tinkered with the game plan. If it worked, he stayed with it.
"It wasn't simple, but it was coordinated," Burnett says. "And if one guy didn't do his job, it wasn't coordinated."
Jackson doesn't think this Sunday it will be all that different than that week in Tampa before the Super Bowl.
"You can't re-invent the wheel," Jackson says. "He'll do the things they've done well, the things they understand. Like at the University of South Florida. That week we worked on the same fundamentals we worked on all year.  It was keeping it simple that made us great. Guys had a passion and knew their job. Looking at the formation, if I'm a linebacker and I'm a hook-and-curl guy, I need to be 10-12 yards deep and one to two yards outside the hash. I can remember that at 43 years old because Marvin preached it each and every day. Don't be short on your drop."
Burfict agrees that the week around PBS has a Throw Back feel. Especially with Lewis saying things like we're going to do what we do and play fast and Jackson at his elbow spewing fire and brimstone.
"Hue is like Marv's little brother," Burfict says. "Both have energy. Both get you fired up and be on you at the same time. "Having Hue back is huge. Some of the guys came up to me and were like, 'Who is he? What is he like?' I told them they'll find out very soon. He'll be all in your grill on the sidelines.  We need it, though. It's always good to have an extra set of eyes. Especially a coach."
Brad Jackson served a stint here under Lewis a few years ago in the Bill Walsh minority coaching internship program and also interned under other defensive head coaches like Tony Dungy, Rex Ryan and Jack Del Rio and he says Lewis is the most detailed of them all. He says he can still hear Lewis' voice while he's sleeping, yelling at you from 80 yards away on the practice field while he's working with the D-line. "Do your job."
"It's not going to be simple," Jackson says. "But it's going to be something they understand and had a great amount of success with during the week. If something wasn't right on Friday and Saturday, he'd ask, 'Do we use it or throw it out?' And if it was something that worked he'd tell the players, you better go figure it over the next 12 hours so you can play fast."
That's pretty much what Lewis is talking about Friday. Fast and streamlined.
"The end of the week for you as a play-caller, it is your time," Lewis says. "That's your time. That's where you get in sync. That's another fun part of it."
He jokes how the call sheet has to be bigger than it used to be because he can't see as well as he did when he last did it. But there's not a lot of new on there.
"You don't need much," he says. "We want to do what we do better. That's all. Do the things we do better."