Geoff, lifetime Bengals fan and huge fan of yours. First time writing a question so here goes. The players look to me like they are playing faster and with more confidence. I think their level of preparation by the coaching staff is why and that should bode well for this season! Might this be Coach Lewis' best staff yet? I'm anxious to read your thoughts. WHO DEY Bob Voellmecke, Cincinnati, OH
BOB: Thank you very much for reading and even more for taking the time to write. Hope you do it again soon.
It's an intriguing question. That 2013 staff was as solid as they come with offensive coordinator Jay Gruden, defensive coordinator Mike Zimmer, running backs coach Hue Jackson, quarterbacks coach Ken Zampese, linebackers coach Paul Guenther and offensive line coach Paul Alexander. Plus, assistant linebackers coach David Lippincott and assistant secondary coach Adam Zimmer are currently position coaches for Guenther and Mike Zimmer, respectively.
No question this staff is right there. But it's a different kind of staff and I think it's exactly what they sought in the sense they infused the Bengals with several shots of fresh air that was needed with the same offense and defense in the Green-Dalton Era growing stale. I can't remember a Cincinnati staff with more veteran coaches that have had most of their successful careers spent on teams other than the Bengals.
You look at that '13 staff and all but Gruden and Zimmer had been with pretty much only Lewis in Cincy. Jackson had gone away, but he was in the second year of his second stint.
You look at this staff and on offense you've got a wide receivers coach in Bob Bicknell that has coached 1,000-yard receivers on two different teams, an offensive line coach in Frank Pollack that coached a combination of nine Pro Bowlers with the Cowboys and a quarterbacks coach in Alex Van Pelt that Aaron Rodgers feels was a huge factor in his perennial Pro Bowls in Green Bay.
And when Lewis moved away from the Zimmer-Guenther defensive tree, he opted for a guy in Teryl Austin that was a well-traveled and just as respected secondary coach before he served as a coordinator for four seasons in Detroit. That's a guy that earned NFC titles with the Seattle and Arizona secondarys and a Super Bowl title with the one in Baltimore. And when Austin brought assistant D-line coach Matt Raich with him from Detroit, they added another guy with Super Bowl experience in Pittsburgh and Arizona.
Lewis tried to walk a line between ripping it up and continuity. What he needed was a balance of fresh air and consistency and it looks like it has worked out well.
Hey! Just wanted to say thank you for keeping us informed everything Bengals! Now I have been super impressed with the Bengals the first two weeks of the season. The team looks so energized and really looks to want to be on the field. The offense looks impressive and the defense looks even more impressive. Do you think the Bengals have a chance to win the division and make a big playoff run? Especially considering this defense is only gonna get better with Preston Brown and Burfict on the field. Where do you see this season going? Aaron Cline, Westerville, OH
AARON: Thanks for keeping track with us. Just looking at the numbers says they've got more than a shot to win the division. After that, who knows? I picked them to go 10-6, 6-2 in the first half and 2-0 out of the gate and I don't see any reason to change calling a split with Carolina and Atlanta on the road and Paul Brown Stadium wins over Miami, Pittsburgh and Tampa before the bye. In the previous 13 seasons the Bengals broke 2-0 four times. Twice they won the division ('05 and '15) and three times they made the playoffs ('05, '14, '15).
Throw in that the Steelers have more Pro Bowl holdouts (two) than wins (0), the Browns should be 2-0 and are 0-1-1 and the Bengals already have a win over the Ravens, yeah, they've got a shot. A real shot.
With Mixon in recovery for 2 to 4 weeks do you think we'll be able to maintain the run game with just Bernard and Carson? Jason Stroude, Crittenden, KY
JASON: If it's two weeks, probably. If it's more than that, they'll need rookie Mark Walton to help and maybe a guy we don't even know yet if there is another nick. I think they can get into October with two guys. But beyond that, they may have to get something out of Walton.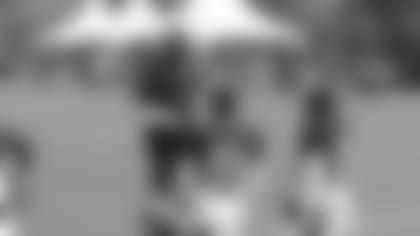 How do you feel will do without Joe Mixon? I think that Bernard is a decent running back but without Mixon I believe we will struggle. Also do you think on Sunday we will be passing more because of losing Mixon? Ryan Deno, Illinois
RYAN: Don't underestimate Bernard. They beat a team last year that needed a win for the playoffs (the Lions) with Bernard touching it 30 times for 168 yards. You know how many teams would love to have Bernard Sunday? I hope they don't decide to throw it more without Mixon. That's certain death in the NFL for a re-building offensive line on the road. You know those 28 passes quarterback Andy Dalton threw in the opener in Indianapolis? Let's hope a buzzer goes off Sunday in Carolina when Dalton comes close to 28.
With Joe Mixon being out for the next two weeks do you expect to see a lot more of Andy Dalton passing plays or around the same as what we have seen? If we continue to run as much, how successful are we? Nate Doggett, Edgewood, KY
NATE: Thanks for the note. See above.
Will we ever see William Jackson follow the opposing teams best Wide Reciever? I feel like teams will start to go after Kirkpatrick? Elliott Stuhr, Kentucky
ELLIOTT: Only if they give up a slew of yards. Not until then and then maybe not even then. Starting with Zimmer, this defense has been very successful by keeping cornerbacks on their own side no matter the receiver across from them. Antonio Brown? Exhibit A: In 15 games he's had just six TDs vs. the Bengals while averaging five catches and 76 yards against whatever corner is lined up against him.
RB split? Does Gio receive the same worklod and packages in Mixon's absence? Raeshon
RAESHON: I'd say pretty close for a game or two, maybe three. Beyond that, I'm not so sure. On Monday, offensive coordinator Bill Lazor effusively praised Giovani Bernard for his toughness and ability to pop inside runs. He also said he's not looking at him any differently than any other back because he's 5-9, 205 pounds.
In the first two games, Joe Mixon had 22 touches, or 44 in four days. In last year's final two games, the victories over Detroit and Baltimore, Bernard went for 30 and followed it up with 16 more. There's no question he can take a pounding. In his career he's had five games of at least 22 touches, eight of at least 20 and 17 games of at least 17. And he has gone back-to-back. He opened the 2014 season with 20, 32, 15, 15 and 22 touches. In the last five games of last season he went 15, 17, 17, 30 and 16.
So, yeah. Maybe not exactly the same. But I think pretty close if Mixon is back after two or three games.
Transplant Bengal fan in Panther country. Do you think the Bengals need to add a running back to their roster at least for insurance for the next few weeks? Michael Dangelo, Raleigh, N.C.
MICHAEL: They're working them out, but that's due diligence at a position suddenly thin. I think they could if they get another injury or even if guys are getting worn down.