To submit a question for the next Hobson's Choice, click here. To learn more about "This Day in Bengals History" by Geoff Hobson, go to Bengals.com/Book or visit the Bengals Pro Shop.
A big hello from Belfast, Northern Ireland, some 3650 miles from Paul Brown Stadium.
Firstly, thank you for all you do, I enjoy reading and watching your output on my beloved Bengals.
Once again it feels like everyone is sleeping on the Bengals and not giving us any chance at all.
Our injury list last season was horrendous and that's what killed our season in my opinion. We have some great players in key positions and seem to have added some good guys to the group. If we can stay healthy, the sky's the limit for this team under ZT. Am I wrong? Neil McAdam, Belfast, Northern Ireland
NEIL: Thank you for the generous missive from so far away and for keeping us in mind as you keep track of the Orange and Black. I hear you. I think the pundits have a taken a long winter's nap on these guys. Four, five wins? Hey, the only thing I think it can be is we don't return calls to the so-called insiders.
Sure, a rookie head coach and play-caller. Yes, a first-time defensive play-caller. An untried offensive line. Shallow depth at receiver and linebacker. But, I've been playing this game all offseason. GUESS THIS TEAM. What would you say? What record will Team X have? A team with a defending conference rushing champion, two 1,000-yard receivers, a quarterback who has won nearly 60 percent of his games, two Pro Bowl pass rushers and three first-round cornerbacks? Not 4-12 or 5-11, that's for sure. They're closer to a winning record than the people who should be paying attention think.  
First of all-LOVE your website, been a fan since the the start. Been a Bengal Fan since 1969. My question is-if a drafted rookie does Not sign, what happens to him? Can somebody else other than the Bengals sign him that year? Dennis Murphy, Centerville, OH
DENNIS: Thank you for checking in and for your long and meritorious service in Bengaldom. The only way a rookie could play for a team that didn't draft him this year is if that team traded his rights.
Thanks for taking the time to answer fans questions! Been a Bengals fan since my older brother won a poster and put it up in our room way back in 1968! So I have seen May ups and downs over the years . I liked Marvin but believe he grew stale many years ago but was skeptical of an unknown in Zac. I've been reading and hearing good things from the media(local and national), players,etc and am beginning to jump on the bandwagon.
Promblem I see that can still derail things is the Oline. Confused about real competition at all spots but RT- which consensus opinion by pundits all seem to agree that Hart is the weak link. You said yourself that Boling was our best lineman last year and now looks to be on the bench. He did fantastic a couple of years ago at LT in last couple of games. He seems versatile, why not give him a shot at RT? At least make it a competition, I just don't want to see a potentially great season go down the tubes when BH is beat and AD is done for the year. I am hoping new staff sees something the pundits don't and prove all of us wrong but I'm not confident. Thanks, Don Moma, Wasilla, AK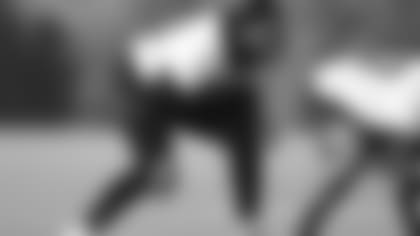 DON: Thanks for writing and hope you still have the poster. Clint Boling isn't on the bench. He spent the spring on the rehab field with an unknown ailment and the hope is he'll be back for training camp. But, yes, they did move Cordy Glenn into his spot when they anointed No. 1 pick Jonah Williams the left tackle and I still think Boling is in the picture as a versatile backup.
Boling is versatile, but he's not big enough to play right tackle. Hart gets killed by everybody but the coaches and that's the consensus that counts. That tells me they have a very specific vision of how they want him to use him and that they've fixed his penchant for moving before the snap after a season he had nine false starts. I think any lineman is more effective in a system that revolves around a strong running game and play-action, which Taylor appears to be transplanting from L.A. I mean, you have to be Willie Anderson to pass block when the quarterback is in the shot gun almost every first down.
Hey Geoff, slow month of no football is a coming, thanks for keeping us engaged with our bengals through out! Question, how did voluntary OTA's and mini-camp compare this year to when Marvin was leading the pack? Chris Smith
CHRIS: Thanks for keeping up. Like I wrote in today's story about the completion of Zac Taylor's first off-season program, it's not better, but just different and it would have to be given that the torch has been passed from a defensive guy born in the late '50s to an offensive guy born in the early '80s.
Players said the pace on the field and in the class room was swift, in what looked to be a nod to the cell-phone generation. Much of the team stuff was not only unscripted, but certain periods such as red zone were scored for the benefit of competition. So those junctures in each practice gave it a "Mock Game," vibe of competitiveness for those that remember the early Marv days.
Taylor decided not to take them off campus for a day of team bonding, but instead relied on the position coaches to do it by unit and left the bonding for some fun stuff in the meeting rooms, such as game show takeoffs. They also weren't on the field as much and some practice days were just simply recovery and study days. One of the guys was joking about the "load management," stuff from the NBA postseason, but that's very real in Taylor's world.
Not better. Just different. But then, that's what everybody wanted. You got different.
Hi Hobbs, Thanks for keeping us up to date during the "off season", a time when football junkies jones for any kind of news, your inside info is appreciated! I check everyday for news and there seems to be a common thread in what I'm reading, now, I don't want to be a doomsdayer because I went to my first game as a kid at UC with my Dad in the inaugural season and was hooked from that moment on but, I keep reading where the team seems to keep bringing in rejects from the new coaching staffs' old teams and it seems most of these players were let go by those teams i.e. John Jerry.
Now I don't really know much about Jerry as I don't follow the Giants but, the same can be said for a lot of these transplants. So, here's my question and my request for reassurance......are we to believe that these players and their old coaches who didn't win with their former teams are some how going to be better and win now that they are here in Cincinnati and if so, can you tell me why that will be the case? As a season ticket holder that started with Green/Dalton, I want to believe that I'm going to have a great time at the stadium this year and see some wins and that leads to me second question, what do you project the season record to be, most pundits have us below .500? Thanks, Jeep Wilson, Landen, Ohio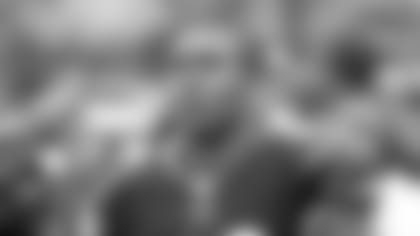 Hey there Geoff! First off, thank you for the content. You whet our appetite for our beloved Bengals, in this often uninspiring period of the off-season. I am thrilled with our acquisitions this off-season. We have rarely been a team to go and grab Day One free agents; but rather, we trust our coaches/scouts/front office to find talent. Some are going to argue that we are taking the after thoughts of other teams, where I believe we are trusting our coaches to bring along the right players. I am curious as to your thoughts. As we bring along John Jerry, BW Webb, and Kerry Wynn, does this feel like the days of (different seasons obviously) bringing back an Andre Smith or signing Antonio Bryant, or more like us picking up or Rich Braham and Reggie Nelson? Jeff P.
Jeep and Jeff P.: Many thanks to you both for reading in mid-June. I thought I'd put your notes back-to-back since they touch so closely.
I don't think you can compare the Rich Braham waiver wire pickup of 1994 and the Reggie Nelson 2010 trade to the pickups this offseason. They were acquisitions of guys that the Bengals coveted in their respective drafts and saw as potential starters without anyone on the staff having a connection to them. And they were able to jump-start their careers by simply putting Braham in the starting lineup to let him blossom and by letting Nelson reaching his potential by playing only safety so he didn't have to worry about getting jerked around worrying about playing both safety and corner, which is what happened to him in Jacksonville.
Jerry, a guard, Webb, a slot and outside cornerback, and Wynn, a defensive lineman that can play both inside and out as well as make a significant impact on special teams, are here because they played for or with coaches that know what they can do and how to use them in spots of need.
Smart. They're role players the coaches know and they know their role. This is a coach's league and they love guys they know and trust and they've been bringing in their guys since the beginning of time.
Look how Lions coach Matt Patricia has imported several New England Patriots into Detroit the past two seasons. That's what coaches do. When Bengals defensive coordinator Paul Guenther went to Oakland before last season, he promptly brought in Leon Hall and Emmanuel Lamur to join Reggie Nelson, guys that knew his system from their Bengals days. Naturally it was Guenther that signed Vontaze Burfict right after the Bengals cut him this spring and a big early OTA storyline for the Oakland scribes was how he was helping the Raiders learn the system.
I think the smartest thing I heard this spring was Bengals offensive line coach Jim Turner talking about Jerry, the guy he coached for 32 starts in Miami: "Everything we're going to ask him to do, he's capable of doing." That's because they know the guy and he knows them.
Exhibit A in Bengals history is safety Chris Crocker coming off the couch to join new defensive coordinator Mike Zimmer in the middle of 2008 after they spent 2007 together in Atlanta. Crocker didn't suddenly get better. But Zimmer knew how to use him, Crocker was terrific in the locker room and meeting room and became the guts of a top ten play-off defense. And it was Zimmer that took Terence Newman from Dallas to Cincinnati to Minnesota.
Be careful who you call "rejects," in this league. Once they get with the right coach, they're suddenly valuable role players or maybe more than that. Guys like Crocker, Nelson, Adam Jones, Wallace Gilberry and Brandon Tate showed us that on a slew of play-off teams. As for the record, I'm convinced this team has a better roster than what has won 19 games the past three seasons. It's not a No. 5 defense, but it's not No. 32, either. Give me a middle-of-the-pack defense with a healthy offense that was 73 seconds away from a come-from-behind-victory over Pittsburgh to go 5-1 and I think 9-7 or 10-6 is quite doable.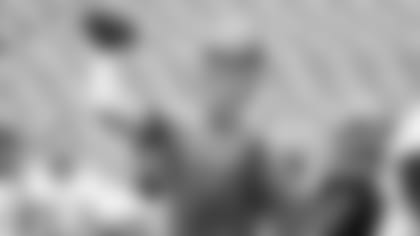 Good Evening Sir, Is it believed that Driskel is truly in the mix to make this roster as the back up or is the thought process/goal to have Finley the backup and Dolegala as the emergency 3 on the practice squad? Thank you for your time. Andy Lyall, South Lebanon, OH
ANDY: I think the initial big-picture intent is to make fourth-rounder Ryan Finley the backup while putting Jake Dolegala on the practice squad. But does that happen this year or next? It depends how Finley responds in his rookie preseason. If he's ready (and he is mentally but he'll have to prove it physically), then they can cut Driskel. But if Finley needs a year to develop, I would imagine they'd have to keep three QBs because they won't be able to stash Finley on the practice squad without somebody plucking him. Dolegala is a developmental practice squad guy all the way and an intriguing one after he practiced so well Thursday.
With the Bengals being projected last or one of the bottom teams in the NFL, and what your hearing from A.J. and Joe Mixon promising the playoffs in 2019, should Bengals fans expect nothing but up? With the injuries the Bengals suffered last year, the offense having times where it struggled against the Chiefs or the Steelers, and the defense having it's problems, however when Zac see's this roster he also thinks everyone is not expecting the Bengals to be good.
Are the fans and the media not as impressed until they see results on the field and a playoff win? Eventually the Bengals will have the upper hand when they continue to build from this roster. At times the Bengals just didn't have the talent. Look at the LB position and OL then Eifert gets injured. They were on a slight roll, but key positions simply didn't play well for a period of time. Now you have Zac and a brand new scheme. Dalton has thrived under great Offensive coaches and the defense was in the top 5 under Mike Zimmer. The defense is making noise. We haven't really had close ups on Germiane Pratt or the other Linebackers during OTAs. The question you have to ask the defensive coordinator or the LB coach is what are you doing to help the guys stop the run and do better job with tackling? They have a shot to win some games that people don't think they could win just like last season. Do I think the offense will struggle learning the new system? Other than that I think the expectations have reflect off the hope that this team still has. Jamie Krieg, Huber Heights, OH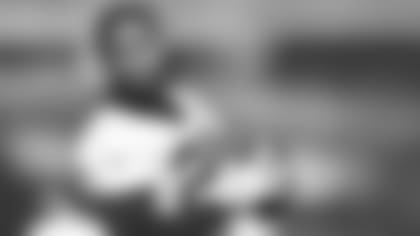 JAMIE: The question to ask the defensive coordinator, in my mind, is do these guys know what they're doing? Their problem last year wasn't a lack of talent or injuries. The scheme was so complicated that guys had to think too much before they stopped the run or made a tackle. And the players have said all spring that the playbook is simpler and they are playing faster. It sure looks like it.
I think they were on a better than slight roll. Should have been 5-1 with a win over Pittsburgh heading to Kansas City if the defense makes one play in the final 73 seconds. To me, that's the No. 1 challenge for this coaching staff. Finish games that they have won. That comes from everything. Execution from the players and game management by the coaches.
I feel like most people including myself expect the offense to do well. But the offensive line is where games are won and lost. I've heard a lot about the Bengals wanting to play the best 5. I've also heard a lot of good things and saw last year Trey Hopkins play well at C. Is there a chance we would move him to center and put Billy at G to get the best 5? Also can you give me one reason why you think the defense could get back to the top 10 unit we were a couple years ago. Thank you and keep up the good work. I enjoy reading your articles. James Hartz, Lexington, KY
JAMES: Thank you for the kind words from the city where the legend of Ray "Rock," Oliver resides. I think the sense is that Billy Price as their center is part of the best five and it's hard to see him not staying put in the middle. Zimmer's 2009 defense finished fourth with a lot less talent than this one. He had terrific cover players, a physical scheme that didn't let receivers breathe, they played fast because the playbook made it possible and they had a top ten rushing team on the other side of the ball that could give them breathers. There are a lot of the same elements here.
Running back Joe Mixon just may be the best player for a defense that has taken the most and third most snaps in the league the past two seasons. They've got good physical cover corners and they're playing fast. There's never one reason, so we'll say three here: balance, coverage and simplicity.