Bengals wide receiver Alex Erickson completed an improbable journey from Wisconsin walk-on to Bengals undrafted free agent to second NFL contract Saturday when he inked an extension before getting on the bus to Indianapolis for Sunday's opener (1 p.m.-Cincinnati's Channel 12) against the Colts.
"I'm grateful for the organization believing in me and giving me a chance as an undrafted guy. Not only the opportunity, but giving me a chance to get on the field and show that I can play in this league and that I can have success," said Erickson. "So I'm just really grateful for the Brown family, Coach Lewis, Coach Simmons and all of the coaches I've had here. A lot of great people, a great organization to play for and I'm just proud to be part of it."
Erickson signed a two-year contract extension through the 2020 season. He had been in the final season of a three-year deal.
Erickson was able to sign a day before his third opener because undrafted players are eligible to sign a new contract after playing two seasons. In those two years the 6-0, 195-pound Erickson established himself as the team's No. 1 punt and kick returner and in this preseason solidified his roster spot with a sure-handed six catches at 14.3 yards per catch and a 19-yard punt return.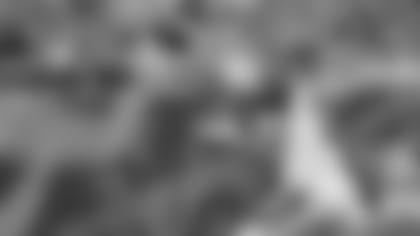 After he led the AFC averaging 27.9 yards per kick return as a rookie, Erickson emerged last season as a reliable occasional slot receiver with 12 balls at 15 yards per catch. Erickson finished second in the NFL in kick returns behind Minnesota's Cordarrelle Patterson but fended off Buffalo's Brandon Tate for the AFC crown after he ousted the Bengals' all-time return leader with an off-the-charts preseason.
"I approach it one day at a time, one practice at a time and just realize that everything matters," Erickson said. "Every meeting you're in, every practice, every play you get. There's always someone evaluating it. And just as a player, it's another chance for you to get better, another rep for you to learn something to just keep progressing and getting better every day. That's the approach I have been taking and will continue to take."
He's looking to regain that rookie form, when he became the first Bengals player to have three kick returns of at least 65 yards in the same season. Still, his 20.7 average was fifth in the AFC and 11th in the NFL.
Erickson, 25, burst into Paul Brown Stadium much like he did at Wisconsin. He was named the state's Small School Player of the Year after he quarterbacked Darlington High School while rushing and passing for a combined 94 touchdowns. He mulled a college basketball career after being named a three-time all-state selection, but opted to walk on at Wisconsin and ended up leading the Badgers in catches during his last two seasons.