It just so happens the week that the Bengals welcomed the MVP jersey of No. 14 into their pro shop, the current No. 14 celebrated one of the franchise's more memorable comebacks. It was a tailor-made fitting because Ken Anderson, the best quarterback not in the Pro Football Hall of Fame, texted congratulations moments after it was consummated to Andy Dalton, the best quarterback you don't know.
"I told him I was so proud of him," says Anderson, who watched from his favorite Bengals watering hole in Hilton Head, S.C. "It was such a great comeback I just wanted to let him know I thought he did a great job."
As he prepared for Sunday's game (1 p.m.-Cincinnati's Channel 12) against the Dolphins at Paul Brown Stadium for what he hopes is his 67th victory, which would tie him with Russell Wilson and Ben Roethlisberger for the fourth most wins since 2011, Dalton confirmed he got Anderson's text.
But they share so much more than a number and a message. Their don't-look-at-me personalities are mirror images 40 years apart. Every August the Hall buzz is for someone who doesn't have near Anderson's numbers. Every Monday morning this season the league has buzzed about quarterbacks that don't have Dalton's victories.
No one wants to put Dalton in their top ten and yet after his bolt to wide receiver A.J. Green from 13 yards out with seven seconds left lifted them to a 37-36 victory in Atlanta Sunday, only Matthew Stafford now has more game-winning drives since 2011 than Dalton's 22. He's tied with the man he faced down in the fourth quarter, the Falcons' Matt Ryan, and has one more than two-time Super Bowl MVP Eli Manning.
Surprised? Not a top ten QB?
Since the Bengals plucked Dalton in the second round in 2011, he has the sixth best winning percentage at .593 behind only Tom Brady (.779). Aaron Rodgers (.702), Alex Smith (.688), Russell Wilson (.675) and Ben Roethlisberger (.649). He has thrown the ninth most touchdowns in that stretch with 178, more than Wilson, Cam Newton and Joe Flacco. After leading Sunday's fire drill of a 16-play drive with more moving parts than a news cycle to get his 19th fourth-quarter comeback, he has one more than Flacco, Hall-of-Famers Jim Plunkett and Sonny Jurgensen and seven more than Rodgers, a future Hall-of-Famer.
"He's so smart, he's intelligent out there. He knows where everyone needs to be," says Bengals wide receiver Tyler Boyd. "That's the thing you don't hear about him. He's a top quarterback in my eye."
In the eight seasons before Dalton arrived, the Bengals were 24-40 on the road. His road winning percentage is .544 at 31-26, the sixth best in the last eight years behind Brady (.702), Alex Smith (.647), Roethlisberger (.583), Rodgers (.560) and Wilson (.559). Only Brady (40) and Smith (33) have more road wins and he's tied for third with Ben at 31.
And his passer rating of 89.0 is the 16th highest in history, better than Stafford, Alex Smith, Newton, Flacco, Eli Manning and, yes, Carson Palmer.
Surprised, then? Surprised, maybe, that the only time the pundits talk about him, if they ever get around to talking about the Bengals, which is next to never, they drag out his 0-4 record in the postseason along with a snarky remark about red hair?
Dalton shrugs. He could care less that he's underrated and overlooked.
"You make it seem like I need everyone's attention," said Dalton, grabbing his phone out of his locker and urging you to look at his Bible verse for the day.
"Galatians one ten," Dalton says. "Am I now trying to win the approval of human beings, or of God? Or am I trying to please people? If I were still trying to please people, I would not be a servant of Christ."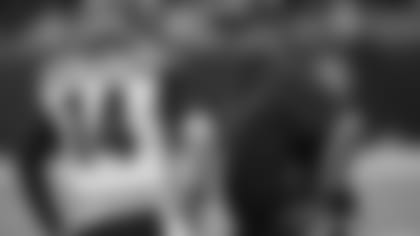 "That's the story. That's why I don't care," Dalton says.
Even though everyone knows he's a devout Christian, that's the first time in eight years Dalton has turned to the Bible to make a point. So he'll just keep chucking.
"A.J. is the one that caught it. He won the game," Dalton says. "If I threw a little better ball it would have made the play not as dramatic with him diving and catching. A.J. made a great catch. He makes those catches look easy. They are pretty easy for him I guess."
But Dalton gets plenty of play in his own locker room. He's an every-day headliner. He's always at the top of the hour. Go down a few more lockers where one of the kids, running back Joe Mixon, is still talking about last Sunday's winning throw.
"What people are not understanding is the pass Andy threw, it was crazy," Mixon says. "He threw a dart. I feel like he is not getting enough credit of the pass he threw, they are just talking about the catch."
It's OK, kid. He's used to it.
But Green, Dalton's 2011 draft twin delivered a day earlier that April, knows. Go down a few more lockers and he's talking about that throw that Dalton drilled over linebackers and between a back-pedaling cornerback and a converging safety. Green says he dove and hugged it to his chest so he wouldn't bobble it or collide with someone.
"Great throw. Easy catch," Green says. "He's at the top. He's right there with them. All he's done is win his whole career."
Wins. That's why the Bengals have never wavered. Wins. All the bombast, all the second-hand suggestions, all the ill-informed speculation about moving on to everyone from AJ McCarron to Lamar Jackson has been so way off and out in left field. Wins. The Bengals know that since they drafted Dalton in 2011 they have the fifth best winning percentage in the NFL. The Elias board of the top winning teams reads the Pats No. 1 at 91-26, the Packers No. 2 at 75-39-2, the Seahawks and Steelers tied for No. 3 at 74-41-1, the Broncos No. 4 at 74-42 and the Bengals with the fifth best record at 68-46-2 for a .595 percentage.
The naysayers retort 0-4 in the playoffs. The Bengals respond Dalton took them to the playoffs the first five years he was in the league. This is where Bengals radio analyst Dave Lapham comes in. It's a team game and he's extremely impressed with Dalton's pre-snap acumen.
"Intellectually, he's right there with the best," says Lapham, who first covered Dalton announcing Big 12 games. "I'm not saying better. But certainly as good. I remember asking TCU coach Gary Patterson if he was worried about his freshman quarterback going in to Austin to play John Mackovic's Texas Longhorns, who were rolling. And he said the freshman quarterback was the least of his worries. He was the smartest guy the program had ever had and red-shirt seniors were following him around like he was the Messiah."
So getting a bunch of pros on the same page should be a tad easier.
"He's elite. These guys don't come around every day," says wide receiver Alex Erickson. "That position is so hard to play and he's got everything under command with all the movement and the checks. It shows by the way he plays. As receivers we know Andy is going to get us the ball if we get open. And he knows we'll catch it. We feed off each other."
If anyone knows Dalton could care less about the attention, it's Erickson. He and his wife are one of the 20 couples or so from the team that visit the Daltons' home every Tuesday during the season for Bible study. That's the stuff Dalton cares about. That and the wins. The grades from quarterbacks coach Alex Van Pelt probably don't interest him, but they're telling, too.
Two weeks ago in Carolina when Dalton was betrayed by his receivers while throwing four interceptions, Van Pelt gave him a 95. He probably should have received some extra credit for not throwing any of said receivers under any moving vehicles.
And that's where Lapham sees the compelling similarities with his old road roommate. Kenny Anderson.
"They're the two best I've ever seen at deflecting praise and taking the blame," Lapham says. "The closest they'll get about praising themselves is, 'The ball felt pretty good coming out of my hand.' Other than that they'll say it was a great catch or they should have thrown it better and that's Quarterbacking 101. They do it as well as anybody."
Since Lapham saw Anderson win four NFL passing titles during his under-the-radar career, he gets why Dalton doesn't get any play.
"He's like Kenny in that they're not hey-look-at-me-guys," Lapham says. "Andy's not chasing stats. He's chasing wins. He doesn't care. He's a Christian and what he cares about is being a great husband and a great dad. They're a lot alike. Both Kenny and Andy, there are a thousand places after a game they'd rather be than doing a news conference."
Dalton certainly doesn't mind getting attention from not his opposite number, but his original number.
"It's been fun getting to know Kenny through the years," Dalton says. "It was nice to get a text after the game. He said great win, great finish."
Which just goes to show you can send a message under the radar.