The end of the Bengals' first practice of training camp at the Paul Brown Stadium practice fields in front of 7,500 Sunday ended like much of his first months as head coach. Zac Taylor found himself answering questions about injuries and on Sunday he wouldn't confirm reports that that franchise player A.J. Green would miss six to eight weeks with torn ligaments in his left ankle.
At least not until Green meets with a foot specialist Monday. Taylor wouldn't rule him out of any games when asked if Green would be available for the Sept. 6 opener in Seattle.
"Way too early for a timeline. It doesn't appear to be anything extremely long-term. We'll find out more tomorrow," Taylor said. "You've just got to be patient, let those things play out and we'll find out more information and then we'll hopefully have an update tomorrow."
After Saturday's X-Rays revealed a sprain, Sunday's MRI showed the torn ligaments and now the Bengals have to decide how severe the damage is and how to treat it. Surgery would clearly be the worst-case scenario, but he'd probably still be available at some point this season if he went under the knife.
Taylor also said that wide receiver John Ross may not play for "the next week or two," with his hamstring problem.
"With the hamstrings, you want to be careful, especially a guy that we need his speed," Taylor said.  "Whether it's a couple days or a week or two, that remains to be seen yet. It's test it as it goes. But again, nothing significant, nothing long term. Just want to make sure that he wasn't re-aggravating anything."
PLAYER OF THE DAY: WR Josh Malone
Malone, a 2017 fourth-rounder out of Tennessee, has all the measurables.
"He can run, he's tall. He's done a nice job being physical in there. He's bigger than when he first got here," said wide receiver Bob Bicknell.
But Malone also has as many frustrations. In his two seasons he's had just seven catches on 22 targets and last year just one in five despite playing 68 snaps. And he could have had so many plays, but when Green went out with a big toe injury last season, Malone pulled his hamstring that week and missed six straight games before coming back for the final two.
"He doesn't always get the best chances, either," Bicknell said. "Sometimes you're running different that aren't the A-number-1 route. Right now he's got a chance to do some of those."
Malone didn't waste any time with Green and Ross shelved. He caught five balls in 11-on-11 and 7-on-7  with some nice sure hands he hasn't always had. He did start the day with a drop, but came back and stretched out in the middle of the safeties to make a nice fingertip grab down the seam. He also went to his knees to make a nice circus catch over the middle.
"Every moment, every opportunity I get I want to show the coaches what I can do," Malone said. "It's a new coaching staff, so it feels like a fresh start. And I just want to show them I can play and make an impact when it counts."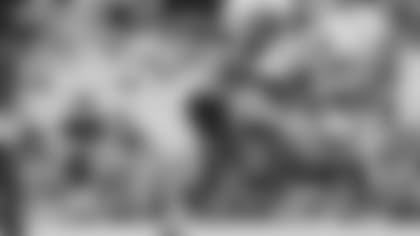 PLAY OF THE DAY: CB Dre Kirkpatrick
Kirkpatrick didn't wait very long. Try the first snap of 11-on-11. It helped that wide receiver Tyler Boyd slipped, but Kirkpatrick kept his eye on the ball and his coverage was good enough and tight enough that it looked like quarterback Andy Dalton was throwing it to him with Boyd on the ground.
Cornerbacks coach Daronte Jones said Kirkpatrick was working in a zone and showed good technique by keeping his eyes in the game and reacting: "He came out with good tempo and it gave us good tempo."
 Kirkpatrick also showed some mettle. He refused to take a day off after he came up a little tender on the same play Green twisted his ankle as they both jumped for the ball.
QUOTE OF THE DAY: Taylor on if he's said "Wow," yet after his head coaching career has started by losing his first-round draft choice for the year and his best player during the first practice:
"There's no time for that. There's film to be watched and scripts to be written. You just have no time for it."
SLANTS AND SCREENS: Cornerback Darius Phillips (knee) practiced Sunday and he'll be a factor this training camp without Green. That gives No. 1 returner on both punts and kicks Alex Erickson more snaps at receiver, but special teams coordinator Darrin Simmons said Erickson remains his No. 1. But look for Phillips to be busy at returner at this camp, too: "I already know what Alex can do," Simmons said …
Taylor is easing them into it. They'll go half-speed in the red zone on Monday wearing shoulder pads. Then on Tuesday and Wednesday they go full-speed in full pads …
Taylor refuted reports the Bengals were unhappy with the turf in Dayton's Welcome Stadium practice on Saturday.
"Honestly, I didn't hear anybody say that. Especially with A.J.'s injury, you review that tape and he came down a little funny," Taylor said. "There was a competition for the ball. He came down. I don't think the turf had anything to do with it. That could have happened right out here. I enjoyed the trip up to Dayton yesterday. I got a chance to interact with some people you don't always get to see. It's unfortunate that A.J. got hurt on that play, but we didn't have any issue with the field." ...
You don't want to false start or go offsides because you're going to get pulled. Defensive line coach Nick Eason went off on nose tackle Christian Ringo going early and yelled at him to get off the field in R rated language so Josh Tupou could go in. And starting left tackle Cordy Glenn got sent back to the huddle when he was replaced by undrafted rookie O'Shea Dugas ...