PLAYER OF THE DAY: Defensive tackle Andrew Billings
We'll use Billings as a symbol of how well the front seven mashed the run game in Friday night's  practice before Saturday's free Family Day scrimmage (1 p.m.) inside Paul Brown Stadium.
Remember the way the offensive line dished out in Monday's practice? The defense turned the tables Friday, stopping the offense on four straight short-yardage snaps and later in the evening defensive tackles Ryan Glasgow and a submarining Chris Baker stoned running back Tra Carson with the help of ubiquitous middle linebacker Hardy Nickerson.
"We just made the corrections, got the gap fits right today and it definitely showed," Glasgow said. "We were coming off physically."
Glasgow particularly enjoyed being next to Nickerson when he picked off the fullback and led the charge to the running back to blow up one of the short yardages. "I just heard a crack. Hardy just crushed it." Before that, Glasgow was on the sidelines watching Billings and Geno Atkins work against that first offensive line and Billings running with and fighting off left guard Trey Hopkins (playing for the resting Clint Boling) on the back side before making a shoe-string tackle on running back Joe Mixon.
Glasgow says it's just another play that shows Billings is recovering from the knee injury that wiped out his rookie year two seasons ago and limited him last year.
"That was nice. That was nice. Bill kept up with it, he was able to get his hand on him," Glasgow said. "Bill is doing better keeping up with blocks than last year, especially with wide zone plays. He's taken a bunch of steps in the right direction. It's been showing every day since OTAs."
SAM linebacker Nick Vigil, who had a tip in the red zone on a pass headed behind him to wide receiver A.J. Green, agreed on Billings.
"He's playing good," Vigil said. "He's getting push back. He's fighting off blocks. He's been holding double teams. He's been doing awesome so far."
Billings needs to hear that type of thing since he's embroiled in a roster donnybrook with the veteran Baker and fifth-round pick Andrew Brown, a rookie that has a hamstring problem and missed Friday, as well as most of this week.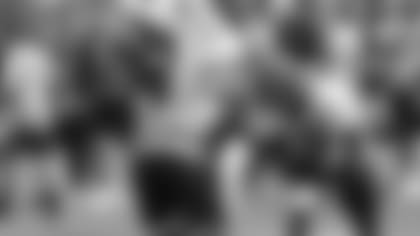 PLAY OF THE DAY: Sometimes we just shrug and take wide receiver A.J. Green for granted. But then we have to realize that one of the league's top three receivers is pitted against what profootballfocus.com rates as the top cover cornerback in the game in William Jackson virtually every snap. It's the Bengals training camp version of Ali-Frazier, a heavyweight title bout every down. But on Friday it was decided by Andy Dalton.
On a long ball early in practice, Dalton went back shoulder to Green in the middle of the field with Jackson plastered on him and Green made a leaping spin as he snatched the ball out of the air.
"Andy threw a great ball. Great throw by a veteran," Jackson said. "I was step-for-step with A. J. He threw it the only place he could."
Jackson is enjoying the daily give and take and says he's getting better because of Green, but he also says "It's brutal out there."
Green makes it look so easy. He was wide open on three catches to start the two-minute drill for about 40 yards.
"I'm not going to touch A.J. there," Jackson said. "Don't touch the merchandise. If something happens to A.J., that would be really bad."
The drive stalled when Dalton and wide receiver John Ross weren't on the same page and Ross went one way and the ball went the other, falling incomplete in the end zone. But Ross helped them set up a field goal try when he caught the last snap of the drill on the sidelines and got out of bounds. Jonathan Brown missed what was about a 40-yarder.
QUOTE OF THE DAY: "He almost got drilled by the corner coming off the edge. That would have been the play of the day." _ Special teams coordinator Darrin Simmons on head coach Marvin Lewis' icing kicker Randy Bullock by batting away the snap.
Simmons preaches his kicker to go ahead and kick the field goal even when the opposing coach freezes him by calling a timeout. So Lewis likes to freeze them himself and on Friday he made a nimble move that came out of nowhere when he moved a few steps so he could reach and bat away the snap and make them re-do it. Bullock made it.
Friday was a big kicking game day as Simmons gets sorted out for Thursday's pre-season opener against the Bears (7 p.m.-Cincinnati's Local 12) at PBS. Everybody is waiting to see how he deals with the new kick-off rules, but he says it's pretty simple now that the cover team has to line up a yard within the ball and there are no wedges for the return team. The return team has been working on shorter blocking drops and the cover team has been working on speed. "Ten fastest guys," Simmons said. And he wasn't really kidding.
SLANTS AND SCREENS: Carl Cheffers, the referee who had the tough task of talking to the players Thursday and the media Friday about the new helmet rule, did a great job explaining the inexplicable. But no one seemed still to have a clearer understanding what's going to be called and Cheffers said it's a work in progress during the preseason as everyone gets comfortable with it.
But players in Cincinnati and all over are uneasy about. One Bengal said he's got more questions now …
Nose tackle Josh Tupou has a sprained MCL and is probably out a month … Cornerback Sojourn Shelton has a torn thumb ligament and a broken bone in his hand and could be out as long as two months …  Expect Boling to play Saturday …