Rick Webster of Rising Sun, IN has been chosen by the Bengals (randomly by tenure) for a once-in-a-lifetime NFL Draft Experience. Webster has been a Season Ticket Member for 13 years and will be attending the NFL Draft with his wife Juanita. The Websters will celebrate their 37th wedding anniversary in May.
Webster is one of 32 Season Ticket Members, one representing each team, who will help kick off festivities and receive behind-the-scenes access to Draft celebrations in Nashville, TN.
"We're really honored to go," said Webster. "I'm looking forward to meeting the players that will be there and all of the fans. I think it's going to be a great experience."
The experience begins on Wednesday with a Welcome Reception featuring NFL Head of Officiating Al Riveron and a special "You Make the Call" session. On Thursday, it continues with a breakfast to kick off Draft Day and an exclusive invite to the NFL Draft Luncheon, featuring an assortment of NFL Legends.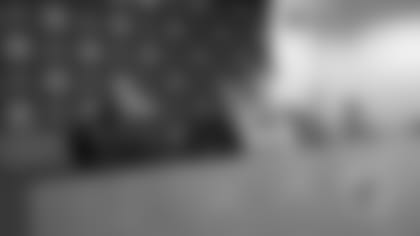 Webster will receive a custom team jersey with "Draft Day" on the nameplate, walk the Red Carpet with NFL prospects and hand deliver an official New Era Draft Cap to the NFL Draft Theater. The V.I.P. access continues when Webster will deliver a customized No. 1 Nike jersey from backstage to NFL Commissioner Roger Goodell on stage as the Bengals pick is announced.
The initiative is part of the NFL's sixth annual Draft Season Ticket Member Experience, which aims to recognize dedicated fans and give them an exclusive opportunity at the event.
BENGALS FANS JOIN "INNER CIRCLE"
Fifty loyal Bengals fans are heading to the NFL Draft to sit in the "Inner Circle," a team-specific area where they will watch the event directly in front of the NFL Draft Stage.
The "Inner Circle" features team rivalry zones, chances for fans to celebrate the team selections with NFL players and Legends and opportunities to showcase team spirit on national television.