Shawn Williams thinks he'll play after the first ejection of his life. Preston Brown wants to play after he didn't finish a game for the first time in his life. And Sam Hubbard just found out he's going to play more defense after he played fullback for the first time in his life.
Such is the state of some of the elements of the Bengals defense in Thursday night's Paul Brown Stadium opener (8:20 p.m., Cincinnati's Channel 12/NFL Network) against the juggernaut that is the Ravens.
In their first game Sunday under new defensive coordinator Don Martindale, a former University of Cincinnati assistant, the Ravens woke up the echoes of their old defensive coordinator Marvin Lewis, the Bengals head coach. In the first half of the 47-3 shutdown opener against Buffalo, they held the Bills to 33 yards, two more than the club record set by Lewis' NFL record-setting unit of 2000 in a 37-0 win over the Bengals.
Williams, the Bengals starting strong safety, still seemed a bit stunned Monday about 24 hours after his hit on scrambling Colts quarterback Andrew Luck not only earned him a 15-yard unnecessary roughness call, but an ejection in the 34-23 Opening Day victory in Indy. Williams, a highly-regarded player by his teammates that they certified voting him a captain last week, was left to ask the media advice on how to legally take down a 6-4, 240-pounder chugging for a first down. That was just the fourth time in his six NFL seasons of nearly 190 tackles on defense and special teams that Williams was hit for unnecessary roughness and all he knew was that he watched the last three quarters with security outside the Bengals locker room.
"I levelled my shoulder. The contact with his head was incidental," said Williams, who twisted his body to hit Luck with his shoulder as he converged on a tackle being made by lineman Michael Johnson. "There's nothing I can do about that. I don't know what he's going to do as a runner. I know he's going to try and get the first down and my job is to stop him. If you guys have any suggestions on what I can do to not get a flag and still do my job, then let me know."
No one explained the ejection to him, or the play for that matter, and all the media could tell him was it had nothing to do with the new helmet rule.
"It wasn't that because I didn't use the crown of my helmet. I didn't use my helmet at all," Williams said. "My helmet might have touched his incidentally. All my contact was with my shoulder and incidentally to his head. I don't know what they want me to do.
"I knew worst case scenario making contact to the head and neck area, but I knew it wasn't the new helmet to helmet rule, because I was aware of keeping my head out of it and leading with my shoulder and it just so happened I hit him in the head."
But Williams is a stand-up guy. He knows, in the end, like left end Carlos Dunlap and his two roughing-the-passer penalties, the onus is on him to figure it out.
"You have to stay away from them as much I can and also continue to do my job. However that is or whatever that is, that is what I have to do," Williams said. "(Dunlap is) just trying to do his job. Get the quarterback. Like me, he has to find ways to do what's within the rules."
Brown has no intention of breaking his own rule, which is apparently never to miss a game. How ironic is it that he's questionable for his first game as a Bengal at The Paul with his first injury since he tore his meniscus playing running back for Cincinnati's Northwest High School? He thinks it was against Turpin ("I finished the game") and when he returned after missing three games he recalls he scored the winning touchdown against Talawanda High School.
"Near Miami of Ohio," he said for the benefit of the media not familiar with Oxford.
After he hurt his ankle Sunday late in the first half working in a tangle on a screen pass with tackle Ryan Glasgow, Brown says it was the first time he's never finished a game. He stayed in for two more snaps, but knew he was more a hindrance than a help.
"All I need is really two days and I'm good to go," said Brown, who along with Dunlap (calf) were the only guys missing from Monday's work. "I think I'll be ready." The game isn't for three more days. "Too long," said Brown with a laugh. He admits this is his closest call as a pro since he's played in all 65 NFL games.
"I had a hamstring early in my career that was really bad," Brown said. "I was just out there. I didn't need to be out there. I was afraid of being Tom Brady."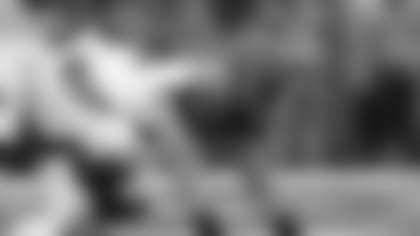 But he's seriously studying the revived Ravens offense. He watched quarterback Joe Flacco hit all three of his new receivers for touchdowns in the conquest of Buffalo and rookie playmaker Lamar Jackson, Baltimore's QB in waiting, sometimes lined up in two-QB sets to keep the Bills off-balanced.
"Lamar Jackson, the big thing is to limit him early so they don't use him throughout the game," said Brown after Jackson rushed for 39 yards on seven carries and completed one of four passes.
Hubbard, another Cincinnati product hoping to make his PBS debut, has been all but assured he'll get more than those seven defensive snaps he got Sunday, virtually all in that last drive.
"We needed to get some fresh bodies in there. Our guys were a little bit tired," said defensive coordinator Teryl Austin. "It was a lot of plays and there was some hurry-up involved. So we had to get Sam in there. But that's my fault. We needed to get Sam in there a little earlier than that. I think Sam deserves to play a little bit more, a little bit earlier. It's my job to make sure I get him in there a little earlier."
Hubbard said Monday he heard pretty much the same thing from defensive line coach Jacob Burney.
"Coach Burney is used to rotating four ends and he's got five this year. It takes a little adjustment," Hubbard said. "We've got the first game out of the way. Some guys had too many reps. I got probably too little, so we'll adjust. I was very fresh flying around. I had some good rushes. He said I did well. Going to give me more."
Dunlap led the way with 79 percent of the snaps, right end Michael Johnson took 56 percent, Carl Lawson had 51 percent at right end, Jordan Willis had 48 percent bouncing between tackle and end and even though Hubbard played just nine percent he played up and down the line.
But it was at fullback he took his first scrimmage snap, leading running back Joe Mixon to a flying one-yard touchdown run on third down that put the Bengals ahead for good with 11:04 left. Hubbard dabbled at wide receiver and tight end early in his Ohio State career, but never fullback.
"But it's not that hard. I picked it up pretty quickly," Hubbard said. "Joe made me look good. I got the linebacker. I saw a wad of people in front of me and just ran into a lot of people. I made a dent big enough for him to go through him."
Hubbard has been kidding Austin about it.
"He told me last week, he said, 'Coach, they're trying to steal me,'" Austin recalled. "I said, 'No, Sam. You're going to stay with us.'"
It sounds like he's going to do more than that.