Back on April 15, the Bengals website celebrated its 20th anniversary of coverage.
So it's a nice, tidy season to recognize some of the top moments in the Bengals.com era, stretching from the selection of Florida State wide receiver Peter Warrick in the first round on April 15, 2000 during the final Spinney Field draft to the last virtual rookie meeting on June 25, 2020 to close the pandemic offseason in which the Paul Brown Stadium meeting rooms never opened.
Here's a list of the top 10 Bengals who in this century were the media's go-to guys no matter the score. Among the factors were availability, quotability, availability and, oh yeah, availability. In order to be considered you've got be in front of your locker win or lose, be on call after hours and have something to say other than, "We're going to take it one week at a time."
Some of the best sports broadcasters ever got their start as quotable Bengals players such as Bob Trumpy, Dave Lapham, Cris Collinsworth, Solomon Wilcots and Boomer Esiason. There is no question that many of these guys could follow in their footsteps:
Honorable Mention
NT Domata Peko (2006-16) probably would have made the list if he played offense. You won't meet a better guy …
We never seem to put quarterbacks on such a list because they have to be available, but Jon Kitna (2001-05), Carson Palmer (2003-10), and Andy Dalton (2011-19) are all guys that went above and beyond if you asked. It's doubtful any starting NFL quarterback in this century has been as available as those guys were away from the podium during the week. Can you imagine Franklin Roosevelt Brady taking time for a fireside chat with a local scribe once or twice week? And we have no problems with Brady, the true GOAT. Except for Jim Brown. But Brady is an example of the modern imperial NFL quarterback, the product (some would say victim) of sprawling media platforms plus a huge media market in New England. Almost no access. But, thankfully, Bengals QBs have realized the charms and access of a small media market and we're sure if Brady had played here he would have, too. And Bengals backups, such as Ryan Fitzpatrick (2007-08) and AJ McCarron (2014-17), got it, too. They were always terrific and valuable because of the insight they freely gave without an ax to grind.
Two current Bengals have to be recognized because even though their low-profile personalities go against the grain, they do deal with the media and do it well because they know it is part of being a pro.
Safety Shawn Williams (2013-present) has an all-world glare and a deliberate post-game routine. But if you wait him out, he's great. On all sorts of topics. Plus, he's always there during the week … Wide receiver A.J. Green (2011-present), or "Dream," as this new breed of young teammate refers to him, may be a surprise to some on this list because he doesn't always talk. But, and here's the key, he talks when you really need him and he knows when it is. And if he tells you he'll talk to you, he a man of his word. Win or lose, zero catches or 10 catches, he's at his locker talking. (And you know when it's a loss because when the doors open he's right there in full uniform. Everything but the helmet, smoke coming off his head.) Plus, he's very good talking about the game, plays and defenses. For a star to do that after every game, never underestimate it.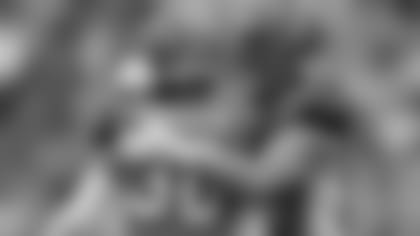 10. Safety Jessie Bates III and defensive end Sam Hubbard, 2018-present
These guys are fast becoming thought of as a tandem as the Bengals look to re-build their defense. They were taken back-to-back in the draft (Bates in the second round, Hubbard in the third) and they haven't missed a beat setting the tone for the new wave. Between the two they've missed just one game and, heck, Bates has barely missed any snaps.
They've also realized just how important it is for them to be at their lockers and there have been some tough games in their brief careers, but they've manned up and been there to offer terrific takes, good and bad. Both get it. Bates knows he's a key guy as a highly drafted player who started right away, and Hubbard knows he's a hometown guy that is going to naturally get the microphone.
And both have been available during this offseason giving voice to the challenges of the pandemic, particularly Hubbard with a mother and a sister on the front line as nurses.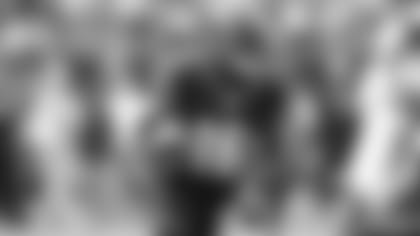 9. Wide receiver Andrew Hawkins, 2011-13
Both Hawkins brothers, bright, passionate, engaging, have to make this list. Andrew Hawkins offered a unique perspective as a self-made guy, that rare NFL player who went undrafted before finding success both in the CFL and NFL. And he was able to express it so well. He has been making thoughtful, inspiring observations on social justice longer than most guys have been in the league.
How about a guy that earns a master's degree in sports management from Columbia with an Ivy-proofed 4.0? He also had the scoop of the offseason when he was the first person to interview his old teammate Green since the season ended on his podcast he shares with another old teammate Joe Thomas, called "The Tomahawk Show."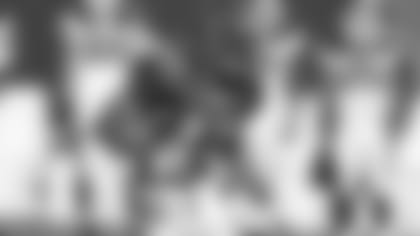 8. Safety Chris Crocker (2008-13)
Defensive coordinator Mike Zimmer rescued Crocker off the couch midway through the 2008 season and it's no coincidence the Bengals went on to finish in the top seven in defense during the next five seasons while making four post-season runs that claimed two AFC North titles.
And Crocker had no problem breaking it down for us on how Zimmer did it without the jargon.He was Zimmer on the field. It also helped you could channel a little Zim without some of the words. Crocker was always there. In tragedy (the deaths of Chris Henry and Vikki Zimmer in 2009) and triumph (the 32-yard pick six during the 2013 rout of Rex and the Jets).
7. Cornerback Artrell Hawkins (1998-2003)
Here's a guy that was part of the draft class that eventually helped turn things around as a second-round pick out of the University of Cincinnati. And they put him in the fire right away in the toughest position on defense and he didn't get a heck of a lot of help.
There were some very tough times and yet he was always there with that great FM drive time voice and network-worthy analysis. And he was always accountable, a trait that wasn't running rampant in his early locker rooms. He's had stints on Cincinnati and national radio and brought that same fresh analysis.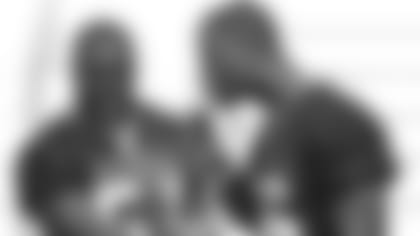 6. Linebackers Brian Simmons (1998-2006) and Takeo Spikes (1998-2002)
They are inseparable in Bengals history, so we had to put them together because they came in together in the first round four picks apart and began the culture change that head coach Marvin Lewis finished off six years later. They were leaders right away and were always in front of their lockers rain or shine.
And, remember, they could really play. Plus, they were terrific with not only the media, but their teammates with elite communication skills. Look at what they've done since their playing days.
Spikes wrote a great book, "Behind The Mask," about the greatest linebackers of all-time, produces and hosts the "Behind The Mask," podcast and is always great when he gets a shot on NFL Network. Simmons was an area scout with the Jaguars for several years and is now an analyst for the Tar Heels network at his alma mater of North Carolina.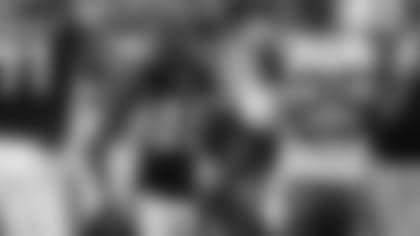 5. Wide receiver Chad Johnson, 2001-10
You had to have Chad simply because he evolved into a category 5 media hurricane and he had no problem putting himself in the eye. Really, back when Chad was in his prime and becoming a social media pioneer, you needed someone to cover the team and someone else to cover Chad. We were like the Browns or Ravens. We really couldn't cover him, either.
The thing was, he stayed pretty available, too, even when he got huge. It may have been a little tougher and he had his moments, but in the end he rarely ever, ever disappointed. Sure, a lot of it was a brand and maybe it wore a little thin late in the game. But it was funny, different and never the hateful venom of which we've become far too accustomed today.
And all the bombast hides the fact the man is a borderline Hall-of-Famer who still breaks down receivers as well as anyone alive. Listen to him for 30 seconds and you know why he is the only receiver in this century to lead a conference in receiving yards for four straight seasons.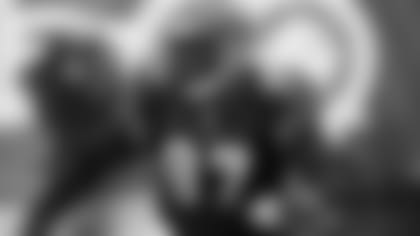 4. Defensive tackle John Thornton, 2003-08
Thornton is one of these guys who could have done anything he wanted after he played his ten seasons in the league. The media is lucky he chose to become a player agent because he was scooping us pretty regularly when he wrote a web site when he was playing.
Thornton is a key figure in franchise history. In the first weeks of the Marvin Lewis regime during free agency, Thornton walked out of Patriots head coach Bill Belichick's office and chose the Bengals. He was drawn to Lewis' change-the-culture pitch and the rookie head coach couldn't have called on a better guy to help set the tone in the room.
Thornton helped do it through the media, too. Thoughtful and reflective, he had the ability to make sense out of fast-moving events and no one had a better feel for the locker room.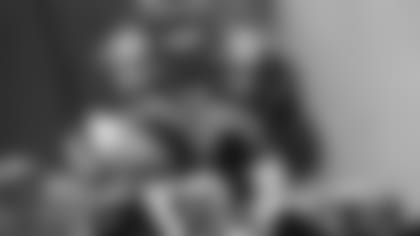 3. Wide receiver T.J. Houshmandzadeh, 2001-08
Houshmandzadeh never stopped having that blunt, unvarnished chip on his shoulder after the seventh round in 2001 and it still makes him media gold. He really ought to get a bigger, longer shot at Fox Sports, where he's really good. The great thing about Houshmandzadeh is that he's always the same guy. The same guy that would angrily muscle a third-and-six conversion and put it in the face of the Steelers never backed down from a microphone. He'd fire out what was on his mind with his always refreshing honesty and he learned that if his words would torch the locker room, he'd back off.
But don't tell that to head coach Marvin Lewis. Houshmandzadeh never turned down a chance to give Lewis a dig about how the players thought he worked them too hard. But he was also Lewis' kind of guy, a battler who played as tough as the down. The day he made the Pro Bowl he could still rattle off the names of nearly every receiver drafted in front of him.
And he was great for analysis. He knows the game and he was never afraid to expound. Houshmandzadeh is probably one of the reasons Lewis' golden rule for players with the media was, "Don't try to explain it." But you always had to go to a guy who would sit in with the offensive line at times to see how he could help blocking the run.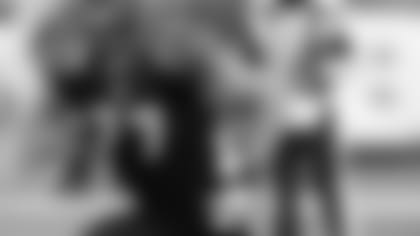 2. Left tackle Andrew Whitworth (2006-2016)
Maybe Whit was so good at it because he watched Willie Anderson do it for two seasons before he inherited the role of team leader and locker room spokesman at the dawn of the Social Media Era.
Whitworth would text you the heart of the matter anytime, day or night, and sum it up in about 30 words or less. Even though Carson Palmer submerged the offseason of 2011 into doubt with his trade demand, Whitworth didn't run and hide. He never batted an eye and said the Bengals would be OK before and after Dalton to any media outlet that would listen.
Even though he was once on the wrong end of the time difference during a Pro Bowl in Hawaii, he held court over the phone on how Peyton Manning was trying to get guys to actually play hard in an all-star game gone bad. As an active member of the NFL Players Association he patiently walked impatient scribes through the big issues.
And, like Big Willie, he was smart enough to be able to sum up the big moments in the crowded, quick minutes after a game. Such as after the 13-10 last-snap win in Pittsburgh in 2012 that put the Bengals in the playoffs and knocked out the Steelers with Dalton's 21-yard frozen rope to Green to set up the winning field goal.
"When Andy had his chance, he made the play to A.J. to get it close enough to win it. Head-to-head for the playoffs and Andy beat (Ben). That's the kind of competitor he is," Whitworth said so well amid the post-game hubbub.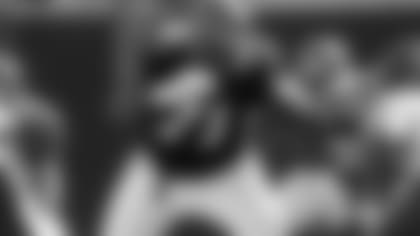 1. Right tackle Willie Anderson, (1996-2007)
The old gag from former Bengals public relations director Jack Brennan is that he would offer a high-pitched "beep, beep, beep," to signify the scribes backing up the truck of "fodder," to Anderson's locker during media sessions.
As great as Anderson was on the field, and he was merely the best right tackle of his time, a legit Hall-of-Famer, he was just as great dealing with being the locker room spokesman during one of the more chaotic periods in franchise history. Whether it was a coaching change, a rebellious star, a huge upset or strange loss, he not only was available for his take, he was so incisive and smart that he could boil down a myriad of issues so succinctly and well.
For the Bengals media, he remains Sinatra, Elvis and The Beatles all wrapped into one.
(And he's still doing it with a new and entertaining podcast that debuted, fittingly, a few weeks ago with Whitworth.)
Exhibit A, his reaction on Oct. 22, 2000 when the Paul Brown Stadium scoreboard flashed that Corey Dillon had broken Walter Payton's 23-year-old NFL single-game rushing record:
"I said, 'Oh, my God.' As a lineman or a running back, that's one of those records you think will never be broken. Impossible."
When Lewis arrived in 2003 and turned the program, Anderson seamlessly fell into leading a contending locker room, analyzing big AFC North matchups and Pro Bowl selections and with the talent of a network analyst broke down the evolution of a smash-mouth game to a wide-open derby. Anderson could and can break down trench technique and the next minute talk big picture. Even 20 years ago he was talking about how right tackles were being overshadowed by left tackles even as the pass rushers evolved all across the line.
The 2006 win over the Panthers at PBS featured Anderson at his best, blanking one of the most prolific sackers of all-time in Julius Peppers. In his 164th game in his 11th season, Anderson led a beleaguered line against a great Carolina front with the rookie Whitworth making his first start at left tackle in place of injured Levi Jones and center Eric Ghiaciuc making his fourth NFL start in place of injured Rich Braham.
"He had to have the game of his career," said offensive coordinator Bob Bratkowski, "because of all the other things we had going on."
After the game, the Bengals.com headline read: "4-2: Take a bow, Willie."
"I was scaring myself," Anderson said. "That's the worst thing I do is listen to Sirius Radio."
He also revealed post game that on Saturday night at the team hotel he had watched tape on Peppers until 1 a.m. from discs that video director Travis Brammer supplied him.
"He's special," Anderson would say of Peppers, but then he was able to go the extra yard and say why:
"Like Jevon Kearse back in the day. A speed guy, but he's better coached than Kearse because he relies on more than just his speed. He bull-rushed a tackle last week and put him on his back."
As usual, Anderson had no help slid his way against Peppers even though it was against one of the best rushers in the game.
"I think the Bengals look at me like, 'Take this guy out for us,' " he said.
That's certainly how the media saw it.