You've got to remember that when Ken Anderson became the first quarterback after World War II to complete 70 percent of his passes in the 1982 season, his 66.7 the next year was the second-best completion percentage since 1945.
"When I broke in, if a quarterback completed 50 percent of his passes and his touchdowns and interceptions were one-to-one, he was having a good year," mused Anderson the other day of those 1971 Bengals.
Now here comes Drew Brees' traveling Hall-of-Fame exhibit rolling into Sunday's game at Paul Brown Stadium (1 p.m.-Cincinnati's Channel 19) with the scalding 7-1 Saints and his 76.3 completion percentage that is blowing it up like Anderson in the early '80s and leads a pack of five quarterbacks currently completing 70.7, a tick up from Anderson's gold standard of 70.6
Just as well. When NFL passers took 27 years to match Anderson's precision despite the massive rules overhauls and open-throttle offenses, it was Brees, a mighty-mite technician that caught him by a calculator in 2009 with 70.62 percent compared to Anderson's 70.55.
"He didn't play that last game. I used to joke about that. What would have happened if he played?" Anderson said.
Anderson played just nine games in '82 because of the strike, but he threw 127 more passes than Sammy Baugh did to get to 70.3 in 1945. And he crushed the field. In 1982 the NFL's second-best completion percentage was Joe Theismann's 63.9.  
 Two years later, Brees didn't need a decimal point with a 71.2 that opened the floodgates. He had to break the season record again last year with 72 percent after the Vikings' Sam Bradford had a one-year reign at 71.6.
"You figure during the first half of my career, quarterbacks threw 18 to 20 times a game," Anderson said. "Offensive linemen didn't have a chance to pass block. They couldn't extend their hands until about 1980 and DBs could bump receivers. It made it tough on the throwing game. Now there are the new rules and you see the influence of the college game with more up-tempo and a lot of spread stuff."
But the 69-year-old Anderson isn't grumping the new guys off his lawn. He hopes Brees cools off a bit for his Bengals Sunday, but he has enjoyed watching Brees build the NFL career record of 67.2 during his 18 seasons.
"He's a great guy. You look at all he did for the community after the devastating hurricane. They love him down there and rightfully so," said Anderson, an NFL Man of the Year before Brees was born in 1979. "If you're going to have a guy break one of your records, you want it to be a guy like Drew Brees. I've had other records broken by guys you'd rather not break your record and I'll leave it at that."
But Anderson doesn't leave Saints head coach Sean Payton out of the discussion. He credits Bill Walsh and the Bengals' West Coast offense for his early high completion percentages (you've got to remember, even his 64.9 in 1974 was second best of all-time) and he sees Brees reaping the same kind of benefits of being groomed in the same offense for a long time.
  "That's what is fun about New Orleans. They do a little bit of everything," Anderson said. "(Their offense) has got a lot of verbiage. Sean can do a lot of things because he has the quarterback to execute it. All these coaches can have a lot of great things on paper, but if you don't have the guy that can pull the trigger, it doesn't mean much. Sean's got the guy to pull it and Drew's got the guy that can be real creative."
Like Walsh, Payton generates big plays at a high efficiency. "People said we were dinking and dunking, but if you look at our yards per attempt, we were pretty good," Anderson said.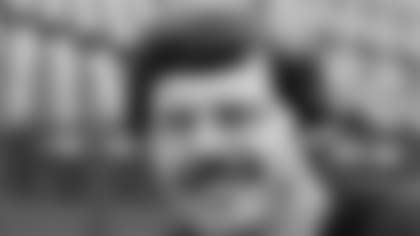 Indeed, Anderson's career yards per throw of 7.3 is right there with the greats of his era, such as the 7.4 of the Raiders' deep-game duo of Daryle Lamonica and Ken Stabler, not to mention Joe Namath. The 7.3 matches Dan Marino and Fran Tarkenton and it is slightly better than the 7.2 of Terry Bradshaw, Phil Simms and Warren Moon.
Brees' career mark of 7.6 matches his own high-flying era.
"He's a leader. He's got great command of the offense," Anderson said. "His play calls with Sean Payton, they're really in sync. He's as accurate and as smart as they come. He can absorb what Sean is throwing at him and he's got some mobility, too."
If it sounds Anderson scouted him, he did. When Anderson was the Bengals quarterbacks coach in 2001, he visited the Rose Bowl to watch Brees get Purdue ready for Washington. The Bengals were picking fourth that year and, at 6 feet tall, no one had Brees rated that highly.
"No question that everybody loved him. The only knock on him was his height," Anderson said. "There was no question on his arm strength. There was no question on his football intelligence. I think everyone thought he was going to be a real good player. It's just when you're drafting that high in the first round, there are question marks."
Anderson just had a recent discussion with Bengals president Mike Brown about that draft and how Brown, the man that pushed for the drafting of Anderson and Boomer Esiason, had extremely high grades on Brees despite the height.
 "Mike Brown certainly had that evaluation right," said Anderson, who wondered what would have happened if the Dolphins doctors didn't flunk Brees before he signed with New Orleans a few years later. "Nick Saban might still be in the NFL and never went to Alabama."
Anderson politely declined to give a number when asked what his completion percentage would be in this time and space.
"Probably what it was back then," said Anderson, who just as humbly wondered what his teammates would have done under the 21st century rules. "How many yards would Isaac Curtis have had? What would Bob Trumpy and Dan Ross have done? Look at what (running back Alvin) Kamara is doing in New Orleans. What would James Brooks have done?"
But with Brees blowing into town, Anderson had to admit one thing.
"It would have been fun trying," he said.