Anthony Muñoz, the greatest Bengal of them all, played in 185 NFL games, eight more in the playoffs and two Super Bowls. It is safe to say he never had a bus ride like the one he had after the last Super Bowl in Miami on Sunday night.
That's what happens when you've been selected one of the NFL's 100 best players of all-time and they honor you before the 54th big game. You spend the week walking around like one big goose bump.
"It's amazing. It feels like you're going to smile your face off," Muñoz says.
Sitting next to Muñoz on the bus back to the downtown Miami hotel had been Bruce Matthews, his Hall-of-Fame AFC Central offensive line counterpart from the Houston Oilers of the 1980s and 1990s. Sitting in front of him had been Roger "The Dodger," Staubach, the great Cowboys quarterback that Muñoz watched growing up in the Ontario, Calif., of the 1960s and 1970s turning the last two minutes into lasting moments. Since Staubach is a native of Cincinnati and Cincinnati is where Muñoz has spent the last 40 years blessing, there had been a lot to talk about.
"Memorable and mind-blowing," is how Muñoz describes the week he helped the NFL celebrate the end of its 100th season.
As one of the more active members of the Pro Football Hall of Fame and a winner of the NFL Man of the Year before it was named after Walter Payton, the gold-jacketed Muñoz routinely doles out goose-bump moments as well as enjoying them. But this 100-year, 100-man team is a little different. Some of the red jackets weren't even ripe.
"I was doing an event before the game," Muñoz says, "and I turned around and there was this young guy. Devin Hester. The guy has to be in his mid-30s. If that."
Try 37, which means Hester, whose returns dominated the NFL for a decade, was born during Muñoz's third season, when he was already being called the greatest left tackle that ever lived.
Another 100 youngin Muñoz enjoys is 36-year-old Arizona wide receiver Larry Fitzgerald, a guy he got to know last summer in Los Angeles when the all-100 players shot their season-long commercial. Fitzgerald got to talking about being a ball boy for the Vikings and how Brett Favre was so focused he never said much to him and how Vikings receivers Jake Reed and Cris Carter let him run routes with them.
"We told him he should write two books," Muñoz says.
It was the kind of week in Miami where Gisele Bundchen showed up on the arm of Tom Brady and you couldn't take your eyes off Jim Brown. Brown, the old running back, may be hobbled at 83 but he remains the once and future GOAT for fans of a certain age and a guy that has always given Muñoz chills. This week was no different.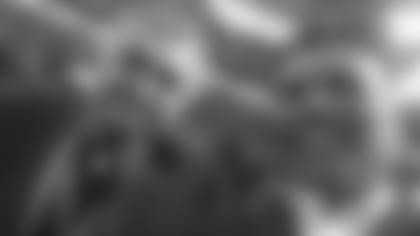 "Jim Brown is amazing. He and his wife, they couldn't be nicer," Muñoz says. "He'll tell you, 'Appreciate what you do. Continue to do what you're doing.' A kind word. Encouragement. Coming from Jim Brown. Holy smoke! He's doing a great thing with Amer-I-Can all across the country and a lot of other things. That means a lot when you have a guy like him saying those things."
Muñoz can do that to people, too. Like Walter Jones, one of his fellow 100-year tackles. The night Jones was elected to the Hall of Fame five years ago, he recalled watching instructional tapes of Muñoz.
"I've heard that, but you never think about that and then all of a sudden you're sitting next to one of those guys," says Muñoz of Jones, drafted five years after Muñoz retired.
Jones is one of the seven all-100 offensive linemen that got corralled for a photo in the green room, where the team cooled its heels before being introduced to the Hard Rock Stadium crowd during pregame.
Muñoz spent the most time around Matthews and Randall McDaniel, the Vikings guard who broke in as a rookie during the season Muñoz went to his last Super Bowl. Mathews, Muñoz and Ronnie Lott, all USC, were trying to figure out how to turn around their college team.
But Muñoz also couldn't let the quarterbacks line up for a group photo without taking one. Not with Brady and Staubach posing with Joe Montana, Dan Marino, Peyton Manning and all the rest.
Muñoz had to laugh about that once-in-a-lifetime green room. Call it an evergreen room.
"You know how they say when you play special teams you have to put your head on a swivel?" Muñoz says. "That's how I was in there. My head was like a little camera taking it all in."
Jerry Rice, the MVP of the Super Bowl Muñoz almost won, of course in Miami, was pretty fired up. Munoz told him he should go out to the 50 with the rest of the 49ers. He joked about seeing Montana, the author of that Miami Miracle for the Niners that denied the Bengals 31 years ago in the last 34 seconds.
"I wanted to chop block him," he says with a laugh. "You figure you come back to Miami for the Super Bowl and the 49ers are here so, yeah, you think about it. But that stuff is in the rear view mirror."
The evergreen room was nice, but the lunch room was pretty good, too. During the week at their hotel the league set aside a room for The 100 where they could eat meals. One of those days Munoz lunched with Patriots head coach Bill Belichick, one of the top ten coaches of all time, and Belichick reminded him that when he was an assistant coach with the 1980 Giants they decided they wouldn't draft him because of his knee issues. It didn't matter because the Giants picked later in the top ten and the Bengals took Munoz at No. 3, but Belichick seemed to enjoy sharing the story.
"Then he was telling me that he had a guy saying, 'Lawrence Taylor told me I was the best tackle he ever played against,'" Munoz recalls, "And Bill said, 'I stopped the guy right there. How can you say that? I coached Lawrence Taylor and I've heard him tell me Munoz.' And the guy said, 'OK, maybe I was the second or third best.' Belichick just laughed."
But it all gets back to home, doesn't it? California and the 49ers and Miami and all that? Before The 100 was introduced to the crowd, Munoz found himself for a quiet moment in the tunnel with Lott, his old 'SC teammate he couldn't beat in two Super Bowls and one of the greatest safeties that ever lived.
Long before even all that, they played against each other in the Citrus Belt League, Munoz for Ontario's Chaffey High School and Lott for Rialto's Eisenhower High School. It was a gritty patch of southern California, a place where Munoz's single mother worked at everything from picking grapes and cutting grass, all the while walking everywhere.
"Ronnie Lott looks at me and says, 'Would you have ever thought the two of us from where we're from would be here?"' Munoz says. "I said, 'Not in my wildest dreams.' We both said we're thankful and it's fun."
Munoz still had has face even though he was going to be smiling for quite a while.